These Are All Of The Roy Moore Sexual Misconduct Allegations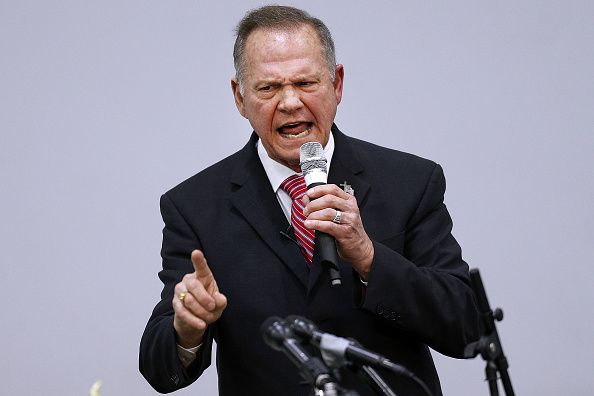 Sexual misconduct allegations keep coming out against Alabama Senate candidate Roy Moore, escalating the controversy around his campaign nearly every day as members of his own party push him to drop out.
So far, nine women have accused the Republican contender of assault, harassment or unwanted advances, with most saying the former judge preyed on them when they were teenagers and he was in his 30s. Moore has denied all of the allegations and said the accusers are part of a witch hunt against his campaign. But he hasn't been able to keep more accusers from coming out.
These are all the women who have leveled accusations against Moore, and what they say the could-be senator did to them:
Leigh Corfman
In a Washington Post report, Corfman alleged that when she was 14 in 1979, Moore approached her while she was outside a courtroom with her mother. When her mother entered for a hearing, Moore stayed with her and asked for her phone number, then picked her up a few days later to take her to his home. She says he kissed her, and that during a second visit he took off his clothes and removed her shirt and pants, touching her and making her touch his crotch. Moore's campaign says that these allegations are "garbage," and "the very definition of fake news."
Debbie Wesson Gibson
Gibson told the Washington Post that she and Moore went on a few dates when she was 17. She said that Moore came to her high school civics class and asked her on a date, and that she and Moore kissed in his bedroom during their two or three months of dating. Moore says he doesn't remember ever coming to a civics class or going on dates with Gibson.
Wendy Miller
In the same Washington Post story, Miller said Moore asked her on a date when she was 16 years old. She met Moore at age 14, while working as a Santa's Helper at the local mall. Moore told her she looked pretty, then two years later asked her on a date in front of her mother. Miller said that she and Moore never went out, partly because her mother didn't approve.
Gloria Thacker Deason
When Deason was an 18-year-old cheerleader, Moore took her on dates where they would drink wine and cocktails despite Deason being underage. Deason says they met at the local mall, where she worked at a department store. They dated for several months, going to his house at least twice but never physically going further than kissing. Moore told Fox News host Sean Hannity that the allegations couldn't be true because the county was dry at the time, even though Etowah County approved alcohol sales 7 years before Deason alleges the dates.
Beverly Young Nelson
On Monday, Nelson read a statement at a press conference that claimed Moore sexually assaulted her when she was 16 years old. She alleges he groped her breasts after offering to give her a ride home from the restaurant where she worked, then locked the car door and squeezed her neck in an attempt to force her to perform a sex act. Nelson says that after she struggled, he eventually gave up, threatening that nobody would believe her if she spoke of the incident. Moore called the accusations "absolutely false," and said that he isn't familiar with the restaurant that Nelson says he frequented. Nelson presented her high school yearbook, which includes a signature from Moore. Moore and his lawyer have claimed without evidence that the yearbook is fake.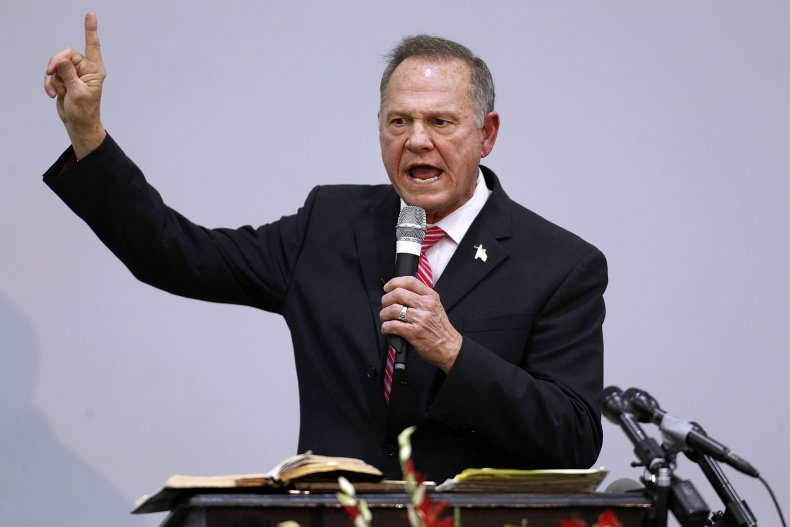 Tina Johnson
Johnson came forward on Wednesday in a report on AL.com, where she says Moore groped her while working with her on a custody case in his law office. Johnson was 28 at the time, and reported feeling uncomfortable when Moore repeatedly commented on her looks during their meeting. She says that when she was leaving the office, Moore grabbed her buttocks.
Kelly Harrison Thorp
In the same AL.com piece, Thorp alleges that Moore asked her on a date while she was working at a local restaurant at age 17. When she asked if Moore knew how old she was, she says he replied, "Yeah. I go out with girls your age all the time."
Gena Richardson
A second Washington Post report published Wednesday detailed Richardson's claims that Moore persistently pursued her when she was around 18 years old. Moore allegedly approached her at the mall where she worked and asked for her phone number and where she went to school. She declined to tell him, only to receive a call at school a few days later from Moore. When she eventually relented and went on a date with him, she says he gave her an unwanted, "forceful" kiss that left her scared.
Becky Gray
Gray was another mall employee who quickly learned that Moore's frequent presence felt threatening to young female workers. She says Moore was a regular mall visitor on Friday and Saturday nights, and that his persistence in asking her on dates made her uncomfortable. She complained to a manager, who said it was not the first time someone had complained about Moore.