White People Almost Single-Handedly Elected A Homophobic, Anti-Muslim Accused Child Molester in Roy Moore
Roy Moore said a Muslim shouldn't be allowed to serve in Congress, believes the last time America was great was when slavery existed and suggested that gay people should be jailed and even executed in order to protect their children—and still, an overwhelming majority of white Alabamian voters tried to put him in the Senate on Tuesday.
It wasn't close. Most of the white people who showed up at polling sites for the special election to fill Jeff Sessions's vacant Senate seat, whether male or female, college educated or not, voted for the Republican candidate.
"This is the deep south," said Richard Cohen, president of the Southern Poverty Law Center, which tracks hate groups and has an "extremist profile" of Moore on its site. "The reality is that white voters in Alabama would be willing to vote for almost any Republican, unfortunately."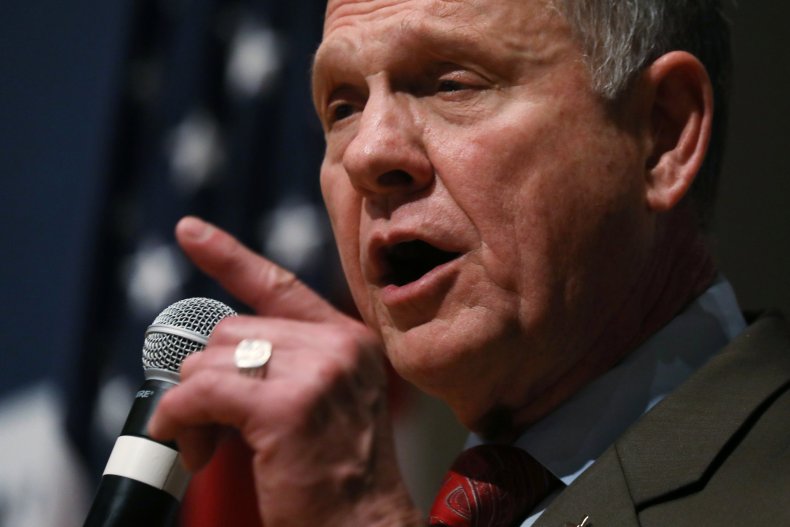 Cohen continued, "They sometimes aren't looking at the issues. Sometimes they are voting against their own interests. Sometimes they use party label and sometimes party label is a proxy for race."
Overall, 68 percent of whites voted for Moore while 96 percent of blacks voted for his Democratic rival, Doug Jones, according to the Washington Post polling data.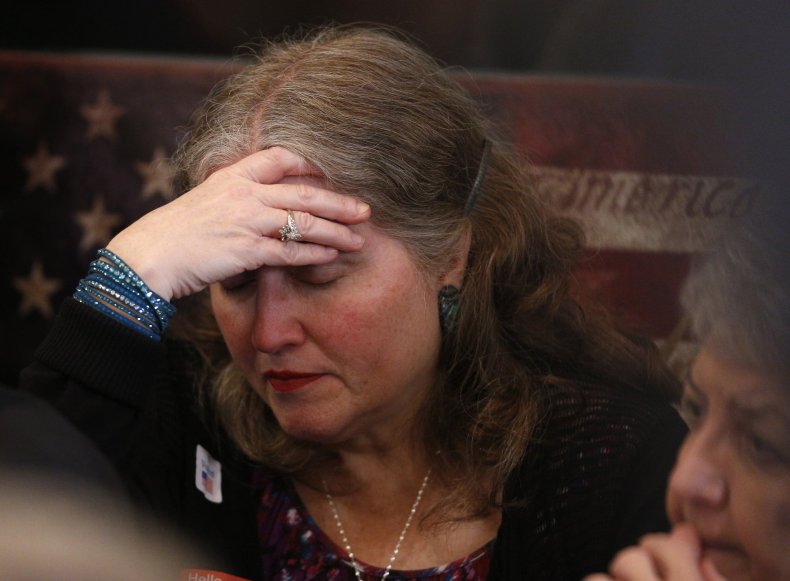 Moore won white men 72-26 and white women 63-34.
Based on education level, 62 percent of white college-educated men voted for Moore and 57 percent of such women supported him. When it came to non-college educated voters, Moore won white men 79-19 and white women 73-25.
Two percent of whites wrote in another candidate.Some analysts have credited those write-ins with Moore's loss as that was about the margin of victory for Jones. Others say it was the black voters that made up about 30 percent of the electorate—93 percent black men and 98 percent of black women voted for Jones—according to CNN exit polling.
"The African American vote was crucial to his victory," Cohen said.
As the election results become clear, prominent social justice activist Brittany Packnett took to Twitter, envisaging the possibilities for the country if the black community had more support.
"Can you imagine what would be possible if the DNC and political funders actually turned over resources and support to Black organizers, Black politicos, and Black woman leaders?" she tweeted. "We can vote. We can also lead, change, and transform nations. Invest in black people."
Cohen said Moore's political philosophy isn't far from a Christian version of what he and so many Christians fear about Muslims: Sharia Law.
"Alabama was the home of perhaps the country's most notorious racial demagogue: [former-Governor] George Wallace," he said. "Now it's home to one of the most notorious religious demagogues: Roy Moore.
"That's why we call him 'the Ayatollah of Alabama,'" Cohen added.
The anti-hate center's profile on him describes Moore as a "dominionist,"
"Moore largely adheres to a dominionist worldview, which holds that the United States is fundamentally a Christian nation and that biblical law, as interpreted by the movement's adherents, must be restored and secular law destroyed," the anti-hate center says.
As a Supreme Court judge in Alabama in 2002—an office he was twice removed from due to ethics violations—Moore issued a decision in which he repeatedly referred to homosexuality as an "inherent evil," citing the Bible as his reference.
"Homosexual behavior is a ground for divorce, an act of sexual misconduct punishable as a crime in Alabama, a crime against nature, an inherent evil, and an act so heinous that it defies one's ability to describe it," he wrote.

On Tuesday, the LGBTQ community also showed up to rebuke Moore.
"Last night you saw that Roy Moore and his politics of fear and hatred was defeated by a diverse coalition of equality," said Chris Sgro, a spokesman for the Human Rights Campaign, an LGBTQ advocacy group.
"Doug Jones's victory is remarkable and has repercussions across the country," Sgro said. "It was fueled by black voters, and also the 200,000 equality voters across the state."
"I think it's remarkable for Alabama and the entire country to see [President Donald] Trump, [Vice President] Mike Pence, Roy Moore so roundly defeated on the heels of the incredible victory in Virginia," he said, referring to the state legislature seat's race where Democrat Danica Roem, the first openly transgender candidate defeated a transphobic and anti-LGBTQ Republican Bob Marshall in November.
Sgro said he was sanguine about the future after Tuesday's results.
"[W]e will win back Congress for pro-equality in 2018."