Roy Moore Blames Lesbians And Socialists For Sexual Misconduct Accusations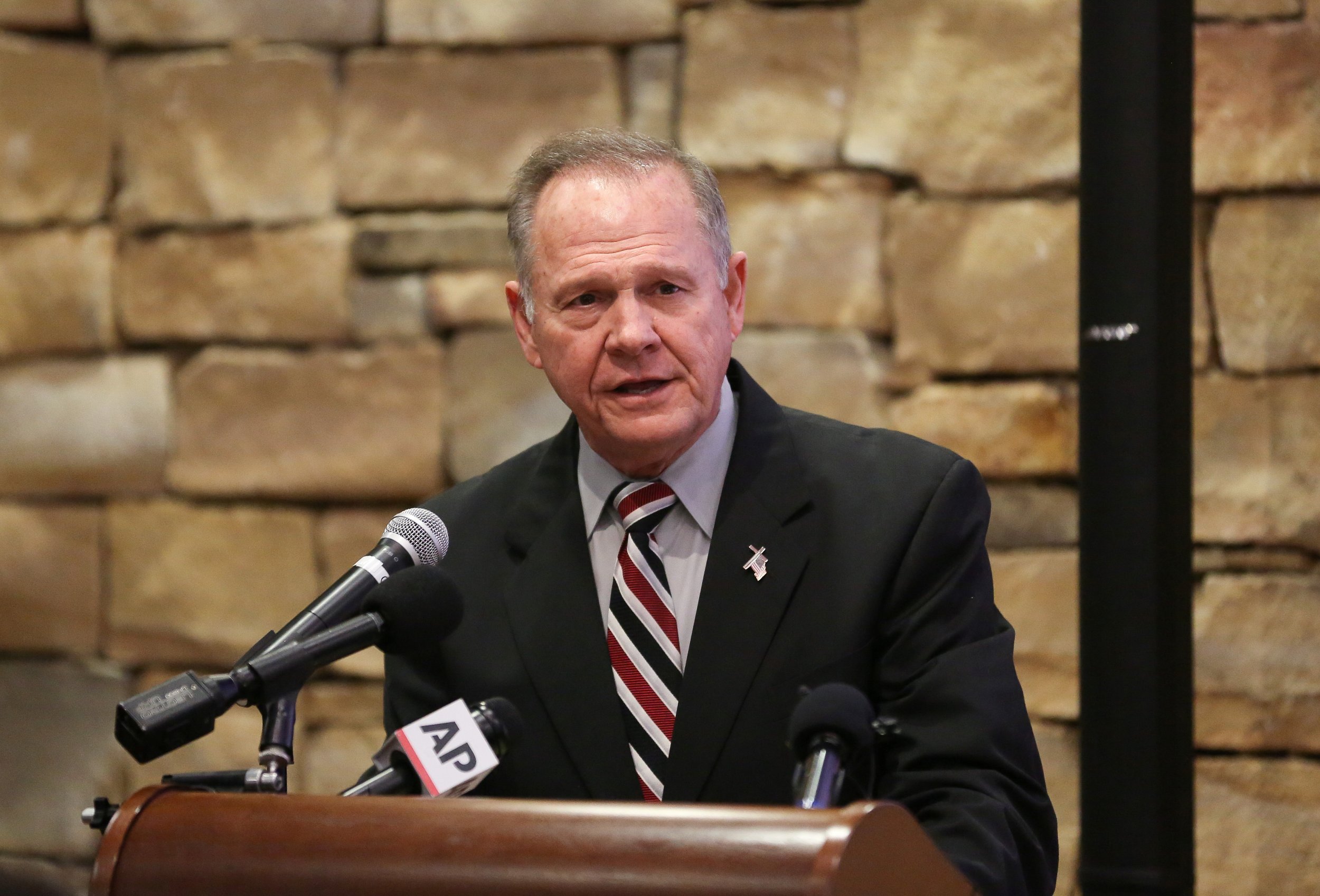 Senate candidate Roy Moore of Alabama blamed lesbian, gay and transgender people—and threw in godless socialists for good measure—for the sexual misconduct allegations against him in a rousing sermon from the pulpit of a Baptist church on Wednesday night.
The candidate, who is battling allegations that he pursued inappropriate sexual relationships with teenagers as an adult and sexually assaulted a 14-year-old when he was 32, used the term they to describe his foes.
"When I say they who are 'they?'" Moore said in the speech. "They're liberals. They don't hold conservative values. They are the lesbian, gay, bisexual, transgender who want to change our culture."
Members of the audience shouted "yes" or "right" as Moore named each of the alleged conspirators. Others broke into applause.
"They are socialists who want to change our way of life and put man above God and the government is our God," Moore continued. "They're the Washington establishment...who don't want to lose their power."
It's no surprise Moore would chose a church setting for such a speech: Several clergymen have jumped to his defense, using similar arguments as Moore did on Wednesday. And polls show Moore remains strong with evangelicals, despite the charges against him.
"This attack on Judge Moore is an attempt by the Democrats to sway voters in Alabama," a local pastor named David Floyd told AL.com earlier this month. "I don't believe those women."
Another pastor, Franklin Raddish, insisted that "more women are sexual predators than men," telling the outlet, "Women are chasing young boys up and down the road, but we don't hear about that because it's not PC."
When reporters at AL.com attempted to get in touch with the 50 pastors who signed a public statement of support for Moore before the allegations surfaced, 19 of the 29 churches they were able to reach confirmed their pastors still stood by the Republican candidate.
Some state officials have even used Scripture to justify Moore's alleged misdeeds, comparing him to Jesus's father, Joseph.
"Take the Bible," Alabama's state auditor, Jim Zeigler, told the Washington Examiner. "Zechariah and Elizabeth, for instance. Zechariah was extremely old to marry Elizabeth and they became the parents of John the Baptist. Also take Joseph and Mary. Mary was a teenager, and Joseph was an adult carpenter. They became parents of Jesus."
Polls show that despite the charges, Moore is still ahead of Democrat Doug Jones in the race, beating him by 5 to 6 percentage points, according to FiveThirtyEight. The special election is on December 12.