Is Roy Moore Broke? Former Alabama Senate Candidate Issues Plea for Cash
Former Alabama Senate candidate Roy Moore says he is struggling financially as he battles a defamation lawsuit stemming from sexual misconduct allegations.
The former judge, who was accused of sexual impropriety by several women during last year's campaign, asked supporters in a Facebook message Friday to provide him with financial assistance because his "resources have been depleted."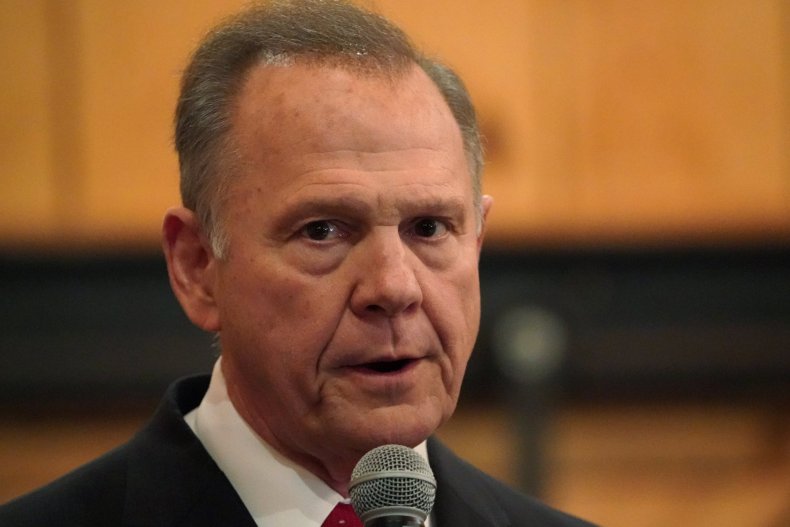 "I have struggled to make ends meet, but I have not lost my faith in our God, who is our true source of strength, and will never leave or forsake us," the 71-year-old Republican said in a statement.
Moore lost Alabama's special election for the Senate in December to Democrat Doug Jones.
Among the women who accused Moore of sexual impropriety was Leigh Corfman, who claims that Moore sexually assaulted her when she was 14 and he was an attorney in his early 30s.
She has launched a lawsuit against Moore, claiming he and his campaign defamed her in rejecting her allegations.
"I now face another vicious attack from lawyers in Washington D. C. and San Francisco who have hired one of the biggest firms in Birmingham Alabama to bring another legal action against me and ensure that I never fight again," Moore wrote on Facebook. "I have lawyers who want to help but they are not without cost and besides their fees, legal expenses could run over $100,000. I have had to establish a legal defense fund, anything you give will be appreciated."
Moore pointed the finger of blame at the "liberal media, in association with some who want to destroy our Country do not want my influence in the 2018 elections and are doing everything they can to stop me."
"Gays, lesbians, and transgenders have joined forces with those who believe in abortion, sodomy, and destruction of all that we hold dear. Unless we stand together we will lose our Country," he wrote.
"The political Left is filled with men and women whose sole aim in life is to overthrow our God-ordained rights which are guaranteed in the U.S. Constitution," Moore wrote. "It is your responsibility and mine to stand up to this vile encroachment on our rights, and defend that for which the Founding Fathers sacrificed so greatly. Please send a generous gift today to the Roy Moore Legal Defense Fund to help me defeat, once and for all, those who would destroy America in order to usher in their anti-Christian 'kingdom.'"
Moore has previously requested donations from supporters to challenge Jones' shock victory in the election in the deep red state, held after Jeff Sessions vacated his Senate seat to become attorney general in 2017.
Al.Com reported that days before the election, the Employees' Retirement System Board of Control approved Moore's annual pension of $135,845 for his time as a judge.
After allegations of sexual misconduct surfaced against Moore, the Republican National Committee waivered in its support, withdrawing then weeks before polling day reinstalling its backing for the candidate.
President Donald Trump recorded a robocall for Moore's campaign after supporting his rival, Luther Strange, in the GOP primaries. Among Moore's most vocal supporters were former White House chief strategist Steve Bannon and his populist Breitbart news network.