Roy Moore Called for U.S. Constitution to Be Stripped Back and Wants to Know What 'Really Happened' on 9/11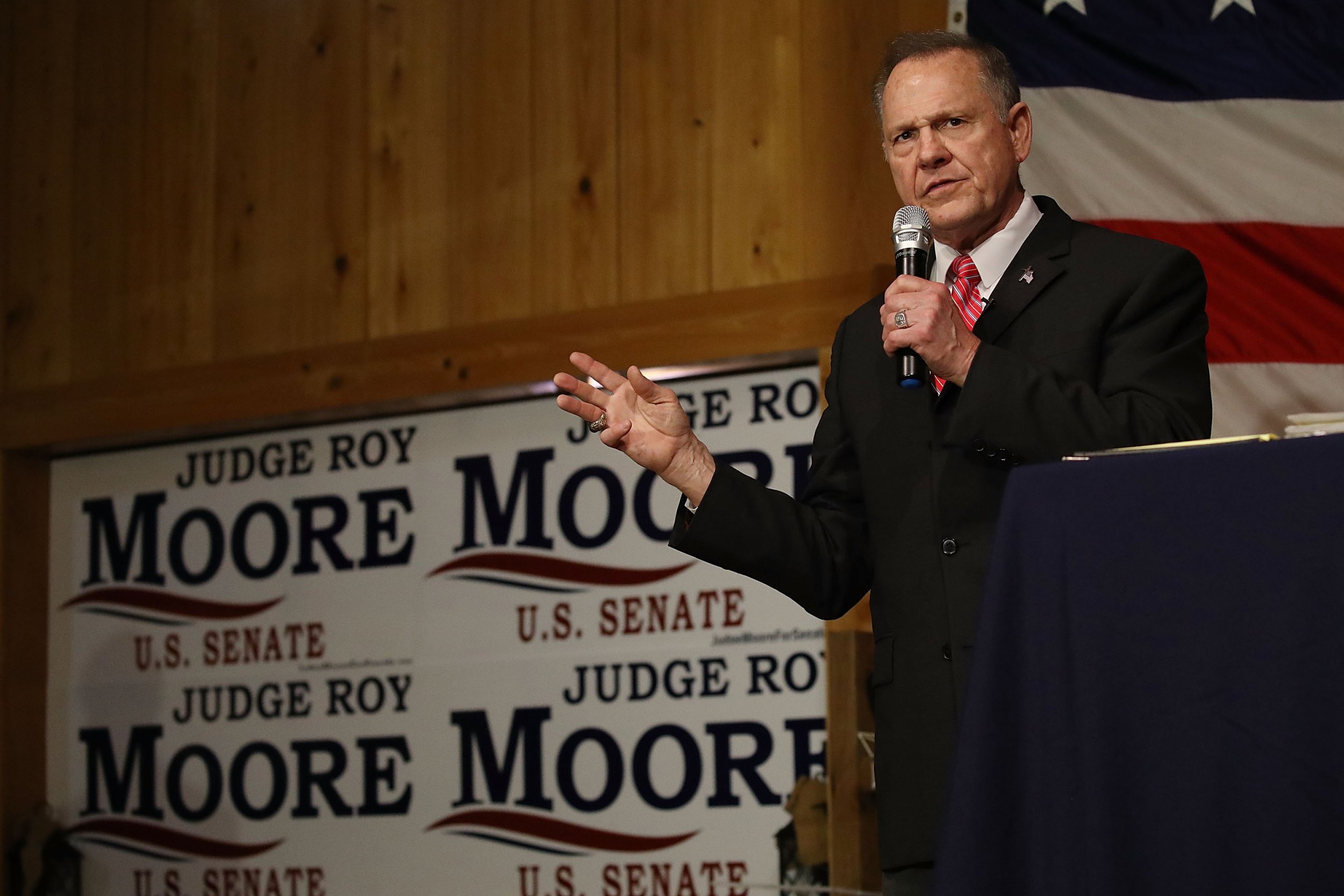 Alabama Senate candidate Roy Moore said in a 2011 interview that removing amendments to the U.S. Constitution after the 10th Amendment would "eliminate many problems" in the structure of the U.S. government, CNN's KFile reported Sunday.
Alabama's Senate election will be held Tuesday, with Moore facing Democratic candidate Doug Jones.
Moore's hard-line views on issues including immigration, Islam and homosexuality have come under renewed scrutiny in recent days. His campaign has been roiled by accusations from multiple women that he sexually assaulted them as teenagers when he was in his early 30s.
Moore has denied the allegations, blaming reports on a conspiracy by Democrats, socialists and gay people.
In June 2011, Moore appeared on the Aroostook Watchmen show, which is hosted by Steve Martin and Jack McCarthy, who have peddled conspiracy theories about 9/11, the Sandy Hook killings and the birthplace of former President Barack Obama.
During Moore's appearance, one host said he supported getting rid of every amendment after the 10th Amendment.
"That would eliminate many problems," Moore said in response to the host on the audio KFile unearthed.
"You know people don't understand how some of these amendments have completely tried to wreck the form of government that our forefathers intended," he continued.
Moore criticized the 17th Amendment, which calls for the direct election of senators by voters rather than state legislatures, and the 14th Amendment, which was passed during the Reconstruction period following the Civil War and guaranteed citizenship and equal rights and protection to former slaves.
Amendments incorporated into the U.S. Constitution after the 10th Amendment expand civil rights protections granted by the Bill of Rights. They include the 13th Amendment, which abolished slavery; the 15th Amendment, which prohibited the federal and state governments from denying citizens the right to vote based on that person's race; and the 19th Amendment, which extended suffrage to women.
In an appearance on the show in May of that year, Moore was asked by the hosts if he wanted "new hearings into what really happened on 9/11."
"Well, I think they need to explore that, yes, but it's something that's already done and now we have to live with the consequences. But I know what you're talking about. If there's any new evidence, we always go back to the truth. If there's anything that's not been revealed, we need to know about it," he said.
Moore has previously suggested that 9/11 happened because America "distanced" itself from God, and in a 2003 address at Georgetown University pointed to a Bible scripture that spoke of a "day of great slaughter, when the towers fall," adding, "there are consequences when we turn away from our source of our strength."
Moore's campaign released a statement denying that he wanted to retain only the first 10 amendments.
"Once again, the media is taking a discussion about the overall framework for the separation of powers as laid out in the constitution to twist Roy Moore's position on specific issues," spokesman Brett Doster told CNN in an emailed statement.
"Roy Moore does not now nor has he ever favored limiting an individual's right to vote, and as a judge, he was noted for his fairness and for being a champion of civil rights. Judge Moore has expressed concern, as many other conservatives have, that the historical trend since the ratification of the Bill of Rights has been for federal empowerment over state empowerment," he continued.
On Moore's comments on 9/11, Doster said Moore "believes that Islamic terrorists were responsible for the 9/11 attacks, has made rebuilding the military one of his key campaign purposes, and is the only Senate candidate with experience serving in a combat zone."