Roy Moore, Accused Child Molester, Co-Wrote Course Guide That Said All Women Are Unfit for Office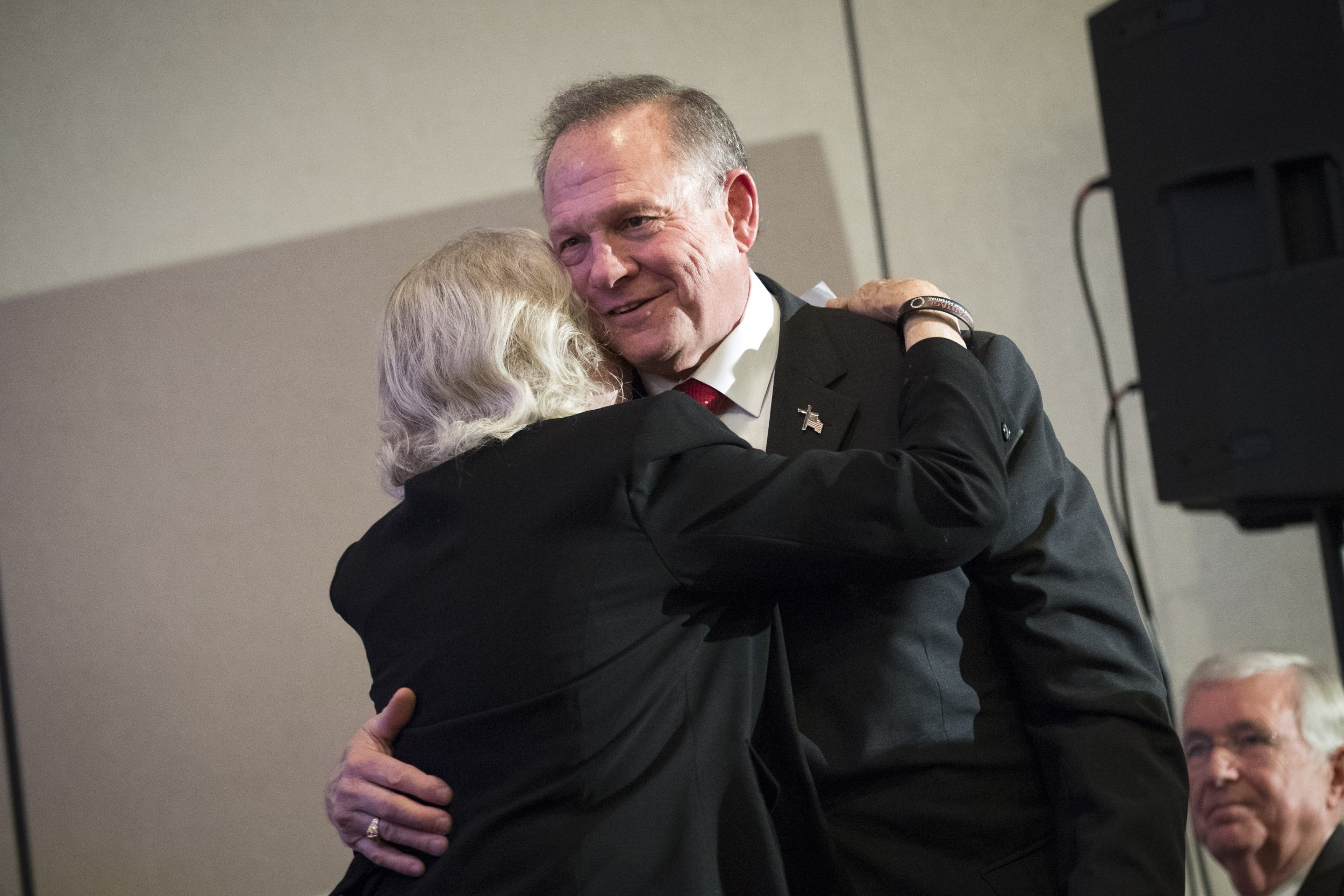 Roy Moore, the Republican U.S. Senate candidate who has faced allegations of preying on teenage girls when he was in his 30s, co-authored a course guide in 2011 that taught students that women are morally unfit to hold elected office. The course, titled "Law and Government: An Introductory Study Course," was a product of a now-defunct Texas-based evangelical group, Vision Forum, which stated that "egalitarian feminism is a false ideology."
Related: Roy Moore Blames Lesbians And Socialists For Sexual Misconduct Accusations
The course guide, for which Moore is listed as one of four co-authors, instructed students that women shouldn't be eligible to run for public office—and that, if they did, people had a moral obligation not to vote for them, the news website Think Progress reported. The lesson in question, written by William O. Einwechter, a teacher elder at Immanuel Free Reformed Church, was titled, "What the Bible Says About Magistrates." It is also critical of women's suffrage.
"She's not a warrior. She's not a judge. She's a woman. Created by God. Glorious in her place and in her conduct and in her role," Einwechter said. "Nothing is said in scripture that supports the notion that she is qualified or called to be a civil magistrate."
A spokesperson for Moore's campaign did not respond to a request for comment about whether Moore held the same views or continues to do so.
Moore was a contributor to Vision's Witherspoon School of Law and Public Policy, which was led by Doug Phillips, the founder of the patriarchy movement that taught that women's place was in homes under the control of either their fathers or husbands. Vision Forum was shut down in 2013 after Phillips admitted to an extramarital affair with a young woman. The woman later filed a lawsuit claiming that Phillips began grooming her from the age of 15.
In a lecture given in 2008, Moore was full of praise for Phillips.
"As I think about what's going on here at Vision Forum and what Doug's doing and has done, I'm a little envious because I admire Doug and the fact he can round up these young men that are going to make a difference in our nation," he said, according to Think Progress.
The allegations that brought down Phillips and Vision Forum are strikingly familiar to those that have threatened to derail Moore's bid to become a U.S. senator.
In the past several weeks, nine women have come forward to allege that Moore preyed on them when they were teenagers and he was in his 30s. One woman, Leigh Corfman, accused Moore of engaging in sexual activity with her when she was 14. Another, Beverly Young Nelson, alleged at a press conference that Moore attempted to rape her when she was 16.
Others from the area of Alabama where Moore lived at the time, including police officers, have said that it was a known secret that Moore liked young girls and would hang out at a local mall preying on them.
Despite this, Moore has vehemently denied all the allegations against him and painted them as part of a campaign waged by Democrats, establishment Republicans and the mainstream media. On Wednesday, he added to the list of those he claims are seeking to destroy his campaign, pointing to "the lesbian, gay bisexual, transgender, who want to change our culture." .