Roy Moore Lands Neo-Nazi Endorsement Before Election for 'Correctly' Quoting Hitler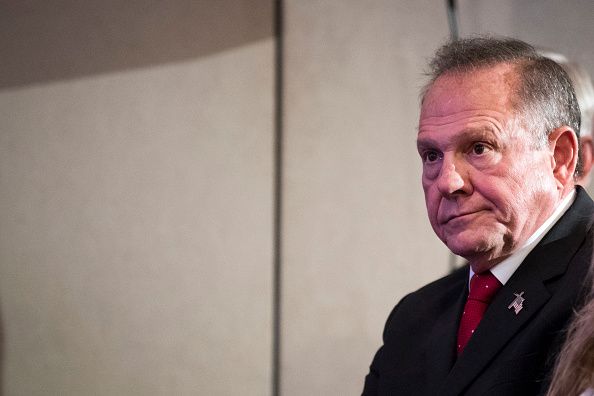 Well, America's neo-Nazis have picked a dog in the fight of the Alabama Senate race. Nope, it's not Democrat Doug Jones.
Robert Warren Ray, an avowed white supremacist who writes for Daily Stormer, a neo-Nazi website that has been kicked off over a dozen domains after the violence that transpired in Charlottesville, Virginia, this August, endorsed embattled Republican candidate Roy Moore on Monday. His reasoning? Moore, who faces allegations of sexual misconduct from eight women, in some cases from actions he allegedly took against them as teens, quoted Adolf Hitler "correctly."
"Moore used Hitler's 'big lie' quote, and actually used it correctly, rather than claiming it meant Hitler was admitting to be a big liar all the time, as our politicians and (((media))) always do," Ray wrote, referring to a statement Moore made in 2011 on what CNN described as a "conspiracy-driven radio show" about former President Barack Obama's birth certificate. (The triple parenthesis in Ray's words, blanketing the word "media," has an explicitly anti-Semitic connotation.)
CNN had published a report about Moore's appearances on the show earlier in the day on Monday.
The context of the quote came from Moore's appearance on the radio show. "Well that's, that's a problem. You know Hitler once said, 'You tell a big enough lie long enough, people [tend] to believe it.' And that's, that's the problem. We've got to look at simple facts of the case, and we need to recognize we need a new administration in Washington. And it just doesn't, based upon party, we need like people that uphold the Constitution not undermine it," Moore said about Obama.
Ray was also elated by Moore telling the hosts of the radio show that getting rid of constitutional amendments after the tenth would "eliminate many problems" in the country. Eliminating these amendments, Ray notes, would, among other things, limit voting in America to an activity practiced only by white men.
"No more women and n-----s voting!" Ray wrote. "No more misquoting Hitler!"
Moore has denied the sexual misconduct allegations he faces, and a spokesperson denied to CNN today that he wants to do away with more than half the U.S. Constitution. He was a controversial figure in American politics long before the allegations of sexual misconduct began to surface, particularly for his hard-line, far-right views on LGBTQ people and immigration. His candidacy is seen by many as a litmus test on the popularity of President Donald Trump, who has struggled mightily to win over moderates and independents since taking office in January.
Daily Stormeris, unequivocally, not the kind of endorsement a normal candidate running for any office on planet Earth would want to have. The site has venerated the man suspected of murdering anti-racist activist Heather Heyer in Charlottesville, Virginia, this August, with memes, and attempted to dismiss the seriousness of his alleged crime by promoting a vulgar, sexist conspiracy theory about her death.
Daily Stormer also frequently calls for the harassment of Jewish people and people of color. The site also vocally supports violence against women and spousal abuse. Newsweek reached out to Moore's campaign for a comment on the endorsement but did not immediately receive a response.