Roy Moore Net Worth: Alabama Senate Candidate OK'd for Six-Figure Pension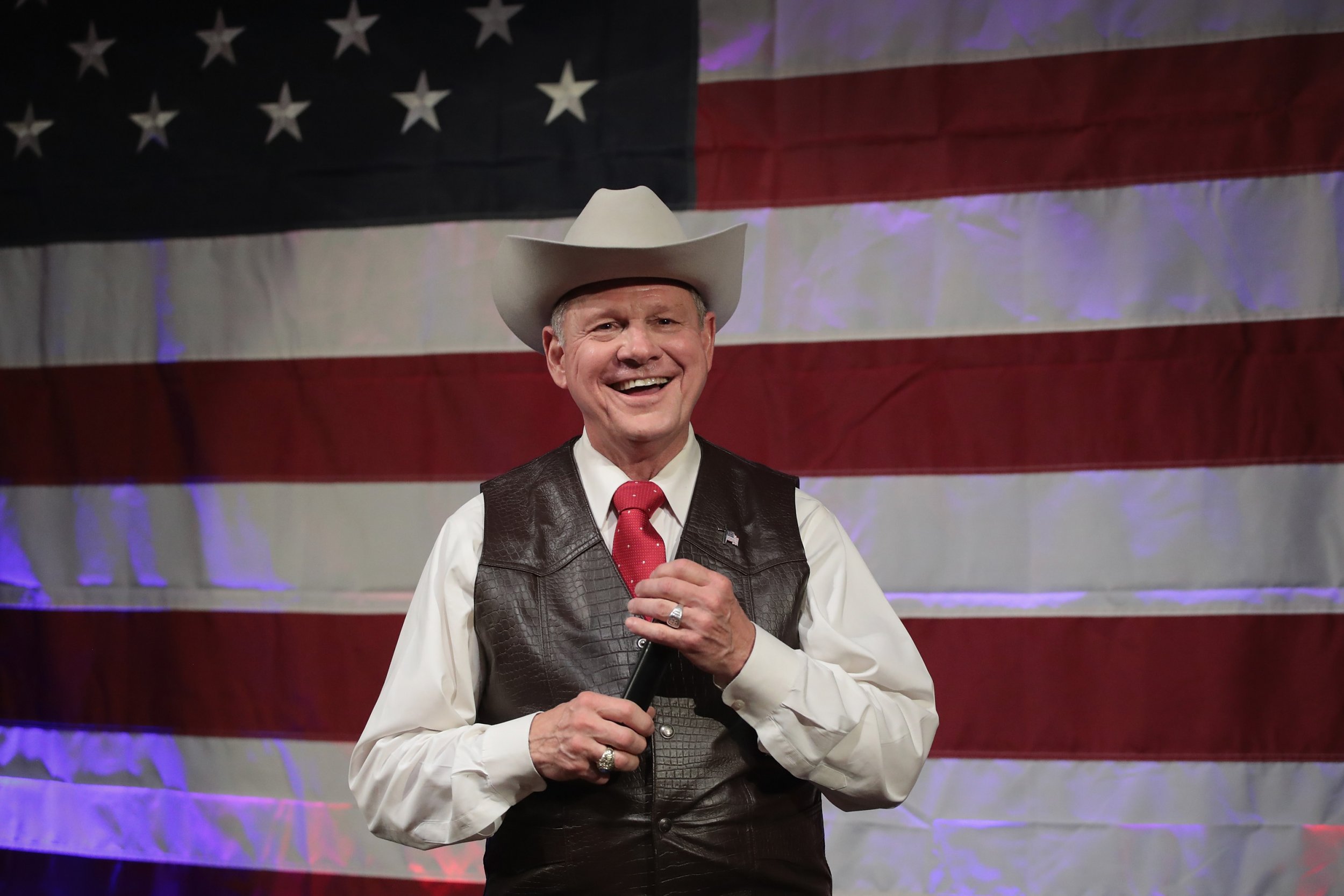 Republican Roy Moore is up for election on Tuesday to become Alabama's newest senator, but he's already notched at least one victory. On Friday, the Retirement Systems of Alabama Board approved the former judge for an annual pension of nearly $136,000, according to WBRC.
That's 75 percent of the $181,000 salary Moore was making as chief justice of the Alabama Supreme Court before he retired in April. He was eligible even though he was removed from that job twice—in 2016 for telling judges to disobey federal regulations legalizing same sex marriage, and in 2003 for refusing to take down a Ten Commandments monument.
AL.com reported Moore got his OK for the retirement funds on Friday along with three other judges.
The news gave another clue as to what Moore's financial standing looks like heading into Tuesday's highly anticipated election against Democrat Doug Jones. Most of the country is watching the race because Moore has been accused of sexual misconduct with teenagers—and failing to disclose all his income on government forms. President Donald Trump has endorsed Moore, saying he needs his Republican vote to advance his agenda. Other Republicans, including the state's senior Senator Richard Shelby, have said the allegations against Moore are so bad that they cannot support him.
Moore filed papers with the Alabama Ethics Commission earlier this year indicating that he made between $50,000 and $150,000 in speaking fees in 2016, but that information was omitted from documents he submitted to the federal Senate Ethics Committee, according to the Daily Beast. On top of that, The Washington Post found Moore earned over $1 million from his position as president of the Foundation for Moral Law between 2007 and 2012—despite claiming he didn't have a "regular salary" from the charity his wife leads.
Moore's campaign tried to discredit the Post report, calling it "full of all of the same distortions and innuendos that characterized past political attacks on Judge Moore." But Jones seized upon it, telling AL.com that his opponent misled the public.
"Once again, we see that Roy Moore has put his own interests ahead of the people of Alabama," Jones said in a statement. "It's just more proof that Alabamians can't trust Moore to look out for anyone except himself and will not look out for the people of Alabama in the U.S. Senate."
No matter who wins on Tuesday, the new Alabama senator is set to earn a $174,000-per-year salary. That means Moore or Jones will be making nearly four times as much as the median household income in Alabama, which according to the Census is $44,758.