GOP Candidate Roy Moore Initiated Sex With a 14-Year-Old in New Charge, Just the Latest Horror in Judge's Past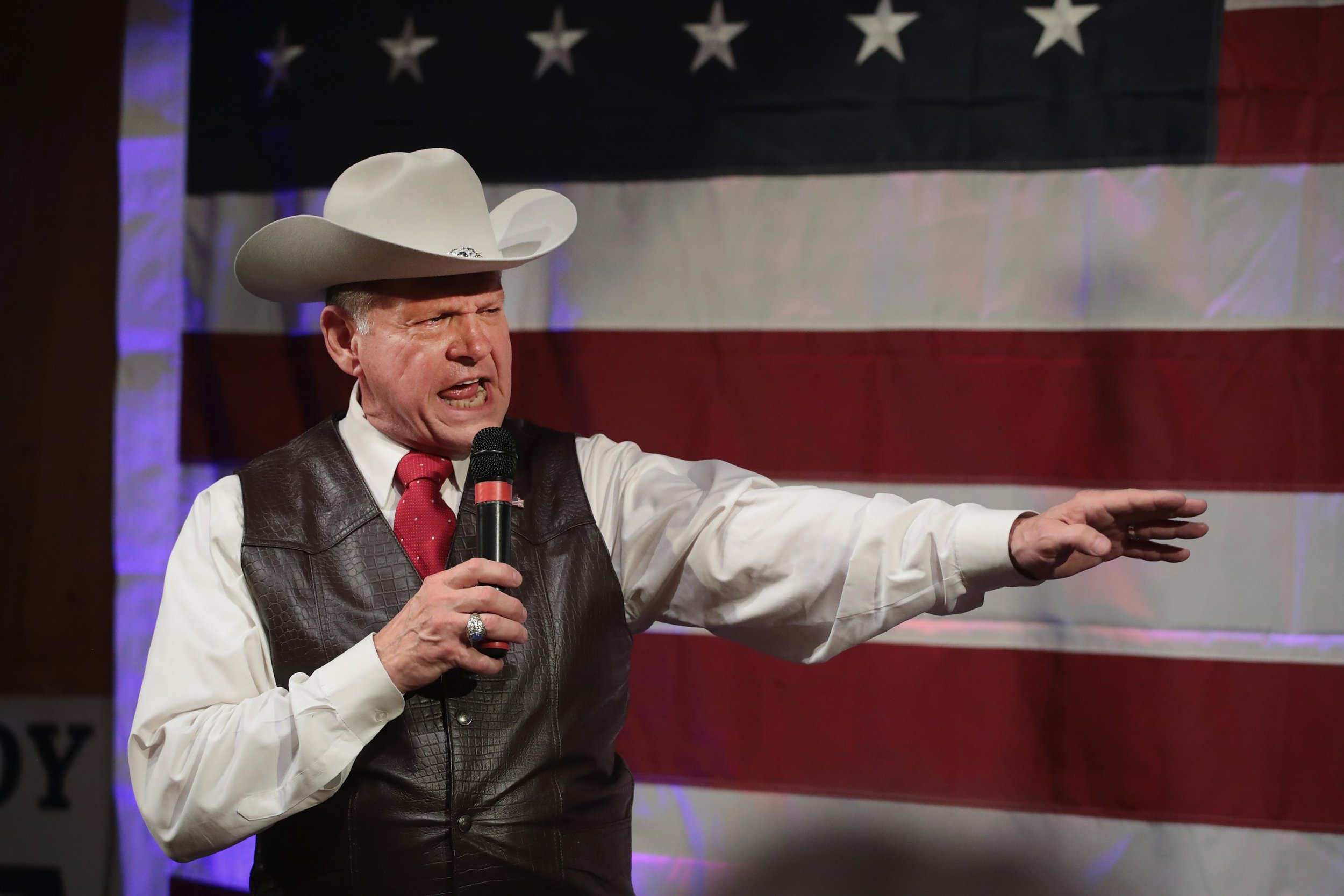 The Republican candidate for Alabama senator, Roy Moore, sexually assaulted a 14-year-old girl when he was 32, the Washington Post reported Thursday — the latest in a long line of indefensible behavior from the former judge.
According to a Post exclusive, Moore initiated a sexual encounter with the teen, taking her to his home in the woods, complimented her and kissed her. The next time he saw the girl, "he took off her shirt and pants and removed his clothes" before touching her, the Post reported.
"I wanted it over with — I wanted out," Leigh Corfman told the newspaper, which also reported that three other women said Moore attempted to have sex with them before they were 18 years old.
In a statement, Moore called the account "baseless" and said it reflects a vendetta by a newspaper that endorsed his opponent in the GOP primary last month and favors Democratic rival Doug Jones.
"National liberal organizations know their chosen candidate Doug Jones is in a death spiral, and this is their last ditch Hail Mary," Moore's statement said.
Meanwhile, Senate Majority Leader Mitch McConnell (R-Kent.) called on Moore to leave the race if the allegations are true.
The Post story came the same day that a 1990s charge against Moore resurfaced, detailing how the then-judge kept a lesbian mother from her children, saying they would be "detrimentally affected" by her "lifestyle."
Both of Thursday's reports are part of Moore's much longer history that voters in Alabama will consider before choosing a replacement for former Sen. Jeff Sessions on December 12. Here are a few:
When Moore was a chief justice of the Alabama Supreme Court, he was removed from the court after he refused to take down a Ten Commandments monument.
He was also suspended from Alabama's Supreme Court for refusing to recognize the legalization of gay marriage nationwide and has urged state governors and legislators to do the same.
In 2006, Moore penned an article titled "Muslim Ellison should not sit in Congress" thinks Muslims shouldn't be allowed to serve in Congress.
He said "homosexual conduct" should be illegal.
Moore called Native Americans and Asians "reds and yellows" in a unity speech. "Now we have blacks and whites fighting, reds and yellows fighting, Democrats and Republicans fighting, men and women fighting," he said, and was attacked for referring to Native Americans and Asian Americans by the ethnic slurs "reds and yellows."
He said "maybe Putin is right" about gay marriage. Putin opposes it.
He said the judge who blocked Trump's military's transgender policy should be impeached. He said her ruling, which was completely constitutional, "placed herself above the Constitution" with "judicial activism," which, he said, is worthy of impeachment.
He also doesn't believe transgender people should be using their bathroom of choice. "We don't need transgender bathrooms and we don't need transgender military and we don't need a weaker military," Moore said over the weekend during a political rally, according to The Hill. "We need to go back to what this country is about."
It's unclear what will happen to Moore now that the Washington Post story is out. But he's likely to stay in the race because he's missed a deadline to pull out.