Roy Moore's Final Stand: In Rural Alabama, Steve Bannon Rallies the Right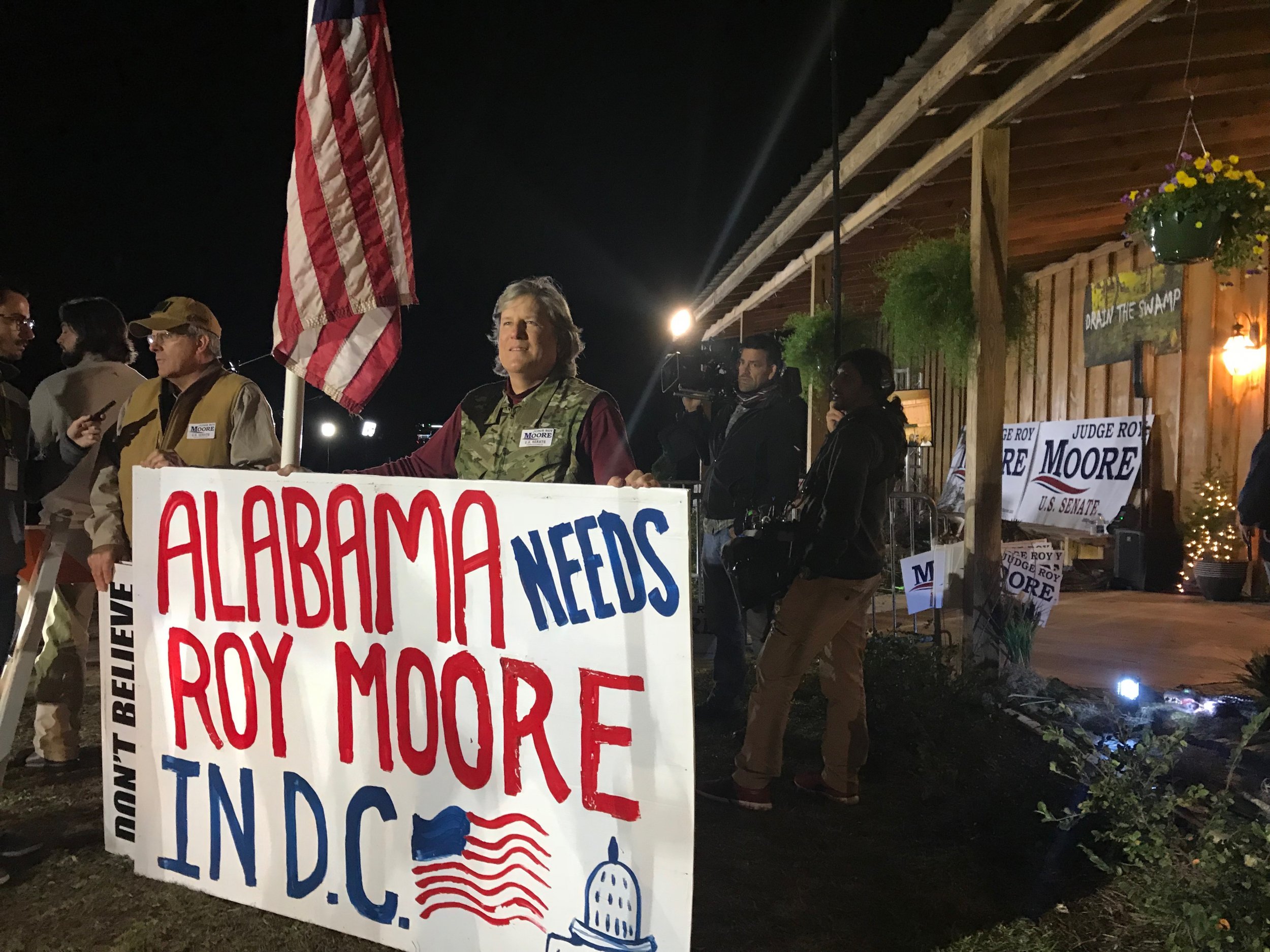 As a fiddle ensemble played a rendition of The Beatles' "All You Need Is Love," about 200 Alabamians filled a bright, remodeled barn in the countryside outside of Dothan, not far from the border with Florida.
Near the entrance was a display of a Southern swamp, replete with snakes and gators emerging from algae-occluded depths. The swamp symbolized—as it must in the age of President Trump—the fetid political culture of Washington. And where there's an allegorical swamp these days, there must be someone promising to drain it. In this case, it was Roy S. Moore, the former chief justice of Alabama and, for one more day, Republican candidate for the U.S. Senate.
The rally in Dothan took place just hours before polls opened across the state in a special election that pits Moore, a religious conservative, against Doug Jones, a former prosecutor whose campaign has become a nationwide liberal cause in recent weeks, as Democrats seek a major victory ahead of the 2018 midterm elections. Though such a victory may have once seemed quixotic in this deeply red state, allegations that Moore harassed several women (including teenagers) have made the contest closer than it might have otherwise been.
Several prominent Republicans, including senior Alabama Senator Richard C. Shelby, have indicated they could not support Moore's candidacy. Some believe that Majority Leader Mitch McConnell, Republican of Kentucky, will seek to expel Moore from the Senate, were he to be elected. Others believe that such a move would lead to a damaging civil war within the GOP.
Judging by the jeers that greet any mention of their names on Monday, the opprobrium of Shelby and establishment figures like former Massachusetts governor and Republican presidential candidate Mitt Romney have only emboldened Moore's supporters. Many have come to see themselves as maligned outsiders waging principled battle against interlopers who have no business inserting themselves into Alabama's electoral affairs. They have come to view the media reports about Moore's alleged misconduct as smears, however seemingly credible those reports appear to be. Many are the same "deplorables" who helped elect Trump, at least if the presence of "Make America Great Again" gear in Dothan was any indication of political fealty. It is a role they have visibly come to relish, turning the Monday-night campaign stop into a festive, energetic affair.
"Alabama Needs Roy Moore in D.C.," said a sign foisted by Jeff Hulbert, who'd driven to Alabama from Annapolis, Maryland. Though he could not vote in the special election, he'd nevertheless spent the previous week driving around Alabama in support of Moore's candidacy.
Leon Thomas, conversely, had come from just down the road. In dark blue suit and bowtie, he was one of a few African-Americans in a largely white crowd. "He has a long history of supporting the word of God, and that's very important for this country," Thomas said of Moore. He cautioned Democrats against taking the African-American vote for granted. "There are a lot of black people in Alabama that believe Roy Moore stands for a lot of our views," he said.
The boisterous, two-hour-long rally featured appearances by Stephen K. Bannon, the former Trump campaign manager and chief White House political strategist; former Milwaukee County sheriff David A. Clarke, Jr.; Rep. Louie Gohmert, Republican of Texas and, finally, Moore himself, who was accompanied on the stage by his wife Kayla. She recited a litany of complaints about how she and her husband have been treated by the media, pushing back in particular against assertions that they were racists or anti-Semites.
"One of our attorneys is a Jew," Kayla Moore said, in a line that quickly became a social media sensation.
Her husband said a little later that the race for the Senate had been "strange," and there's still time for more strangeness yet.
Clarke, in his trademark cowboy hat, made clear what the deciding factor on Tuesday would be: "Turnout, turnout, turnout." Democrats may agree with him on that, if on little else. Last weekend saw two prominent African-American politicians, Sen. Cory A. Booker, Democrat of New Jersey, and former Massachusetts governor Deval L. Patrick, campaign for Jones. Former President Obama has recorded campaign calls for the Democrat, as has former Vice President Biden. Despite this show of force, Jones remains behind Moore by 2.2 percentage points, according to the RealClearPolitics average of polls.
For the most part, Monday's rally was less Beatles amity than Rolling Stones anger. It began with a reading from Psalms invoking the "violence of the wicked"and the eventual triumph of the righteous. An undercurrent of religious persecution ran through the two-hour rally, as speakers portrayed those gathered as a kind of religious minority assailed by coastal elites wanting to impose their values on Alabama. As such, they cast Moore less as a traditional politician with a set of policy proposals but as a kind of bulwark against the intrusions of liberalism.
"This is a spiritual battle we are in," said Paul Nehlen of Wisconsin, who'd unsuccessfully challenged House Speaker Paul D. Ryan for his congressional seat. In a reminder of how every political race, seemingly down to the local school district, has become a proxy battle for pro- and anti-Trump forces, there were speakers from around the nation, including several who may be planning 2018 runs of their own. And given the dozens of national and international media outlets covering the rally in Dothan, the more than half-dozen speakers could bask in plenty of attention, not to mention frequent peals of applause.
"We will not be told how to vote," said anti-abortion activist and Moore spokeswoman Janet Porter to cheers. "We will not be bullied, and we will not be bought." Echoing the recorded call Trump has made on Moore's behalf, Porter promised the candidate would help confirm conservative judges and serve as a reliable Republican vote in a narrowly Republican Senate on divisive issues like gun control and immigration.
Gohmert, a member of the far-right Freedom Caucus in the House, took the somewhat audacious step of discussing in detail why Moore's female accusers were not, in his estimation, telling the truth. Most everyone else who spoke did not allude to those allegations with any detail.
Bannon was the headliner, appearing on stage as the rally headed into its second hour. His shirt was tucked, perhaps in concession to local codes, but he was otherwise the same "streetfighter" (as he calls himself) who'd vowed war on the Republican establishment when he left the White House in August. Pacing the stage, as he tends to when he speaks, Bannon cast Trump's achievements as a historic break from the post-Cold War international consensus that, in his estimation, had left the United States weak from too many wars and trade deals.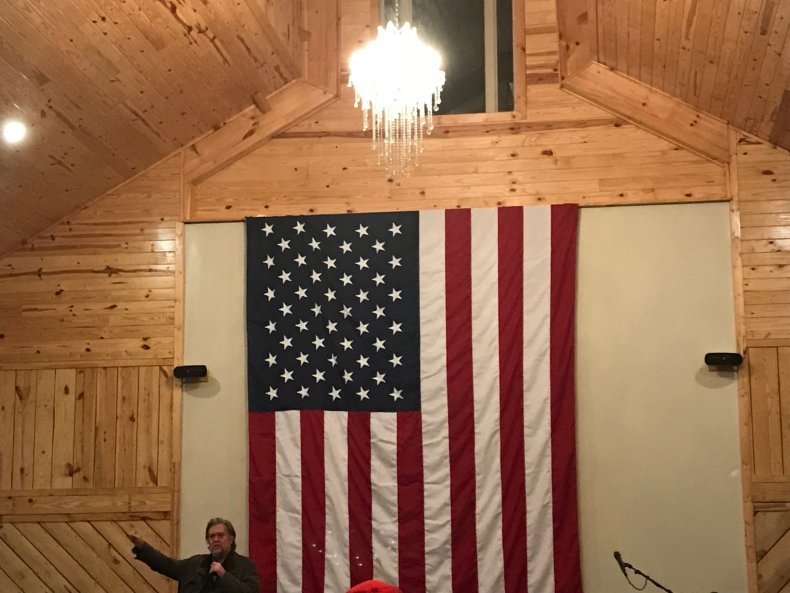 Bannon gamely taunted the journalists in the back of the barn while also skewering MSNBC's Joe Scarborough and CNN's Anderson Cooper, suggesting that the former could not earn admission to Georgetown and Harvard, as Bannon had. Neither Scarborough nor Cooper was present at the rally. The editorial board of the Wall Street Journal, which has been skeptical of Trump's trade policies, also came in for abuse.
Enumerating the various challenges to the Trump presidency—multiple investigations into potential collusion with Russia, renewed questions about alleged sexual improprieties by the president—Bannon suggested that voting for Moore would inoculate the president against such attacks, presumably by returning political momentum to his side.
"Alabama's the firebreak in all of that," Bannon said. Reminding the audience of his own roots in Richmond, Virginia, Bannon lamented the presence of interlopers who were trying to sway the election. As for Republicans who refused to back Moore, Bannon said they could expect "a special place in hell." He mocked Romney, referring to him as "Willard," a first name that Romney does not use. He also called Sen. Bob Corker, the Republican of Tennessee who has been a Trump nemesis, "Bobby Corker."
Bannon did not dwell on Moore or his record. Instead, he cast Moore as a reliable pro-Trump vote in the Senate, not to mention a defiant symbol of Alabama values in Washington.
By the time Moore himself spoke, the audience began to look drained. Moore outlined several substantive differences with Democratic challenger Jones, but he also plainly understands that this is a contest not of competing ideas but competing visions of Alabama, of what it means to be a Southern state in 2017.
This was the main message, that a vote for Moore was a vote for Alabama. Shortly before the judge finally took the stage on Monday night, a song by rock band Lynyrd Skynyrd came over the sound system in the barn. It was "Sweet Home Alabama," the 1974 riposte to Neil Young, who'd criticized the South in "Southern Man." Lynyrd Skynyrd told Young to keep his ideas, and his music, in Southern California: "A Southern man don't need him around anyhow."