Roy Moore Tells His Supporters to 'Defeat the Forces of Evil'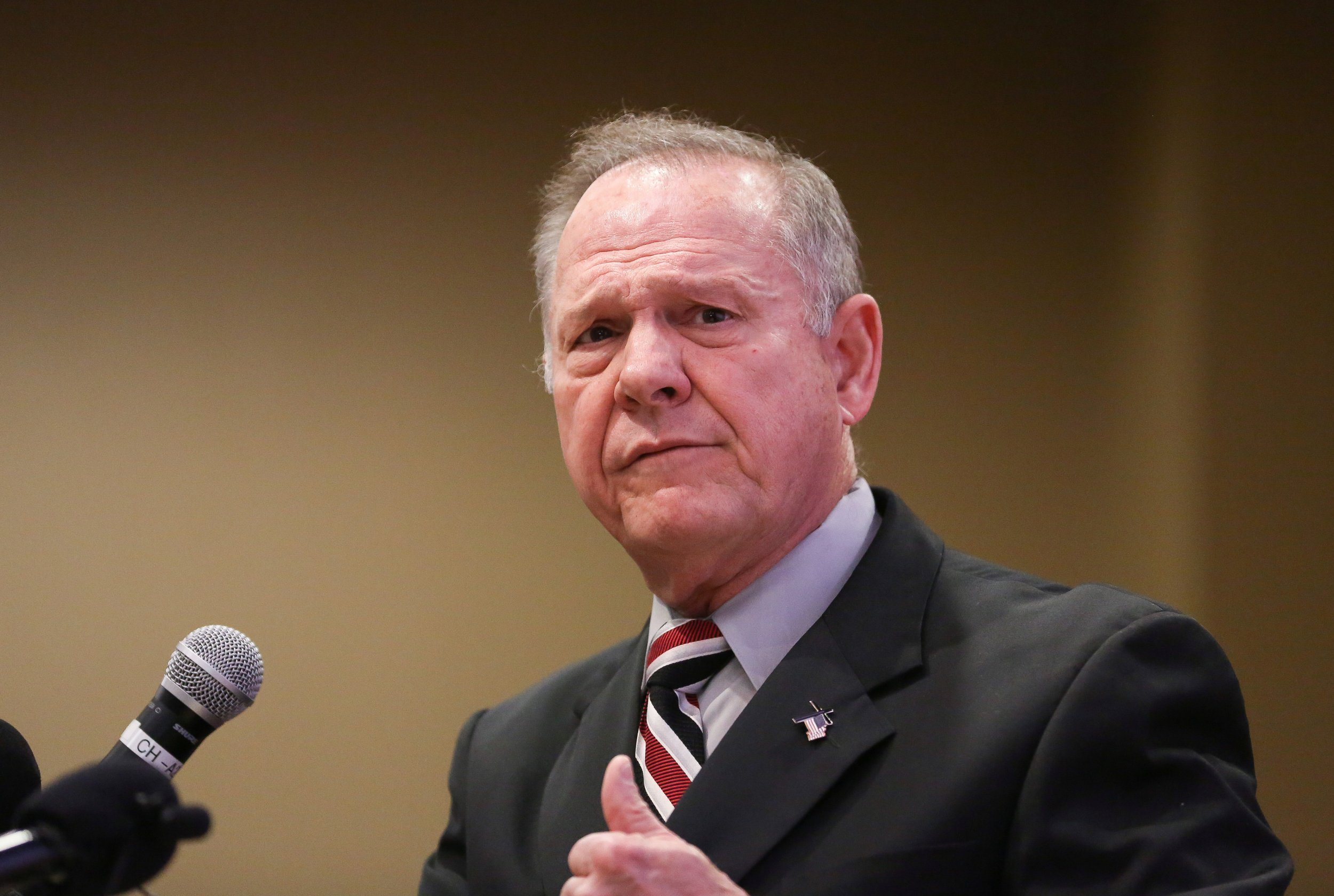 Embattled Republican Senate candidate Roy Moore spoke in Biblical tones to his supporters Sunday, stating that a vote for him is a vote to "defeat the forces of evil."
"I must be able to count on the support of God-fearing conservatives like you to help me defeat the forces of evil seeking to crush out and destroy our conservative movement," Moore wrote in an email to supporters Sunday.
Moore appealed to Evangelical Christian voters after polls showed that a solid group of them were less likely to abandon him after The Washington Post reported accusations of Moore's sexual assault against a minor last week.
Leigh Corfman said Moore made sexual advances on her when she was 14 and he was 32. The paper cited three other women who said Moore pursued them when they were in their teens, and other witnesses have come forward, including Corfman's mother and an ex-boyfriend who confirmed her story.
"It was common knowledge that Roy dated high school girls. Everyone we knew thought it was weird," former Deputy District Attorney Theresa Jones, who worked with Moore, told CNN.
Moore denied the allegations and called them "completely false and misleading" in an interview with Fox News host Sean Hannity. Moore is vying against Democrat Doug Jones for Attorney General Jeff Sessions's vacated Senate seat.
Securing the vote of Evangelical Christians is key in Alabama, as 49 percent of the state's adult population identify as members of the religion, according to Pew Research Center data. Speaking on an anti-LGBT, anti-abortion platform has traditionally been key to winning their vote.
A new poll published Sunday showed nearly 40 percent of Evangelical Christians are still more likely to vote for Moore after the allegations were revealed. Yet it also showed his broad base of support among the group slipping by about 6 percent.
Read more: Alabama Evangelicals more likely to support Roy Moore after sexual assault allegations, poll shows
"If it has happened, I believe the good Lord has forgiven him and he has the right to continue to prove himself," Christian voter Dottie Finch told CNN last week following the allegations. "I think that would just be between him and his good Lord," Finch continued. "Even if they prove to be true, I still would support Roy Moore because I feel as if that happened in the past."
Other evangelicals aren't so sure. "This is one of those excruciating-decision moments for evangelicals," Albert Mohler, president of the Southern Baptist Theological Seminary, told the Associated Press. "These allegations, if true, are devastating. If true, this is a very big deal."
He added, "Those of us who are pro-life have got to be very concerned about losing even one seat in the U.S. Senate."
"Evangelicals are steadily losing their moral authority in the larger public square by intensifying their uncritical loyalty to Donald Trump," wrote Reverend Robert Franklin, a professor of moral leadership at Emory University's Candler School of Theology, in an email to the AP. Franklin said Moore is more vulnerable to disaffection than Trump.
Last week, Alabama state auditor Jim Ziegler used the Bible to defend Moore, citing the story of Jesus. "Take Joseph and Mary. Mary was a teenager and Joseph was an adult carpenter. They became parents of Jesus," he told the Washington Examiner.
Other Republicans, including President Donald Trump, have called for Moore to step down from the race if the allegations against him are true. Alabama goes to the polls December 12.