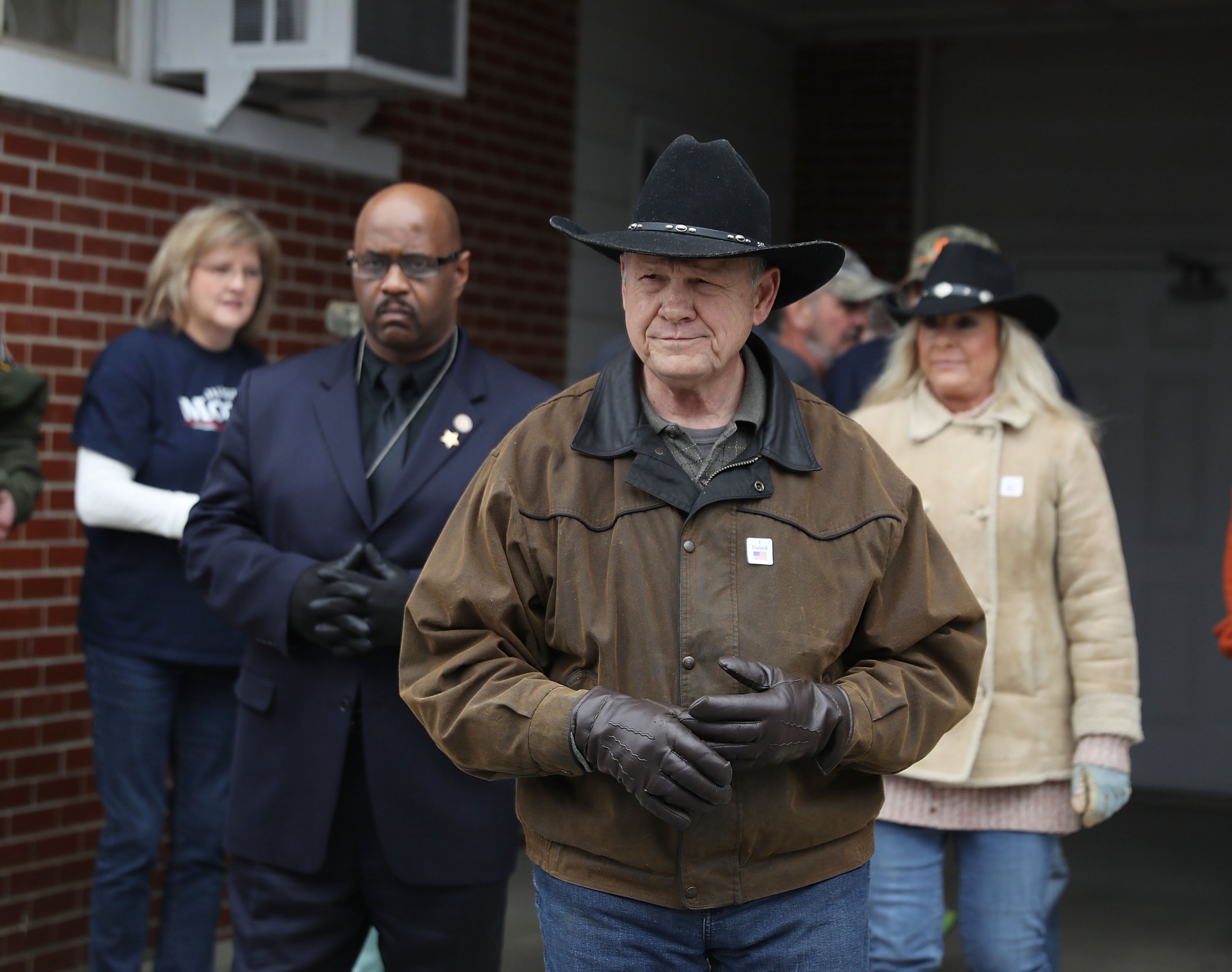 Alabama Senate candidate Roy Moore thinks Muslims shouldn't be allowed in Congress because elected officials have to take the oath of office on a Christian Bible, according to his spokesman Ted Crockett. Well, he's wrong.
There is no requirement for the oath of office to be taken on a Bible whatsoever, a baffled Jake Tapper informed Crockett as he appeared on CNN Tuesday.
Citing Moore's past assertion that Muslims are not fit to serve as legislators, Tapper asked Crockett to clarify why he feels this way. "Because you have to swear on the Bible...to be an elected official in the United States of America. [Moore] alleges that a Muslim cannot do that ethically, swearing on the Bible."
Tapper quickly informed him this is not the case. "The law is not that you have to swear on a Christian Bible," Tapper told Crockett, who appeared to be shocked by this information despite the fact the U.S. Constitution clearly states "no religious test shall ever be required as a qualification to any office or public trust under the United States."
President George Washington began the tradition of presidents swearing in on a Bible, but it is not enshrined in law. Multiple presidents have taken the oath on documents other than the Bible. John Quincy Adams, for example, used a constitutional law volume during his swearing-in to demonstrate his loyalty to the law.
Based on his past remarks, Moore might not be aware of these facts. In a 2006 op-ed, Moore wrote: "The Islamic faith rejects our God and believes that the state must mandate the worship of its own god, Allah. Common sense alone dictates that in the midst of a war with Islamic terrorists we should not place someone in a position of great power who shares their doctrine. In 1943, we would never have allowed a member of Congress to take their oath on 'Mein Kampf,' or someone in the 1950s to swear allegiance to the 'Communist Manifesto.'"
Not longer after Moore wrote this, a reporter asked him to clarify whether he believes a Muslim should be allowed to serve in Congress. "Of course they can serve. But they understand what they swear the Bible on, they swear to on the Bible, is the God that is not of their faith," Moore said, seemingly condoning a religious requirement for public office.
Newsweek reached out to the Moore campaign to further clarify his stance on Muslims serving in Congress, but did not hear back by the time of publication.
During the same interview with Tapper on Tuesday, Crockett also said Moore "probably" believes homosexuality should be illegal. During an interview 2005, Moore explicitly stated, "Homosexual conduct should be illegal, yes."
Moore's campaign for the Senate has been mired in controversy due to allegations of sexual misconduct with teenage girls when he was in his 30s. Despite the accusations against him, Moore ran a close race with Democratic opponent Doug Jones and also received President Donald Trump's endorsement.