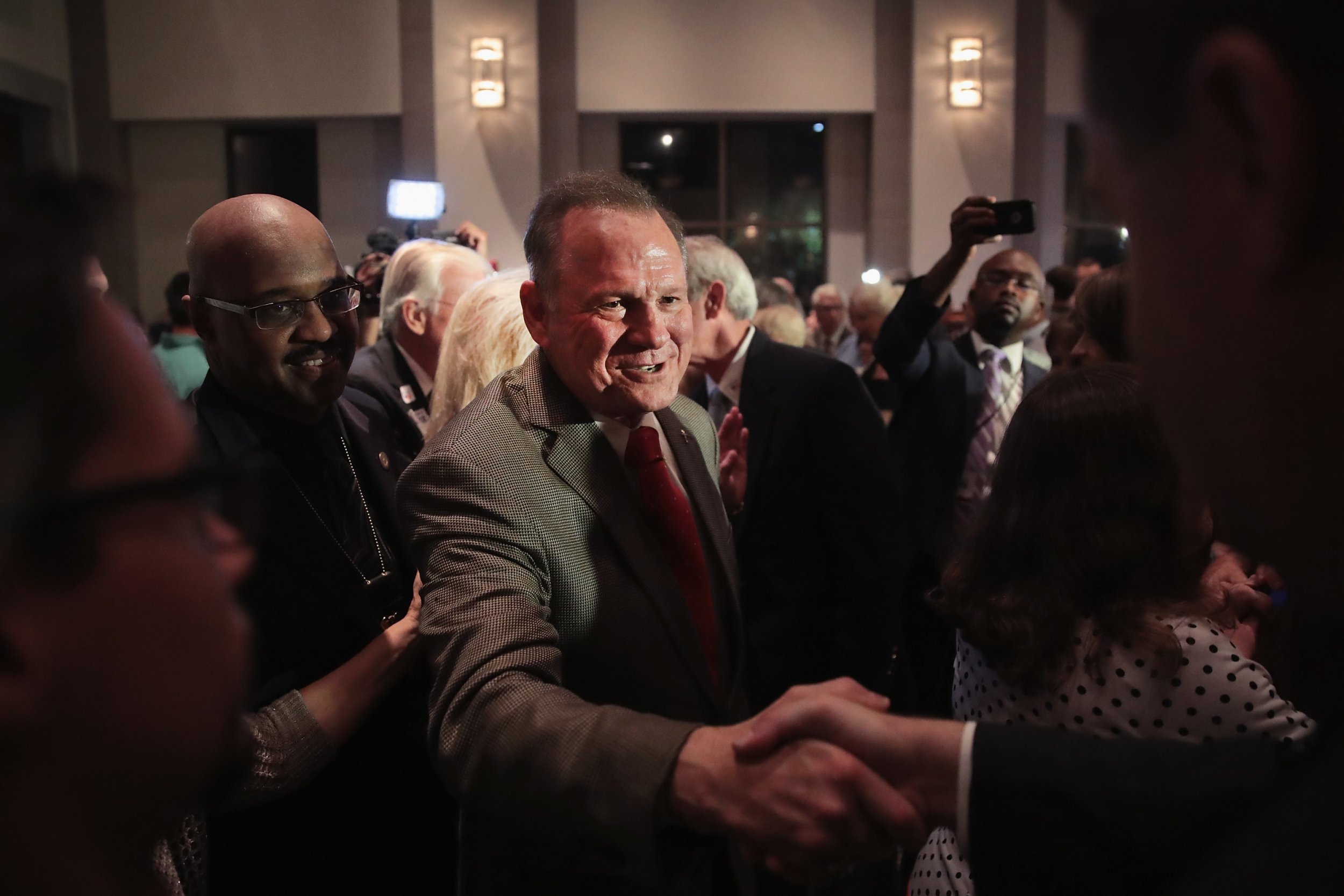 Three White House officials said Sunday that Alabama Senate contender Roy Moore should likely step down over the child sex allegations against him — but none seemed completely convinced that they are true.
White House legislative director Marc Short, counselor Kellyanne Conway and Treasury Secretary Steve Mnuchin all said in Sunday show interviews that Moore might not be the man for the job after the Washington Post exposed decades-old accusations against him. None of the three, however, definitively said that Moore needs to exit the race, and all left open the possibility that the allegations aren't true.
Short seemed to deliver the clearest denunciation, saying there is "a special place in hell for people" who have been accused of Moore's alleged crimes.
"There's no Senate seat more important than the issue of child pedophilia," Short told NBC News' "Meet the Press."
Even so, he said Moore "has not been proven guilty" and should have a chance "to defend himself" and ultimately let Alabama voters decide whether he deserves the Senate seat.
Conway said the accusations against Moore are "disqualifying" if they are true, but she said the former judge should not be prosecuted ""through the press" and she cast doubt on the impact of the reports.
"It would be a dangerous conversation for any of us to just be cast aside as guilty because of press reports. This is a democracy with a constitutional system that allows us to have a process," she told ABC News' "This Week."
"We're not in trial here. I only know what I read. What I read is very disturbing. What I read offends me greatly as a woman, as a mother of three young girls."
Mnuchin also said the allegations, if true, should rule out Moore, but he wouldn't answer direct questions about whether he personally believes the stories.
"I only know what I see on TV and what I read on the paper. But if the allegations prove to be true, he should step down," he told CNN's "State of the Union," later adding, "I'm not an expert on this issue."
None of the three gave any indication of whether President Donald Trump believes Moore's accusers.
Four women last week accused Moore, 70, of initiating sexual encounters with them when they were teenagers and he was in his 30s. The Alabama candidate has called the reports "completely false" and claimed they are a smear campaign against him ahead of the state's special election in December. Steve Bannon, the former White House strategist who campaigned for Moore over Trump's preferred candidate Luther Strange, has also called the reports a conspiracy.
Moore has given no indication he will exit the campaign and most of the GOP leadership has held back on outright agreeing with his accusers. Alabama Governor Kay Ivey, a fellow Republican, has so far shot down GOP calls for the election to be delayed.
The harshest GOP assessment on Sunday came from Sen. Pat Toomey (R-Pa.), who, unlike the White House officials, said he didn't need to see more evidence before making up his mind.
"We'll probably never know for sure exactly what happens. But from my point of view, you know, I have to say, I think the accusations have more credibility than the denial," Toomey told "Meet the Press."
"I think it would be best if Roy would just step aside."