Who is Roy Moore's Wife? Kayla Moore Says She's Gathering Evidence Sex Abuse Accusers Were Paid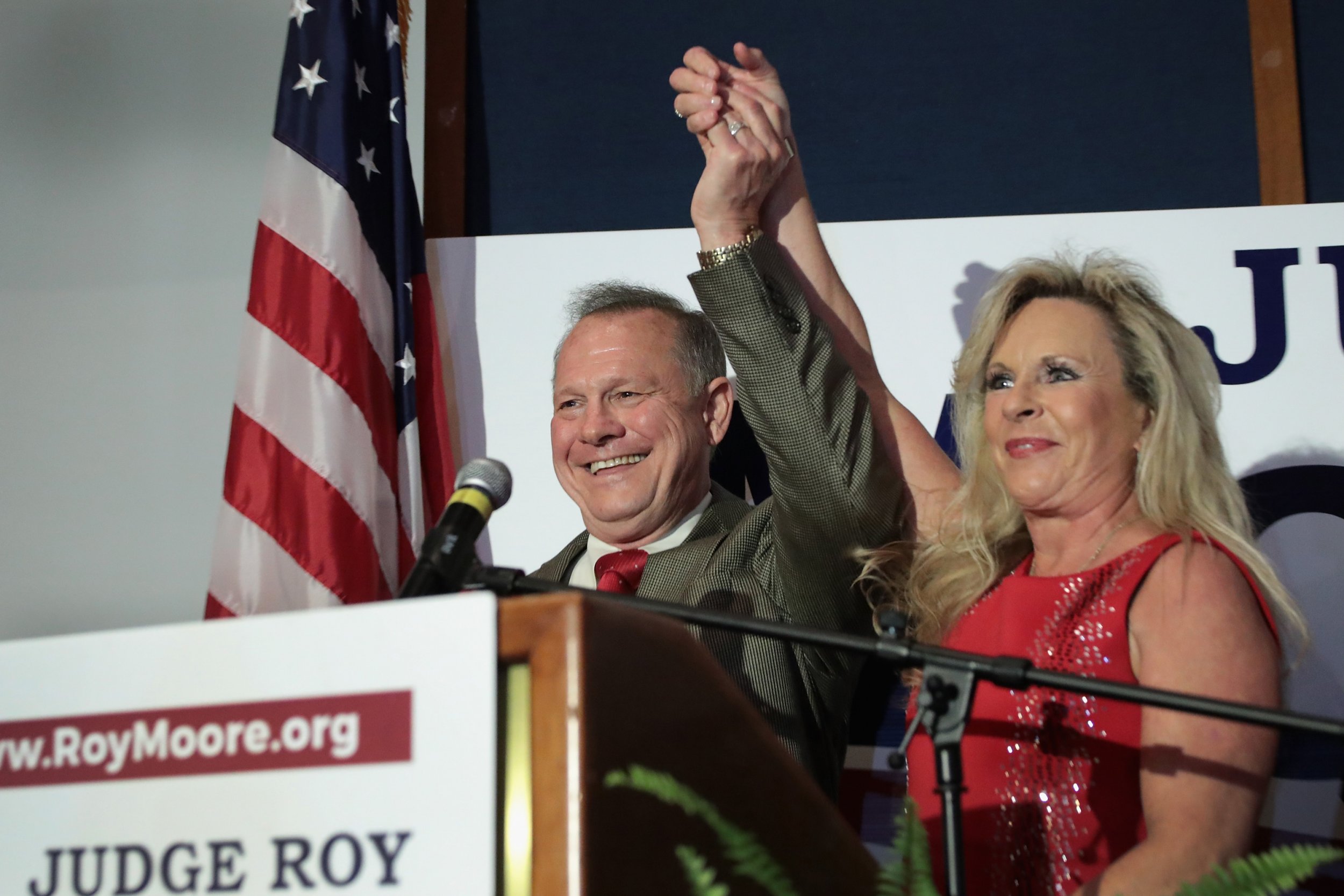 The wife of Alabama Senate candidate Roy Moore said Monday that the women accusing her husband of initiating inappropriate relationships with them as children have been paid by his critics to come forward.
Kayla Moore spoke out on Facebook just before attorney Gloria Allred was set to go public with another story of a woman saying Roy Moore approached her as a minor.
"After the accusations came out against Judge Moore his polling numbers did not change, so do you think they will let up?? We knew something was coming, just did not know what next," Kayla Moore wrote on Facebook. "This is the same Gloria Allred that did the very exact same thing to Trump during his campaign. Going on two months now they've been on a witchhunt here in Etowah County and our state advertising people to step forward with accusations and we are gathering evidence of money being paid to people who would come forward. Which is part of why we are filing suit! Washington establishment and Democrat Party will stop at nothing to stop our campaign. Prayers appreciated...."
Kayla Moore's comments followed a Washington Post report accusing her husband of initiating sexual conduct with Leigh Corfman as a 14-year-old in 1979. The Post story also included three other women who say Roy Moore had inappropriate contact with them when they were teenagers.
In the wake of the scandal, Moore's poll numbers have indeed dropped and now he trails Democrat Doug Jones for the race to succeed former Senator Jeff Sessions, who is serving as attorney general. The election is December 12.
Senate Majority Leader Mitch McConnell, a Kentucky Republican, said Monday that he believes the accounts of the judge's accusers and thinks Roy Moore should step aside. The candidate fired back right afterward, tweeting that McConnell is the one who should step aside.
Kayla Moore married Roy Moore in 1985, a year and a week after meeting him at a Bible study event, according to Decision Magazine. At the time, she was divorced with a daughter, whom Roy Moore adopted. They also have three sons.
Kayla Moore referenced their family in an interview with Breitbart News over the weekend rebutting the allegations against her husband.
"In all the contests that he's ever been in, nothing like this has ever happened. Nothing like this has ever come up. Nothing I've ever heard of," she said. "They say it was 'common knowledge,' but it wasn't 'common knowledge' for me and it wasn't common knowledge for any of our family."
Kayla Moore, a former bookkeeper and model, is now the president of the Foundation for Moral Law, an Alabama-based nonprofit that, according to its website, "exists to restore the knowledge of God in law and government and to acknowledge and defend the truth that man is endowed with rights, not by our fellow man, but by God." She also owns a marketing company.