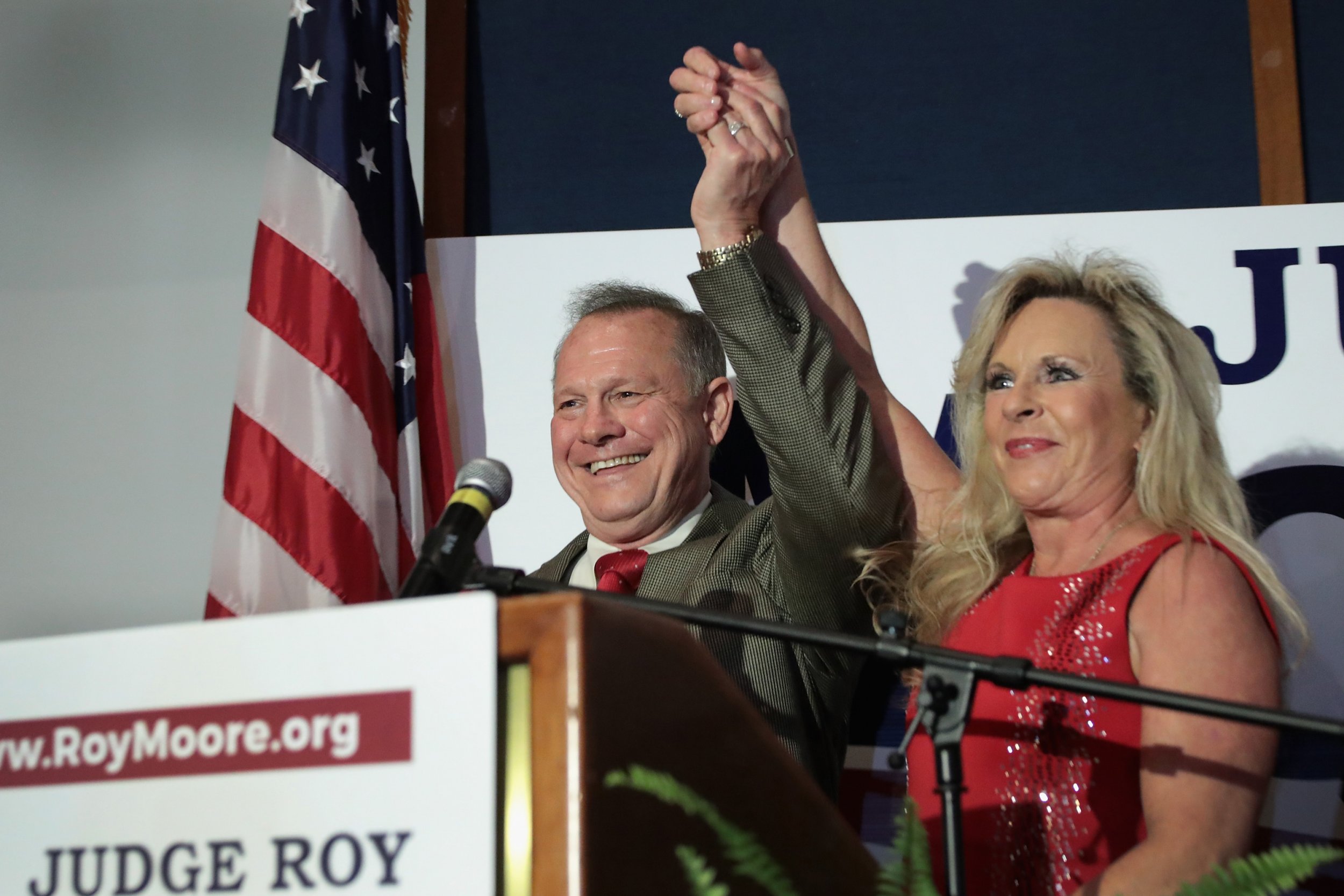 The wife of Republican Alabama Senate candidate Roy Moore has been her husband's biggest defender amid a storm of allegations concerning relationships with teenage girls. But Kayla Moore was also a minor, and he very much an adult, when her future husband first took an interest in her.
Related: What Is Trump's Reaction to Roy Moore? Not a Word, Because He's Also an Accused Sexual Assaulter
Surfaced by local website Al.com, Moore describes in his book how he met his wife at a friends' Christmas party when he was aged 37 and she was 23. That's already a significant age gap, but Moore goes on to explain that he had actually first set eyes on Kayla a long time before.
"Many years before, I had attended a dance recital at Gadsden State Junior College," Moore wrote. "I remembered one of the special dances performed by a young woman whose first and last names began with the letter 'K.' It was something I had never forgotten. Could that young woman have been Kayla Kisor?"
Of course, it would turn out that, yes, that was the future Mrs. Moore. In an interview earlier this year, as Moore was campaigning for the Senate seat vacated by Jeff Sessions, Moore provided further details, including the time, of that initial meeting.
"I was standing at the back of the auditorium and I saw her at the front and I remember her name, it was Kayla Kisor, K.K," he said. "It was, oh gosh, eight years later or something, I met her and when she told me her name I remembered K.K."
That eight-year timeframe would have meant that Moore was 29 and Kayla just 15 when they first met. However, Moore said that he was deputy district attorney at the time, a post he began a year later, in 1977.
That was the same year in which Beverly Young Nelson, appearing at a press conference last week, accused Moore of trying to rape her when she was just 16. And it was that same year that then 18-year-old Gena Richardson was working at Gadsden Mall when Moore asked her out.
A former police officer in Gadsden this week told The New York Times that it was common knowledge that Moore would talk to young girls. Several others who were in Gadsden at the time have shared similar stories of Moore regularly hanging out at the mall and chatting with minors.
The allegations against Moore began two weeks ago with a report in The Washington Post that centered on accusations from Leigh Corfman that Moore had a sexual encounter with her in 1979, when he was 32 and she just 14.
Moore has vehemently denied all allegations against him and portrayed them as a smear campaign from Democrats and establishment Republicans to derail his Senate bid. Since the allegations emerged, Moore has gone from a clear favorite to lagging behind Democrat opponent Doug Jones in the polls.
While Moore has said he does not remember ever knowing Corfman, much of his defense for the other accusations against him has centered on his failure to remember. Unlike Kayla, though, he had no problem remembering his first meeting with his wife all those years ago.
"I met you before," Moore said recalling their reunion at the Christmas party. "She was younger, she says 'I don't think so.' She brushed it off. I remember she just thought I was coming on and making it up and then I told her and she identified the dance. It was strange because I remembered that many years later."