Roy Moore is Running For Senate in 2020, But Republicans Say Embattled Judge Is Starting the Race 'Underwater'
Former Alabama Judge Roy Moore, who lost a 2017 Senate race after being accused of sexual misconduct against teenage girls decades ago, is running for Congress—again. But this time around, Moore's Republican colleagues say he shouldn't even bother.
"He starts out the race today underwater and that is not a position you want to be in," Tripp Skipper, the general consultant to former Auburn University football coach Tommy Tuberville's Senate campaign told Newsweek on Thursday. Tuberville will be running against Moore in the Republican primary.
Moore, 72, is the fourth candidate to enter the Republican primary for the opportunity to take on Democrat Doug Jones, who narrowly edged out the embattled judge for the open Senate seat during a 2017 special election by 1.5 percentage points. Moore initially refused to concede after the race was called for Jones, telling his supporters that they had to "wait on God and let this process play out."
"Yes, I will run for the United States Senate in 2020," Moore said on Thursday afternoon. "Can I win? Yes, I can win. They know I can and that's why there's such opposition."
Other candidates in the race include Representative Bradley Byrne and state Representative Arnold Mooney. Alabama's Secretary of State John Merrill filed paperwork with the Federal Election Committee earlier this week but has not officially announced that he is running.
Merrill told Newsweek that Moore's entry into the race adds a "new dimension" to the campaign because unlike other candidates the former judge has "has 100 percent name recognition."
"Everybody in the state knows Judge Moore and everybody has an opinion on Judge Moore," Merrill added.
But in announcing his candidacy, Moore is going directly against the wishes of President Donald Trump and the Republican Party. Many conservative lawmakers, like Senator Cory Gardner, vowed to never support Moore again following the sexual misconduct allegations against him.
Numerous women came forward during the 2017 race and accused Moore of sexually harassing them during their teenage years. Some of them were as young as 14 when the alleged incidents took place, while Moore was an assistant district attorney in his 30s. Moore sued several of his accusers in 2018, alleging that they defamed and conspired against him.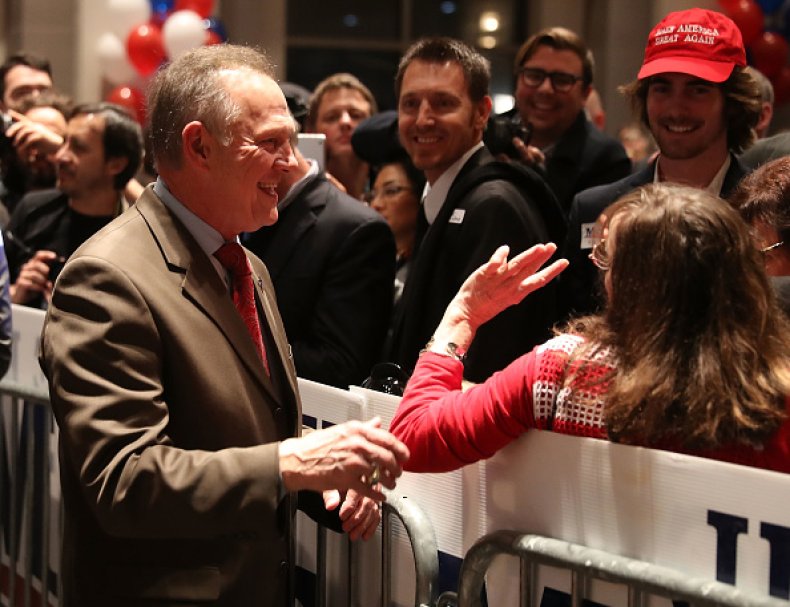 Trump explicitly cautioned Moore against running for Senate via Twitter last month, writing that he had "nothing against" the former judge but that Republicans need a candidate who is going to win in order to keep their majority rule in the Senate.
The president's sentiments were echoed by his son Donald Trump Jr., who tweeted that Moore was the "only candidate who could lose a GOP seat" in a solidly red state that overwhelmingly supported Trump during the 2016 election. He added that if Moore cared more about the president's agenda than his own ego it was "time to ride off into the sunset."
Moore has also lost the support of the National Republican Senatorial Committee, the campaign arm of Senate Republicans. The group severed ties with the former judge during the 2017 election amid allegations of sexual misconduct made against him. Kevin McLaughlin, executive director of the committee, recently described the group's official stance as "ABRM: anyone but Roy Moore."
Republican Senator Richard Shelby told The Washington Post on Wednesday that there are "a lot of reasons known to you and everybody else" why he wouldn't support Moore in his Senate run: "I think Alabama could do better. I think he would be a disrupter. I think we can win that seat back for the Republicans, but I won't be supporting him."
Despite Moore's past controversy, Alabamians signaled in April that they would support the former judge in an early poll for the 2020 Senate race. According to a survey by Mason-Dixon Polling & Strategy, 27 percent of Alabama Republicans would vote for Moore—which was the highest rate of any potential candidates included in the survey.
But more recent polling showed that Moore had the highest unfavorability among any of the potential candidates. In total, 48 percent of voters polled had an unfavorable view of Moore. Of that 48 percent, 32 percent said their view was "very unfavorable."
The survey, conducted by the Moore Information Group (an organization with no affiliation with to Roy Moore) from June 10 to June 11, surveyed 650 likely 2020 Republican primary voters in Alabama and has a 4 percent margin of error. The poll showed Tuberville to be leading the pack with 23 percent of the vote, followed by Moore on 18 percent and Byrne on 16 percent.
Moore's past controversy and his disconnect from the Republican establishment could spell trouble for his 2020 campaign. But Secretary of State Merrill warned against underestimating the former judge and his band of loyal supporters.
"I think it's important to note that no one should be underestimated and no one's candidacy should ever be undervalued," he said. "When people begin to underestimate someone they are making a grievous mistake and committing an error that will not be able to be overcome."