Roy Williams Speaks on Coaching Michael Jordan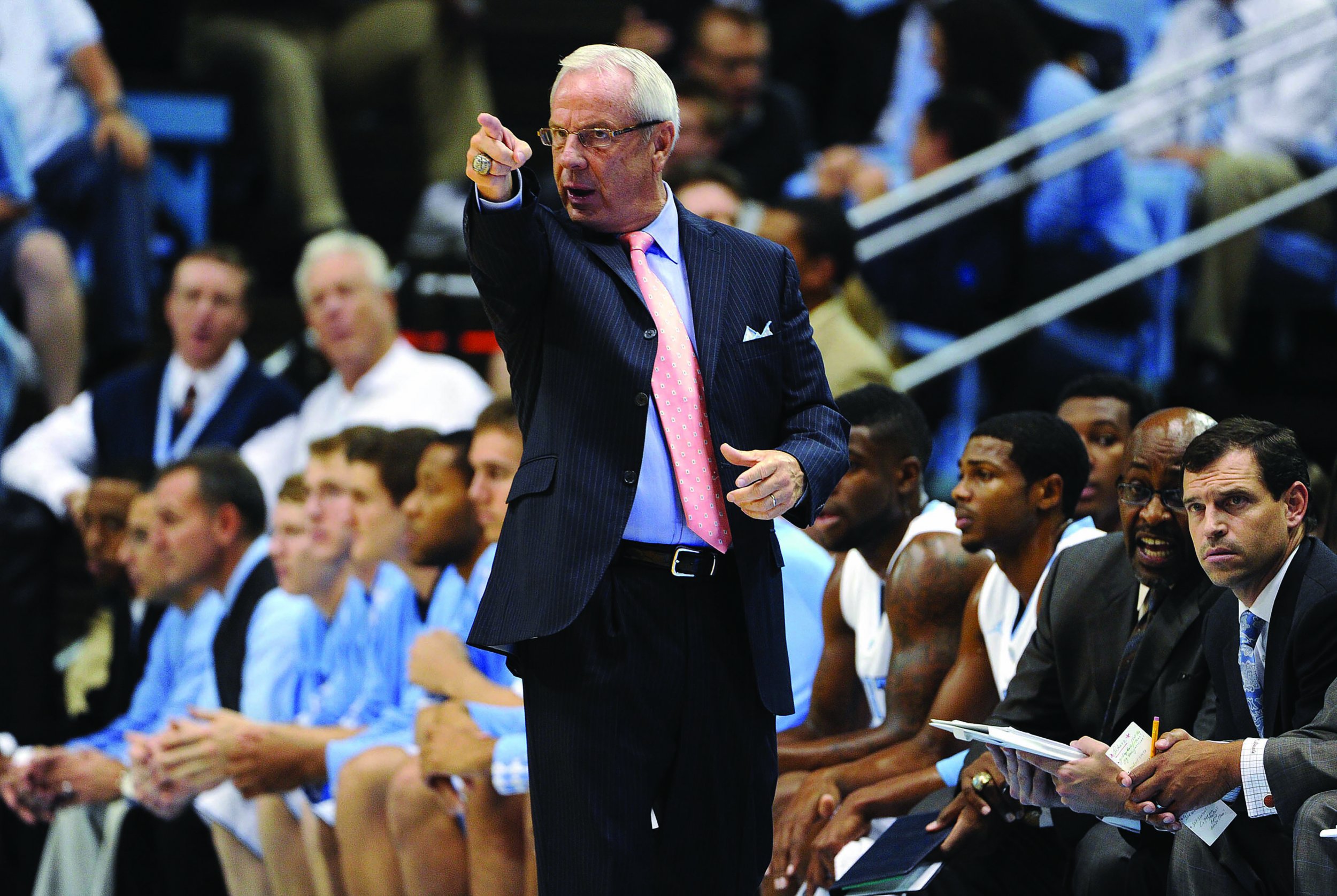 This article, and others celebrating 30 years of Michael Jordan's record-breaking career, is found in Newsweek's Special Edition: Jordan 30 Years of Greatness.
What was it like coaching one of the earliest incarnations of Michael Jordan?
Michael was just an unbelievable athlete with tremendous potential, and he put it all together with tremendous work ethic and competitiveness every single day. So he got better every single day, and I think that drove him even more. He saw what he was able to do, and I think that made him even more competitive. I think that's what set him apart for the rest of his career.
Did you know at first sight that there was something that elevated Michael above the other greats of the game?
The first time I ever saw him was the summer before his senior year in high school. I told Eddie Fogler, our other assistant coach at that time, that I had just seen the best 6-foot-4-inch high school player I'd ever witnessed. None of us had any idea that he was going to develop into the greatest player who's ever played the game. You know, we'd like to say we knew, but we didn't.
Was there a point over the three years that Michael was at North Carolina that you knew what he was going to become?
Each and every year he just got better and better, and it didn't look like the limit had even been reached yet. He was a great player, but two years later in the NBA he was even better, and two years after that in the NBA was even better, and two years later than that he was even better. He continued to improve for 10 years. I mean, go back and look at his field goal percentage. I think it went up every year his first seven years in the NBA. Once he realized there was part of his game that needed work, he worked on it. He made himself better, and he did that for a longer stretch than anybody I've ever seen.
What was the significance of that last-second shot against Georgetown?
In my mind, there's no question that that shot elevated his confidence. It definitely elevated his respect around the world as a basketball player, and because of that his competitiveness drove him to be even better. I do believe that one shot, that one singular play, was extremely, extremely important to Michael psychologically.
What do you hope you helped teach him?
Our emphasis as a coaching staff was to make him more fundamentally sound every single day. In practice, I tried to push him to see if he could win that drill, win that competition. I felt like I had a very good relationship and a somewhat unique relationship with him, and it was easy for me to challenge him to be better. That is something I am very proud of. Because if you give a kid a hundred things and he accepts one of them, you feel good about that.
What did Michael teach you?
The power of competitiveness. He was the only guy I've ever known who could turn it on and off, and he never turned if off—regardless of how small a detail it was, regardless of how inconsequential something might be, and regardless of how little the drill may be in practice, he competed in everything he ever did. That positive thinking and toughness is something that I pull from all the time coaching my team now.
Is Michael a part of today's Tar Heels?
I have a picture of Michael Jordan in our locker room right now. He's guarding Magic Johnson, and the look he has on his face while he's on defense, the look in his eye.…I tell our players I want them to get that look—because it's a look of determination, of toughness, of pride. Most people associate Michael with spectacular offense. But to him it wasn't just competition when he had the ball. It was competition to him when you had the ball. He's probably one of the only guys who's ever been the NBA Defensive Player of the Year and scoring champion in the same year.
How has the game of basketball changed since Michael played for UNC?
I think the game really changed in '79 with the Magic Johnson and Larry Bird NCAA championship. That changed the Final Four; that changed college basketball. Those guys took it to another level. Then Michael came along and he outworked Larry; he out "Magic-ed" Magic.
Can you sum up his impact on the game?
The flat-screen TV and the 48-inch models came along a lot later, but Michael is the one who exploded the game. As a fan watching him, there was a lot of joy: that tongue, that smile, there was a lot of that. But the smile was only there when he won. He took a year and a half off to go try play baseball and then returned to the NBA and released a statement that said, "I'm back"—and then won three more world championships and stood up on the table and held up six fingers. That's what it was about with Michael. It was about winning championships. It was about being the last man standing.
And he still calls you coach?
Yes.
Are there still things left to teach him?
Oh, no, that boy has far surpassed anything that I could teach him. He teaches me now.
This article, written by Johnna Rizzo, was excerpted from Newsweek's Special Edition: Jordan 30 Years of Greatness. For more on the greatest basketball player to ever grace the court, pick up a copy today.