Royal Baby: The Fake Town Crier Strikes Again
If there's a British royal announcement to be made, you can be sure that the same town crier will show up in a tricorn hat and full regalia to make the hearty declaration from the steps before ringing in the news with his handbell.
There's just one snag: He's totally unofficial.
The self-proclaimed "Royalist Crier," Tony Appleton, looks and sounds the part even though he has no formal royal role at all.
And he was there, again, at the Lindo Wing of St. Mary's Hospital in Paddington, London, to announce the birth of a new royal baby, the as yet unnamed son of Prince William and Kate Middleton, their third child.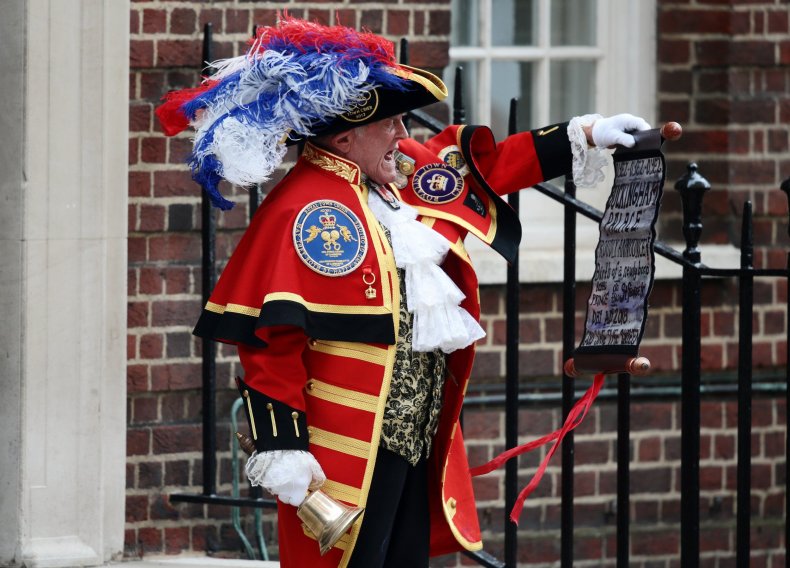 CBS News called it the "official proclamation" in a now-deleted tweet. And many others were fooled by Appleton, who takes his unofficial role highly seriously.
Appleton, who is in his 80s and has met Queen Elizabeth II, is staying in a hotel around the corner from the hospital.
He told Sky News he was watching the channel in his room when he saw news of the birth and rushed to the entrance of the Lindo Wing to deliver his much-practiced announcement.
"I got the train up this morning," Appleton said. "Found out she was in labor...booked into the little boutique hotel around the corner, watched Sky News.... I was watching that, sweating, and then all of a sudden, go! So it took me five minutes from the hotel to get here and do the announcement."
He added, "I predicted it'd be a boy, and I also predict that one of the names will be Phillip."
Appleton is the town crier in Romford, Essex. But he admitted back in 2013 to the Romford Recorder that he had "gatecrashed" the birth of Prince George to make his unofficial royal declaration from the steps of the Lindo Wing entrance.
"Now, I am in every newspaper in the country, and the footage of me outside the hospital has been shown all over the world," he said at the time.
The town crier, who says he is president of the Guild of International Millennium Town Criers and was one-time "Town Crier of the Year," also announced the birth of Princess Charlotte and the engagement of Prince Harry to Meghan Markle.
But he doesn't like being called fake, according to a Guardian profile. "I just turn up," he said. "Sometimes the police ask me to stop ringing my bell. But I'm a flipping town crier!"