Royal Baby: Inside the Elite Training School Where Meghan and Harry Could Find Their 'James Bond' Nanny
This college trains nannies in everything from cyber security to sewing.
Young women in white gloves, beige dresses and felt hats emblazoned with the letter "N" flit between rows of sandy-colored Georgian houses in the ancient city of Bath in southwest England. If you're lucky, you might just see one pushing along a bouncing, hooded, Victorian-style pram.
These are the students of Norland College—a prestigious nanny school favored by British royals like the Duke and Duchess of Cambridge, William and Catherine. With the baby of Meghan Markle and Prince Harry due soon, the college is in the spotlight once again. Some reports suggest the couple will eschew tradition and pick an American nanny over a Mary Poppins–style Norlander, but it's too early to say for sure.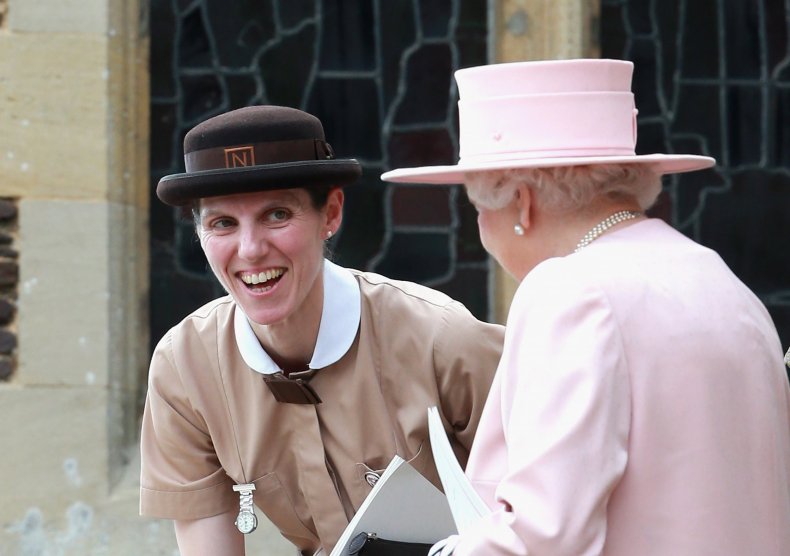 Norland principal Janet Rose is tight-lipped on the prospect. She currently helms the elite 127-year old college, which teaches self-defense, cybersecurity and skid pan driving alongside sewing, cooking and nutrition.
Keen to promote the ever-evolving curriculum, she likens today's Norland nannies to both Mary Poppins and James Bond. Although they do get some training from ex-military intelligence officers, the bulk of students' work is more traditional.
It takes four years—three in college and one working for a real family—to become a fully-fledged Norland nanny. Training is intensive, with plenty of pupils juggling at least four full days of study a week, assignments, extra-curricular classes, babysitting work and additional weekend jobs. After they achieve their diploma, Norland recommends nannies continue training throughout their career.
As well as practical skills, nannies-in-training learn about everything from emotion coaching—a psychological strategy that advocates say helps children build resilience and emotional intelligence—to early brain development. "We do try to make sure [our nannies] stay cutting edge," Rose told Newsweek.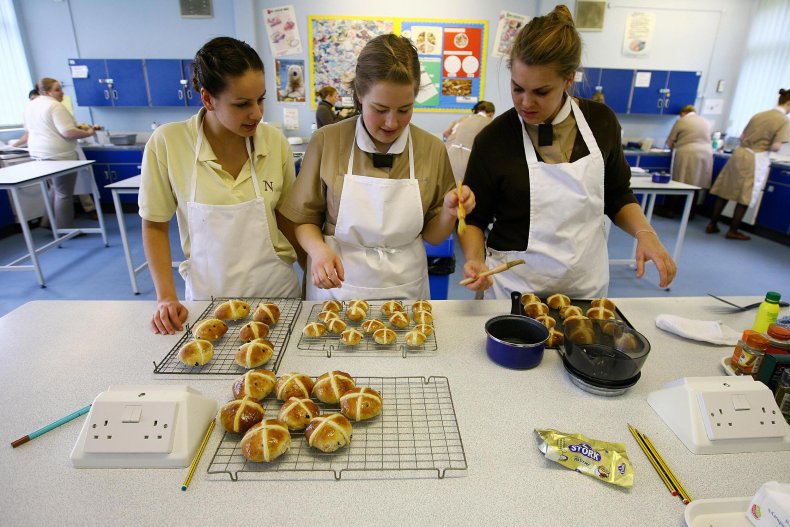 Besides child care, it's important that students are equipped to handle the challenges adapting to a new family can take. In the real world, Norlanders may work up to 60 hours a week and will likely live in the family home. Their intimate, elastic role as employee, roommate, cook and, ultimately, stand-in parent can be tricky to navigate.
"We try to equip our students with most of life's eventualities, and that does include their professional role within the family, and some of the dynamics and challenges that might come with living with your employer, for example," Rose said. Nannies receive training on everything from pensions, to disagreements over child discipline methods.
Most students will go on to work for wealthy families in London. But there is also plenty of demand for Norlanders abroad, particularly in China, the U.S. and the Middle East, Rose says. International jobs come with a big payoff—the school's nannies can command salaries of more than $100,000 per year. Back in the U.K., early career Norlanders can still expect a healthy wage, with many hitting $40,000 per annum within a year or two.
The fact demand for Norlanders vastly outstrips supply—the school's dedicated employment agency has six jobs for every graduate it trains—will appeal to many prospective students.
Rose says the career prospects makes the college's "expensive" tuition more palatable. It costs around $20,000 a year to study at Norland, plus $1,300 for the iconic uniform, which students may never actually wear in their professional career. That's relatively expensive for England, a country that saw widespread protests when politicians raised the university tuition fee cap from £3,375 to £9,000 ($4,300 to $11,600) a year in 2012.
Rose is particularly proud of the fact two men graduated from Norland in 2018, Liam Willett and Harry Pratt. But the pair still need to finish their placement years before they earn the coveted Norland Diploma. Men currently wear a different uniform to women, but Rose says the college is in the process of designing a unisex option.
Having a wide variety of students from different backgrounds helps the college make sure it can match the right nannies to each family, Rose added. "Students go on to work all over the world, and every family has a different need," she said.
The school's reputation attracts ambitious students, like first-year Niamh Fisher Newsweek. Her reason for choosing Norland was simple. "I wanted to be the best," she said.
As its royal connections suggest, Norland nannies often work for a bracket of society with very particular expectations. Fisher recently practiced making banana pancakes and fruit salad in class—the kind of food she ate as a child. But the oven-baked salmon and pan-fried sea bass she made in another lesson? Not so much.
Although she loves her classes—neuroscience in particular—Fisher had a little trouble adapting to some of the more peculiar aspects of Norland life. Keeping up appearances, it turns out, is very, very important.
Motioning to her red hair, tied into a neat bun and slicked down with product, she said with a giggle: "Under all of this spray, I have the curliest hair possible. Trying to get it tamed enough that you don't have wispy bits and it's in the perfect bun, sometimes takes me a while... I know when I first started at Norland I was doing my hair for about forty-five minutes."
Now, she's got that down to about ten—on a good hair day, of course.
Norland takes a military approach to presentation. Neat hair, clipped nails and perfectly-ironed clothes. Before Fisher can be filmed for Newsweek, her uniform is eyed by an inspector: a wayward collar unfurled, hidden creases removed.
It's the same for a 'virtual baby'—a crying, weighted doll with a flopping head that students can take away if they wish. It can't be photographed in a cot built for toys, but must be placed in a real-life pram and tucked in by a professional.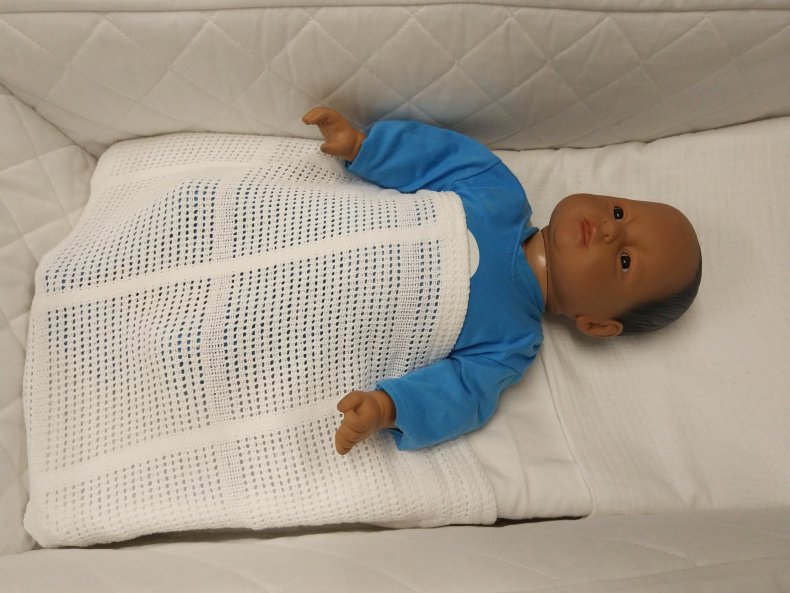 Although keeping to Norland's standards—the formal uniforms, the perfect presentation—may seem like pageantry, students argue it's important. Fisher says she stays neat and tidy, not just to protect the college's reputation, but for her own sense of self. She is proud to wear the eye-catching uniform, slicked back hair and all.
Beyond heritage, there are practical reasons behind certain requirements. Long nails might scratch a baby's delicate skin, for example. Untied hair can fall into a child's face.
Elspeth Pitman, a Norlander who attended the college back in the early 2000s, thinks the rigorous presentation standards drum the importance of attention to detail into students. "It does stay with you, and I think that's part of the training," she told Newsweek. "Even though it seems like an unusual link, being aware of your surrounding environment, to keep the children safe and provide the best environment for them, is really important."
"A lot of what we do is sometimes seen as just tradition, but [we actually] think very carefully about it," she added.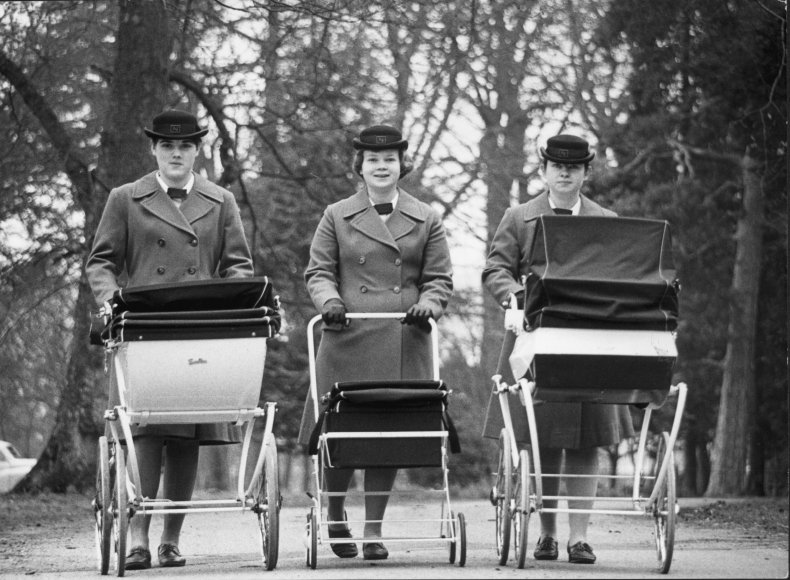 Like many Norlanders, Pitman hasn't been a nanny for her entire career. After working with families in the U.K. and abroad, she went on to join the country's National Health Service as a community nursery nurse before returning to Norland to lecture six and a half years ago. Other graduates have moved on to careers in teaching and nursing. Some have started businesses in baby clothing and food.
But wherever they end up, the college's graduates remain connected to the college. "Once a Norlander, always a Norlander," Pitman said. "We're fiercely proud to be Norland nannies and proud of our heritage, proud of our training."
Behind all the tradition and the pomp, it's easy to forget what motivates the Norland nanny. "If you've chosen to go into a career in childcare—being a nanny—then it's a vocation. A passion for children and families will always be there," Pitman said, adding she often envies the futures awaiting current trainees.
"Children are just so important for everybody," Pitman continued. "The way that they are cared for and loved and educated and raised is really important for the whole community."
Rose hopes that Norland's highly trained, costly nannies help "raise the bar" for child care workers in general. "I think all around the world, child care is viewed as very low-status, of little value," Rose said. She knows most families can't afford a Norland nanny, but hopes the school's focus on qualifications and high salaries will trickle down into the rest of the child care industry.
"We feel that we're raising the bar in terms of what kind of skills and knowledge and qualifications [child care professionals] should have," she said. "And we're at least helping to raise the bar a little for what we should be paying them."