Family of Toddler Who Died in Cruise Ship Fall Sues Royal Caribbean: 'This Is Not Some Freak Accident'
The parents of a toddler who died after falling 11 stories from a cruise ship are taking legal action against the cruise line which they blame for the tragedy, it has been reported.
On July 7 Salvatore Anello, known as Sam, lifted up his 18-month-old granddaughter Chloe Wiegand to a window on the Royal Caribbean's Freedom of the Seas while it was docked in Puerto Rico. The family has previously said that this was because the toddler liked to bang on glass, a habit from watching her brother play in ice hockey games.
Her parents, Alan Wiegand and Kimberly Schultz Wiegand, of South Bend, Indiana, said Anello did not know the window was open. The girl slipped through, falling to her death.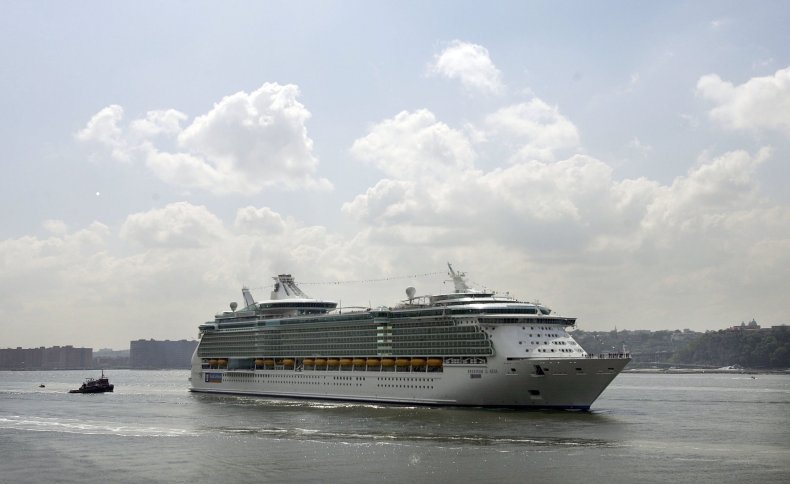 Anello was arrested by Puerto Rico authorities in October and charged with negligent homicide. The family say the cruise line is responsible and has filed a lawsuit, NBC News reported.
The lawsuit describes how Anello had been supervising Chloe as she played when she walked to a wall of glass. However, it turned out that some glass panes could be opened by anyone, NBC reported.
The suit goes on to say that a wooden rail about 18 inches from a windowed wall kept Anello too far away to tell that the window in front of him was open.
The family's lawyer, Michael Winkelman, has filed a wrongful death case against Royal Caribbean, telling NBC: "This is not some freak accident. This is something that was a preventable accident." He added "these windows are entirely not compliant with the standard for windows on cruise ships."
"Carnival and [Norwegian Cruise Line] and even newer Royal Caribbean cruise ships have windows that are wholly compliant with these window fall prevention codes," Winkleman said, claiming that the ship where Chloe died, did not.
Royal Caribbean spokesperson Melissa Charbonneau told Newsweek in a statement: "We have not been served with a lawsuit related to this matter and have no further comment."
Winkelman's biography on his law firm's website states that his previous maritime legal successes include a $3.6 million verdict against Carnival Corporation for the family of an Italian crew member who died on board.
The website also stated that he won a $2.36 million pay out from Maersk Lines for a crew member who was injured on board.