Man Plunges Overboard From Symphony of the Seas Cruise Ship, Body Recovered by Rescue Boat
A rescue boat was dispatched to try to save an Australian man after he fell overboard during a cruise operated by Royal Caribbean.
The man fell from the Symphony of the Seas while it was sailing between St. Kitts to St Thomas in the U.S. Virgin Islands between 3 a.m and 5 a.m on Wednesday, according to Cruise Law News.
A fellow passenger tweeted video of a rescue boat being dropped into the sea and the unnamed man's body being pulled out of the water and taken back to the cruise ship.
Cruise Law News reported that Royal Caribbean is one of the cruise lines that has not installed automatic man overboard systems, which use motion detectors and send an instant message to the bridge should someone go over the rails.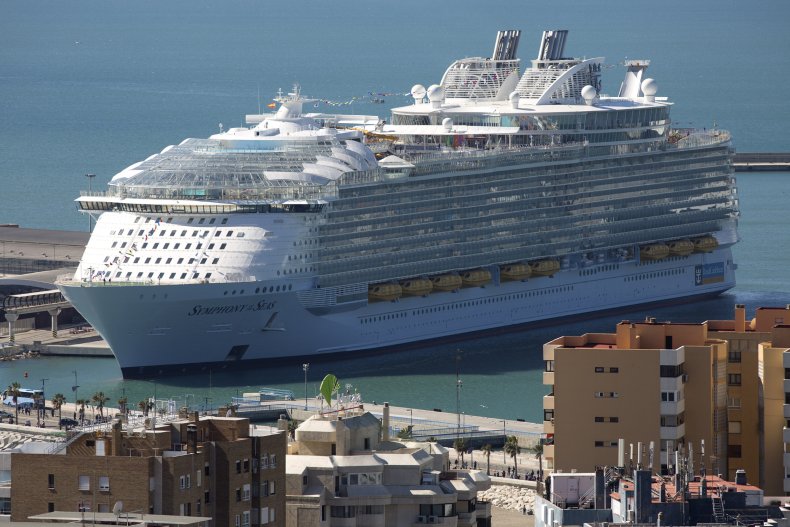 The website described how, under this system, radar and infrared technology would then track the person in the water, even at night, "increasing the prospects of a successful search and rescue."
Newsweek has contacted Royal Caribbean for comment. Last year, its CEO Richard Fain told Quartz that such technology "is not yet at a viable stage."
"Like many areas of technology, the promise is often better than the actuality today ... You do need technology to work. And actually work in real life, not in a laboratory and not in a sales brochure," he said.
Quartz reported that since 2000, 284 people have fallen off cruise ships—and another 41 from large ferries—an average of about 1.5 people per month.
Earlier this month, a man intentionally jumped from the Majestic Princess, which is based out of China. Elsewhere, a Taiwanese woman died after apparently falling from Island Princess which is also based in Asia, Cruise Hive reported.
In a statement about Wednesday's incident, Royal Caribbean said: "We are deeply saddened by the tragic incident that occurred on the Symphony of the Seas en route to Saint Thomas this morning.
"Our hearts go out to the family and loved ones for their loss, and our care team is providing support and assistance during this difficult time.
"Upon the initial report that an Australian adult male had gone overboard, our ship immediately turned, launched a rescue boat, and conducted a full-scale search.
"We are working closely with authorities and will continue to assist in their investigation."
The ship, which can carry 5,500 passengers, is currently the largest cruise ship in the world. It is sailing a seven-day Eastern Caribbean itinerary out of Miami, Florida.