Royal Caribbean Passengers Screened for Coronavirus After Cruise Ship Docks in New Jersey
More than a dozen passengers from a cruise ship that docked in New Jersey were screened for the new coronavirus, with four of them transported to the hospital.
Royal Caribbean's Anthem of the Seas docked in Bayonne, a city about 10 miles from New York City, early Friday morning. Upon arrival, about two dozen passengers were screened for signs of the virus, according to Bayonne Mayor Jimmy Davis.
"I have been briefed on the RC cruise ship arriving this morning. I am certain that the NJ [Department of Health], CDC, and PA NY/NJ are prepared and equipped to address any concerns this morning," Davis posted on Twitter.
Passengers started exhibiting symptoms while traveling to New Jersey from the Bahamas. Davis posted on Twitter that four people were taken to the hospital for further screening. He told local news outlet WNBC that Newark's University Hospital has negative-pressure isolation rooms.
Those who weren't taken to the hospital were released, according to Davis' tweet.
Symptoms of the coronavirus–fever, coughing and shortness of breath–can be attributed to a number of illnesses, so a person must be tested by the Centers for Disease Control and Prevention (CDC).
In a statement to WABC, Royal Caribbean said they were participating in "elevated levels of guest screening," had "rigorous medical protocols in place onboard our ships," and were "closely monitoring" coronavirus developments.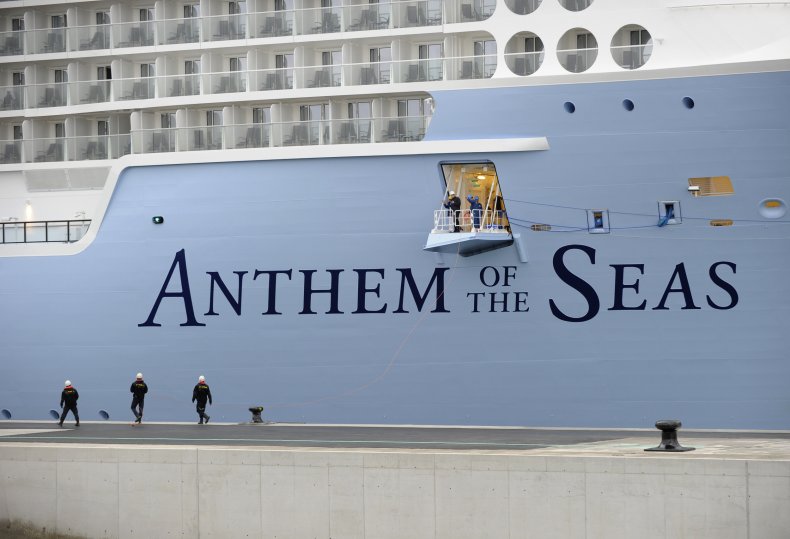 As of Friday morning, U.S. health officials have confirmed 12 cases of the coronavirus that originated in Wuhan, China. Of those cases, 10 people became ill after they returned to the U.S. from China, and two cases of human-to-human transmission involved spouses of people who visited China. Multiple outlets reported all of Royal Caribbean passengers who became ill were Chinese nationals.
Newsweek reached out to Royal Caribbean and the University Hospital in Newark but did not receive a response in time for publication.
Chinese authorities identified the virus for the first time in people in December and reported an initial 44 cases to the World Health Organization (WHO). Since December 31, the virus infected more than 28,000 people in 25 countries and caused 565 deaths.
The majority of cases and all but one of the deaths were reported in China, and American officials have taken steps to curb the virus from spreading throughout the U.S. On January 31, President Donald Trump signed a presidential proclamation prohibiting most foreign nationals from entering the U.S., if they were in mainland China within the 14 days preceding their arrival.
Department of Health and Human Services Secretary Alex Azar also announced on Friday that U.S. citizens who were in the Hubei Province–where Wuhan is located–will be subject to up to 14 days of mandatory quarantine. Those who traveled to other parts of China could be required to self-quarantine.