Royal Conspiracy Theory Claims Queen Elizabeth's Body Is Not in Her Coffin
After Queen Elizabeth II died last week at age 96, world leaders and regular citizens flooded the internet to mourn. But so did conspiracy theorists, including some who allege that the late monarch's body isn't actually in the coffin.
The queen's state funeral is set to take place on Monday, according to the royal family's website. On Wednesday, her coffin was transported from Buckingham Palace to the Palace of Westminster, where she'll lie in state for several days so that the public can say goodbye and pay respects.
Yet some on the internet are indulging the idea that the royal casket is actually empty.
On U.K. parenting website Mumsnet, for instance, one user posted on Wednesday that they'd heard the queen might be resting somewhere outside of her public-facing casket.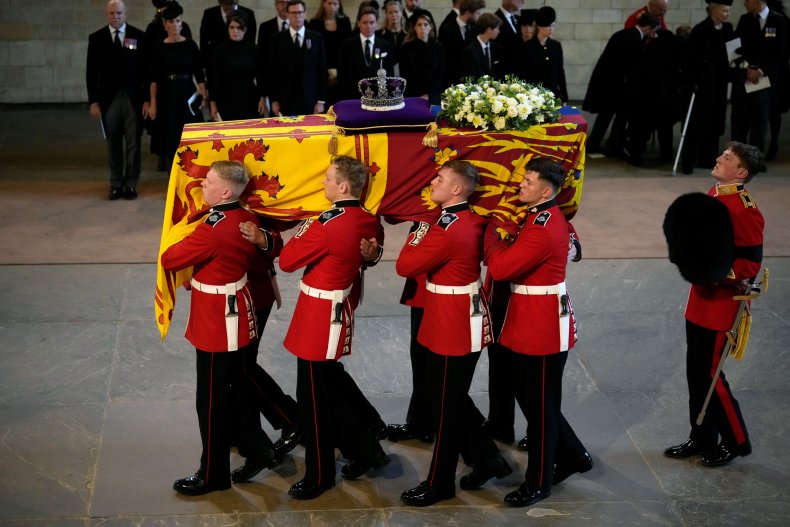 "I keep hearing people suggesting the Queen isn't in the coffin as apparently the same happened with the Queen's grandfather," the user wrote, referring to King George V, who died in 1936. "Sounds like a load of rubbish to me. It would be insane if she wasn't."
Mumsnet users then offered their own thoughts on the matter, with some endorsing the theory.
"I have to admit that I wondered if it was or not," one person wrote in response. "I do think it's a massive security nightmare having her body being transported from one end of the UK to another whilst the entire journey is broadcast over international TV. I'd imagine if some terrorist organisation wanted to intercept the coffin and hold it for ransom, all of this made it a hell of a lot easier for them to do so!"
Yet other users dismissed the idea.
"She will be embalmed and it's lead lined," another poster replied. "Ridiculous theory!!"
One Twitter user insisted that the "coffin is empty" when replying to a BBC article about its arrival to Buckingham Palace.
"Who would want to subject their deceased mum through all that back and forth?" the user wrote. "It's just formality for the public. The Queen is safe and sound in a mortuary somewhere until the day of her actual funeral. Sorry guys to disappoint."
Another person echoed those thoughts, writing in a Tuesday tweet: "I think they already bury the Queen and they just carrying round an empty coffin."
The queen's funeral will be closed to the public and won't be open casket, according to lifestyle site The List. The coffin, which is made of oak, was tailored to help stave off decomposition. Royal family members are typically laid to rest in these caskets, which are kept closed in an effort to preserve the remains for as long as possible—sometimes up to a year.
Royal coffins are also lined with lead to help seal them off. The late Princess Diana's casket weighed some 540 pounds because of the lining, which works to prevent moisture from seeping in.
Consequently, eight pallbearers are needed to carry royal caskets instead of the usual six, according to WHBQ in Memphis. Coffins that aren't buried underground need to have an airtight seal.
"Most people are buried underground," the managing director of one family funeral service said, according to WHBQ. "If you have a coffin vault or a family chamber in a church then that coffin remains above ground and open to the elements. A sealed coffin is very important."
The queen will be buried alongside her husband, Prince Philip, in St. George's Chapel at Windsor Castle. Other members of her family have also been laid to rest there, including her parents and sister Princess Margaret.
Newsweek reached out to Buckingham Palace for comment.
Update 9/14/22, 2:29 p.m. ET: This story was updated with additional information.