Royals' Shocked Reaction To Queen's Paddington Bear Skit Delights Fans
Members of the royal family's reactions to seeing Queen Elizabeth II take part in a surprise skit with beloved children's character Paddington Bear as part of her Platinum Jubilee celebrations has gone viral after being shared on social media.
A short film showing the queen having tea with the animated bear, voiced by actor Ben Wishaw, at Windsor Castle was broadcast at the beginning of the Platinum Party at the Palace pop concert, which celebrated the 96-year-old monarch's seventh decade on the British throne.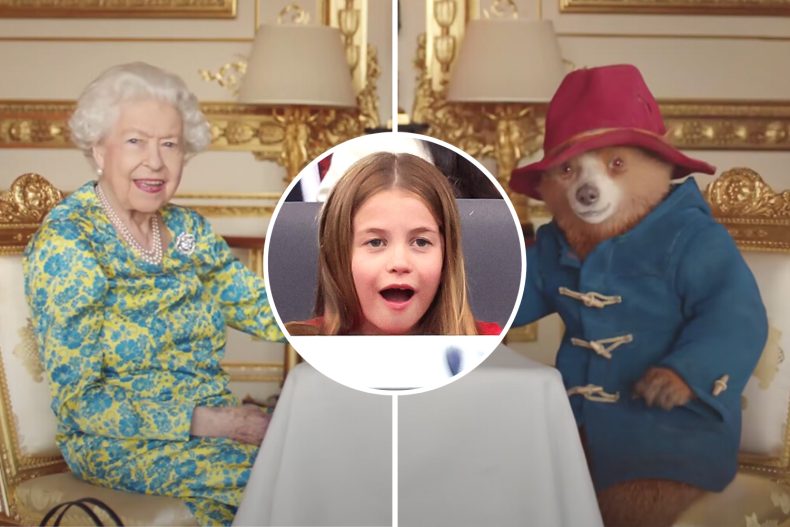 Elizabeth was Britain's longest-serving monarch, with the jubilee celebrations taking place in London just three months before her death in September 2022.
Elizabeth's starring role in the Paddington skit was kept a secret from her family, meaning the first Prince William, Kate Middleton, Prince George, Princess Charlotte, Prince Charles and Camilla knew of her involvement was when they watched it on big screens outside Buckingham Palace.
Photographers were on hand to capture their genuinely surprised reactions, with Chris Jackson, well-known for his royal reportage photography, chief among them.
A video clip highlighting the royals' reactions has been uploaded to the social media network TikTok by user charlottes.royal and has been viewed over half a million times.
The clip has received in excess of 90,000 likes with commenters praising both Queen Elizabeth for taking part in the skit and to the royals for their genuine reactions.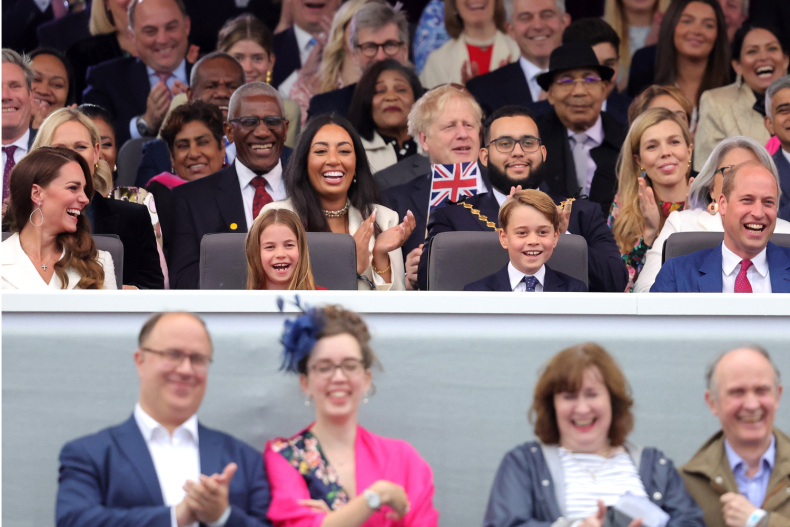 "Omg charlotte and George's faces so cute haha 😆" wrote one user, with another adding: "I love the kids faces 🥰 it was like 'great grandma met paddington!'"
Another commenter wrote: "The queen totally agreed to this for her great grandkids."
This was not the first time that Elizabeth took part in a secret filming project without the knowledge of her children or grandchildren.
In 2012, to mark the opening of the London Olympic Games and also in the year of her Diamond Jubilee, Elizabeth filmed a short sketch at Buckingham Palace alongside actor Daniel Craig in his character of James Bond. The sketch played at the opening ceremony of the games and ended with a stunt performer dressed as the queen jumping from a helicopter over the Olympic stadium.
Remembering the event and his reaction in the film Elizabeth at 90—A Family Tribute, Prince William commented:
"I remember certain expletives coming out of my mouth when I realized what was going on [...] It was actually a very well-kept secret. Probably more of a state secret than some of the intelligence documents that she receives [...] Nothing was told to any of us. Clearly they knew that certain grandchildren would go around telling everybody too much!"
Elizabeth's performance with Paddington was to be one of her last official television appearances and was widely celebrated as a highlight of the wider Platinum Jubilee celebrations.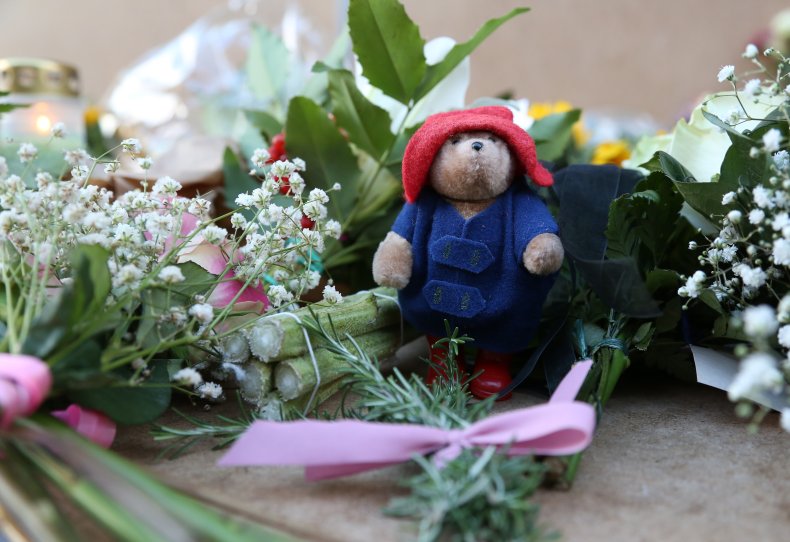 The skit resonated with so many that after her death in September, members of the public left hundreds of stuffed animals of Paddington Bear outside the royal palaces, some with his iconic marmalade sandwiches.
In November, it was announced that the stuffed Paddingtons left as tributes to the late queen had been collected and professionally cleaned to be distributed to charities. Queen Camilla delivered a number of the bears to children later that month in her capacity as patron of the Barnardo's children's charity.
James Crawford-Smith is Newsweek's royal reporter based in London. You can find him on Twitter at @jrcrawfordsmith and read his stories on Newsweek's The Royals Facebook page.
Do you have a question about King Charles III, William and Kate, Meghan and Harry, or their family that you would like our experienced royal correspondents to answer? Email royals@newsweek.com. We'd love to hear from you.