Royal Favorite Sport Exempt From U.K. COVID Restrictions As Brits Outraged
A favorite royal sport practiced by Prince William just weeks ago has been made exempt from coronavirus restrictions—and British people are up in arms.
Tough new rules came into force in Britain this week banning meetings of more than six people—but many were surprised to learn of one exemption.
Grouse shooting is not covered by the "rule of six," meaning hunting parties of up to 30 can still patrol looking for birds to kill without risking a fine.
The move comes just weeks after it emerged Prince William took Prince George to witness a grouse shoot near Queen Elizabeth II's Balmoral Estate, in Scotland, in late August.
The royals also regularly go hunting around Christmas time, which they spend at Sandringham, in Norfolk.
There is no suggestion the decision was made in order to benefit the royal family or with their knowledge or consent, but critics of the U.K. government have claimed it highlights inequality in society.
Author and barrister Sarah Langford challenged Prime Minister Boris Johnson's partner, a new mother, to explain why she could not hold a birthday party for her five-year-old but could go shooting.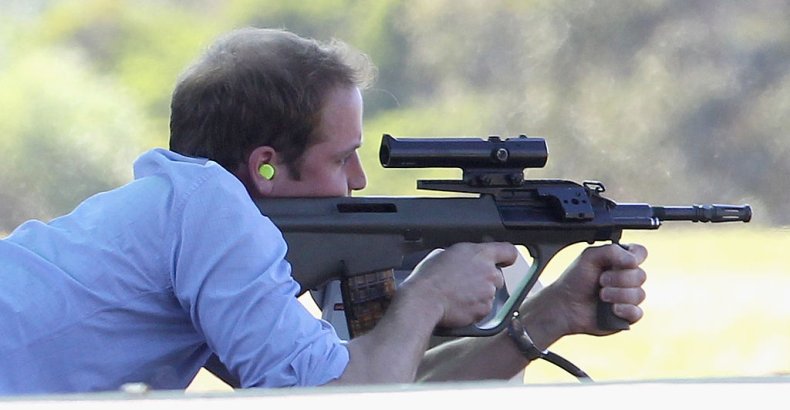 She wrote on Twitter: "I wonder if @carriesymonds might ask her boyfriend how we should explain to our 5 yr olds that we must cancel their bday party WITH THEIR CLASSMATES even though they've just spent all day WITH THEIR CLASSMATES.
"Though I guess we could just take the class grouse shooting instead?"
Carole Cadwalladr, the journalist behind the Cambridge Analytica story, posted: "The point about the grouse shooting exception is that the govt knew *exactly* how it would look & went ahead anyway.
"Cui bono? The richest landowners in England."
And actor Tony Robinson, star of British comedy favorite Blackadder, said: "Grouse shooting has been made exempt from the rule of six, which is fine by me.
"The bigger the crowd the more chance there is that the stupid b******* will accidentally shoot each other."
Government guidance states hunting is among exempt sports and points to a statement on the website of the British Association for Shooting and Conservation (BASC).
The statement said: "The 'rule of six' restrictions brought in today could have disrupted game shooting which usually includes eight or more people.
"However, the exemption will allow shooting to operate under COVID-safe guidance."
Over the weekend it emerged the new rules could threaten this year's royal Christmas church service as a public event.
Religious gatherings themselves are not covered by the "rule of six" but each year Brits and tourists alike gather at Sandringham to watch the royals walk into church.
Under the current restrictions, the queen would still be able to make the service but royal fans might face staying home.
The Queen may also have to think carefully about which relatives to welcome into her bubble in a context where the royals have committed to following the same rules others have to abide by.
The traditional royal Christmas includes a series of formal meals and receptions for the wider family.
Up to 30 traditionally gather for lunch and the annual present opening, which for the monarch takes place on Christmas Eve not Christmas Day, is also under threat.
Children count towards the six-person limit, meaning that if she invited husband Prince Philip, son and heir Prince Charles and his wife Camilla, she would only have an additional two places left.
That could accommodate Prince William and Kate Middleton but not their three children, Prince George, Princess Charlotte and Prince Louis.
However, the wider family may still be able to meet to go shooting in the expansive Sandringham Estate.