Meghan Markle and Prince Harry have been removed from the Royal Foundation website following their split from Prince William and Kate Middleton to start their own foundation.
The four royals had previously collaborated on various philanthropic causes under the Royal Foundation charity, but the revamped website now lists the Duke and Duchess of Cambridge as its sole principals—scrubbing Markle and Harry.
Markle and Harry announced in June that they will launch their own royal foundation for their charitable efforts. "These changes are designed to best complement the work and responsibilities of Their Royal Highnesses as they prepare for their future roles, and to better align their charitable activity with their new households," Kensington Palace said at the time.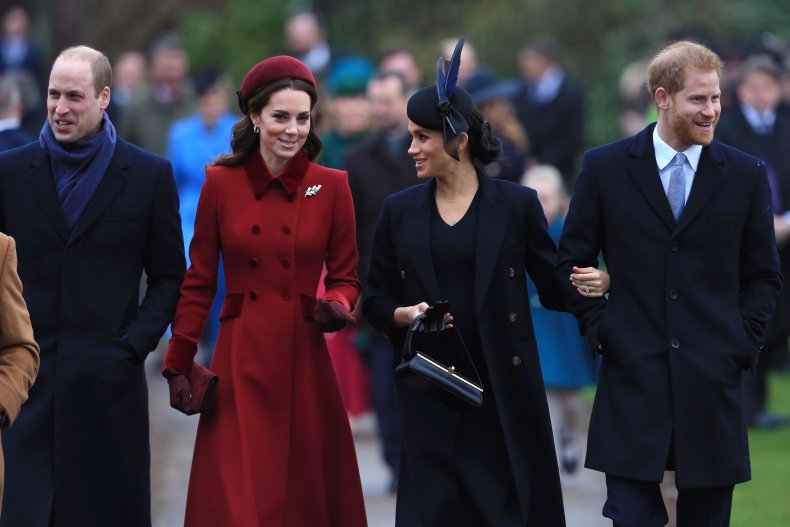 Meghan and Harry's projects removed from Royal Foundation
The Royal Foundation website has also removed mentions of the Invictus Games, the Olympics-style athletics event that Harry founded to celebrate wounded and injured armed forces members, as well as Markle's community cookbook initiative.
The website has also removed a section dedicated to the Royal Foundation's Empowering Communities program, which included Markle's work on female empowerment.
Harry and William founded the Royal Foundation together in 2009. It was later renamed the Royal Foundation of The Duke and Duchess of Cambridge and The Duke and Duchess of Sussex upon Markle joining the royal family.
The charity will now be known as the Royal Foundation of The Duke and Duchess of Cambridge.
In June, upon the split of their royal households, the Cambridges and Sussexes said their respective foundations would continue to work together on projects including Heads Together, a mental health initiative.
The Royal Foundation will continue to pursue charity work in conservation, a cause close to William's heart, through the United for Wildlife campaign, and early years development of children, a cause that Middleton has championed.
The website says William has focused his "attention on tackling the illegal wildlife trade, cyberbullying, mental health stigma through the Heads Together campaign and supporting veterans' employment," and Middleton has "driven forward our work supporting the youngest people in society. She has focused on families, addiction, palliative care and is now spearheading our work on Early Years."
In July, Markle and Harry incorporated their own charity, Sussex Royal The Foundation of the Duke and Duchess of Sussex, with the royals listed as directors.
In August, Karen Blackett, CEO of media and communications firm MediaCom, was appointed as an additional director. Steven Cooper, CEO of private banking firm C. Hoare & Co., joined as a director in September.
The headline of this article was updated to correct a misspelling of Kate Middleton.