Sailors Missing After Thai Navy Warship Sinks
More than 20 sailors were still missing on Monday after a Thai navy warship capsized in poor weather in a rare peacetime accident.
The Royal Thai Navy said HTMS Sukhothai, one of its two U.S.-built Ratanakosin-class corvettes, was hit by strong winds that blew seawater into its hull and engine room, knocking out its electrical system during a patrol in the Gulf of Thailand on Sunday night.
The vessel took on more water and began to develop a serious list before sinking at approximately 11:30 p.m. local time on December 18, Thailand's navy said in a statement on its social media accounts.
HTMS Kraburi, one of two frigates and one amphibious transport ship sent assist in the rescue, evacuated 75 of 106 sailors on the night of the accident, the service said. Another 10 were found on Monday by a rescue boat, while 21 remained unaccounted for.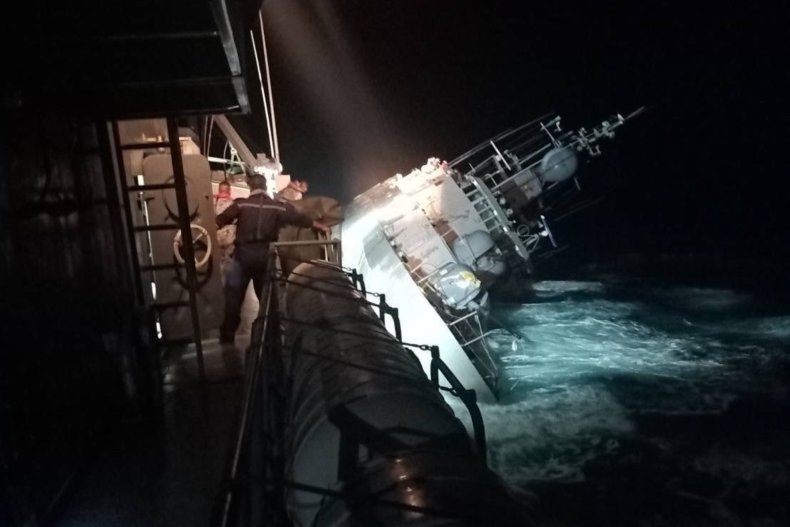 At least 11 crew were being treated for injuries at a local hospital, while helicopters were taking part in an ongoing search for survivors. The number of fatalities was not yet clear.
Footage shared by the Thai navy's Twitter account showed the Sukhothai tilting to one side in rough seas. The list worsened another video showed, while at least one clip showed a number of sailors inside an inflatable life raft.
Rescue vessels dispatched to pump water from the ship were unsuccessful in the inclement weather. A Twitter video appeared to show only the ship's bow and a gun turret above the waterline.
Admiral Pokkrong Monthatpalin, the service's spokesperson, told the press that the incident occurred 20 nautical miles off Prachuap Khiri Khan province in southwestern Thailand. The high waves that caused the accident had eased somewhat before the warship capsized, but remained strong enough to endanger rescuers, he said.
"Our top priority now is to rescue all the sailors. We will plan to have the ship salvaged later," Pokkrong told the BBC. "This has almost never happened in our force's history, especially to a ship that is still in active use."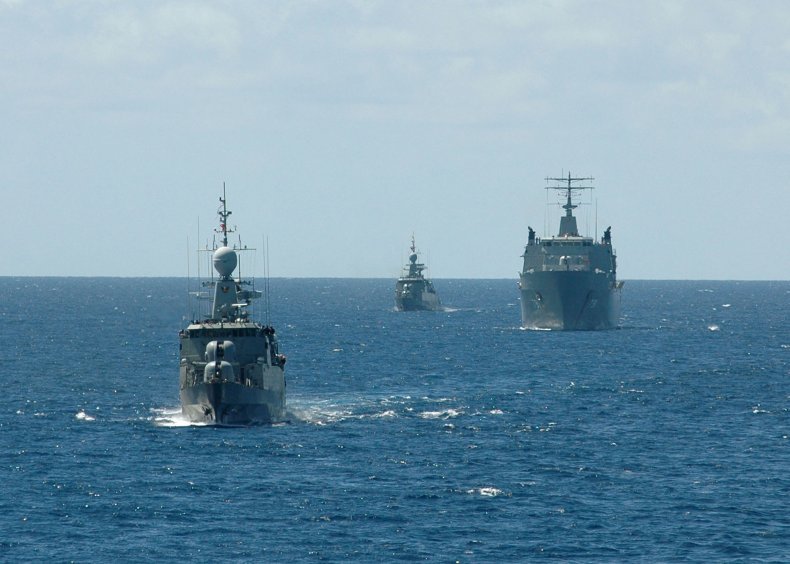 Thailand's public broadcaster, Thai PBS, interviewed one crew member who said the ship had been pounded by 10-foot waves on Sunday night. The sailor said he floated in the water for three hours before being rescued.
The Sukhothai was built in Tacoma in Washington State and entered service in the Thai navy in 1987. It was 250 feet in length and had a displacement of 960 tons.
Do you have a tip on a world news story that Newsweek should be covering? Do you have a question about the Asia-Pacific region? Let us know via worldnews@newsweek.com.