Al Sharpton: White Supremacy On Its 'Last Breath' After Royal Wedding
Al Sharpton—Baptist minister and civil rights activist—shared a message of hope in light of the recent British royal wedding at his weekly National Action Network rally Saturday in Harlem, New York.
Praising Bishop Michael Curry's sermon, he said the wedding signalled the "last breath" of male white supremacy in a speech broadcast live on Facebook.
"When you got little white girls in Wales saying, 'I want to be like Meghan,' there's a shift worldwide that white male supremacy is on its last breath," the civil rights activist said. When small white girls aspire to the beauty and intelligence of Michelle, Sasha and Malia Obama, he added, "That's where that white supremacy is questioned."
U.S. actress Meghan Markle—famous for her work on television show Suits—married the U.K's Prince Harry Saturday. Markle is biracial, with a black mother and a white father.
The couple's nuptials featured a relatively traditional Church of England ceremony with an all-black gospel choir, black religious leaders and a performance from the first ever black winner of the BBC's coveted Young Musician of the Year prize, 19-year-old Sheku Kanneh-Mason from Nottingham, U.K.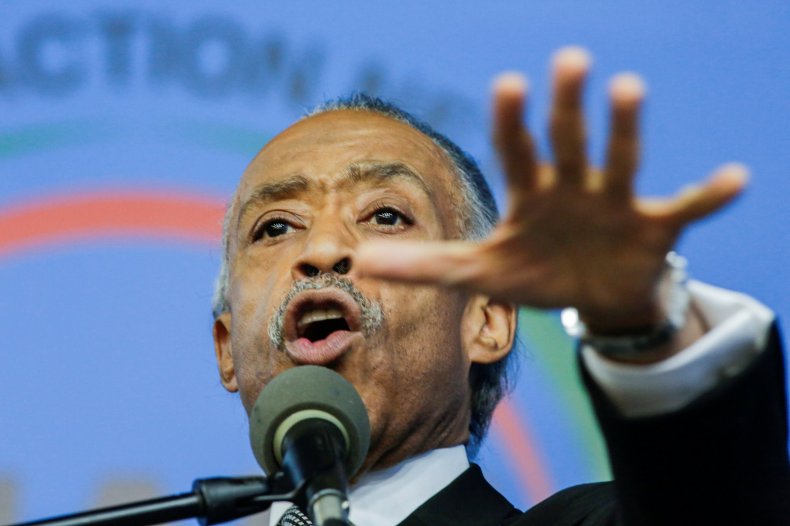 "I must say Bishop Curry did an excellent sermon," Sharpton told the rally, praising Curry's use of the words of Dr Martin Luther King Jr.
But Sharpton's words weren't all positive. He delved into Britain's history with race, criticizing the country's role in slavery. Beyond the royal wedding, he spoke at length about gun violence in the U.S., following Friday's school shooting in Santa Fe, Texas.
Sharpton went on to describe the fear he believes drove support for U.S. President Donald Trump. "White parents in their living room say, 'We've got to do something,' Sharpton said. "That's what Trump played on. 'We're losing control of our own children.'"
White supremacists, he said, are "losing their minds because the world is passing away where they are the standard... where they decide what is beauty, where they decide what is of intellectual depth" he said.