Meghan Markle's Wedding Day 2018 Photos: England Prepares for Prince Harry and Meghan Markle's Royal Wedding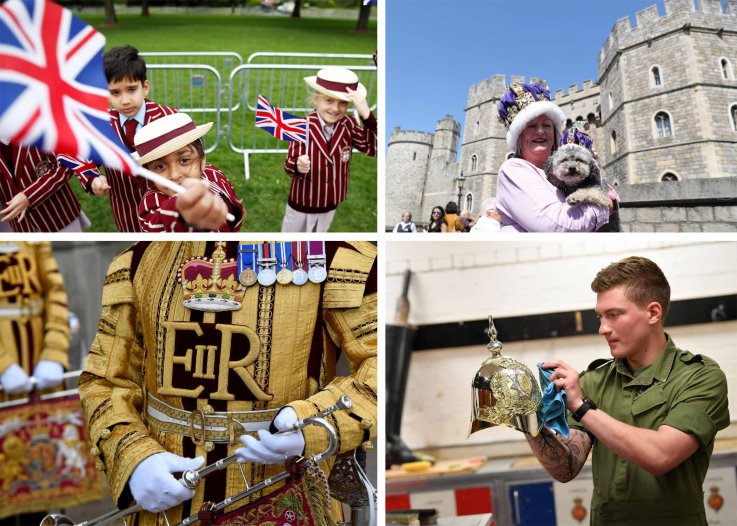 Nothing excites the United Kingdom (and the rest of the world) like a British royal wedding. The fairy tale aspect of it is just too appealing. Especially now since an American will soon become a member of the royal family, adding some international flair to a family that has fascinated the world for more than a 100 years now.
But before Prince Harry and Meghan Markle get married, the United Kingdom needs to get ready. Of course, there's the coordination of the parade route, the procession of guests, all the official fanfare (somebody has to make the castle look grand). But beyond the official preparation, locals also must prepare. Airbnb housing in the city of Windsor, where the royal wedding will be held, has seen a 1,438 percent increase in bookings. Surrounding towns like Slough, Maidenhead and Reading have also seen a significant increase in bookings. Expedia reported a 175 percent spike in airfare bookings in advance of the wedding. But industry experts predict that this royal wedding won't have a particular spike in tourism dollars for many reasons, including that the wedding venue is 25 miles from central London.
"Don't expect visitors from abroad to come for this royal wedding; it is a pageant for domestic consumption," Tom Jenkins, CEO of European tourism association ETOA, told CNN.
Nevertheless, locals and the tourists who will line the streets will need flags, apparel and hats (the Brits love their hats)—all things that local vendors will surely turn a profit on.
But in the end, it's the excitement of the big day that is the driving force behind the preparations. From London to the United States, people around the world eagerly await the reveal of the new royal couple (and especially the dress—never forget the dress).
Here's how some are preparing for the big moment.