Royal Wedding: When Prince Charles Married Diana, Boston Beat Houston to the NBA Title, so Will It Happen Again?
With the exception of those living under the proverbial rock, coverage of the wedding between Harry, Prince of Wales, and Meghan Markle has been impossible to escape.
The couple will tie the knot at Windsor Castle on Saturday, with a worldwide audience set to tune in to watch the ceremony. If Boston Celtics and Houston Rockets players aren't planning to do so, they should—and so should their fans.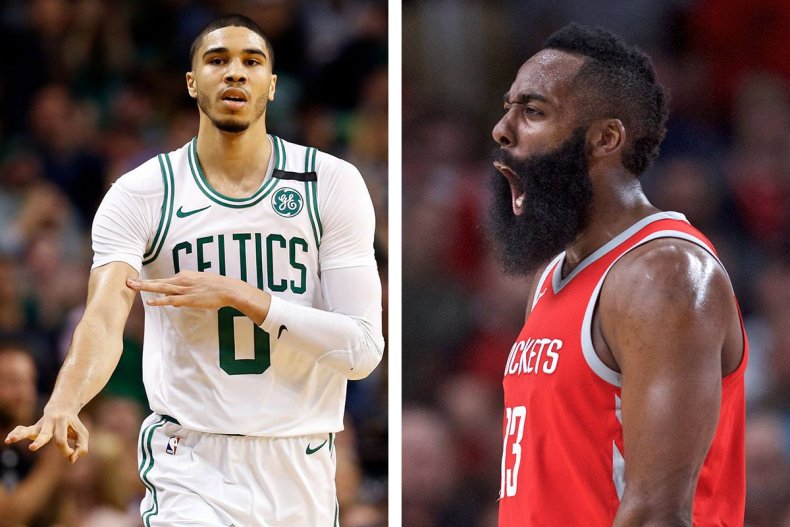 The reason for this is not to become fervent supporters of the Royal Family but because a Royal Wedding is good omen for both teams. With two games played in the Eastern Conference Finals, the Celtics look poised to reach the NBA Finals for the first time in eight years, while the Rockets have drawn level against Golden State and are bidding to reach the NBA Finals for the first time since 1995.
In 1981, when Prince Charles, Harry's father, married the late Lady Diana Spencer just two months after the Celtics and the Rockets had met in the NBA Finals.
Back then Boston had been waiting five years to compete for the ring, while the Rockets had never made it as far as the NBA Finals. However, this year as was the case in 1981, the Celtics have gone into the playoffs after losing the Conference Finals 4-1 in the previous season—against the Philadelphia 76ers in 1980 and against the Cleveland Cavaliers last year.
The Rockets, meanwhile, lost 4-2 against San Antonio in the Conference Semifinals last year and were swept at the same stage by the Celtics in 1980—from the following year, Houston was moved into the Western Conference.
However, while this season the Rockets have entered the postseason on the back of a franchise-record 62 wins, in 1981 they limped into the playoffs with a 40-42 record, valid for the sixth and last spot available in the Western Conference.
Boston, meanwhile, went 62-20, slightly better than this season's 55-27 record and upset the title favorite Sixers 4-3 in the Conference Finals and took Game One on home court 98-95 with Larry Bird one assist short of a triple-double.
Houston, who had overcome the Kansas City Kings 4-1 in the Western Conference Finals, took Game Two thanks to Moses Malone 31 points and 15 rebounds but were never at the races in Game Three as Boston won in Texas.
The Rockets captured a closely-fought Game Four but were outclassed in Game Five back in Boston, losing 109-80 and then surrendered Game Six on home court as the Celtics won 102-91.