Royal Wedding Guest Sold Official Prince Harry And Meghan Markle Gift Bag For $28,600
Royal wedding guests are selling their official Meghan Markle and Prince Harry gift bags for thousands of dollars on eBay.
HR manager Claire Oliver, 31, was of the 1,200 non-VIP people who were invited to spend the day outside St George's Chapel on Saturday to witness the grand event. After the nuptials, Oliver listed her free goodie bags on eBay and sold it three days later for $28,600 (£21,400), according to MailOnline.
The tote bag includes a giant gold chocolate coin, bottle of water, a tin of biscuits and fridge magnet all inscribed with Harry and Meghan's initials and imprinted with the official wedding stamp. Some bags contain the original greeting letter that was given to the guests.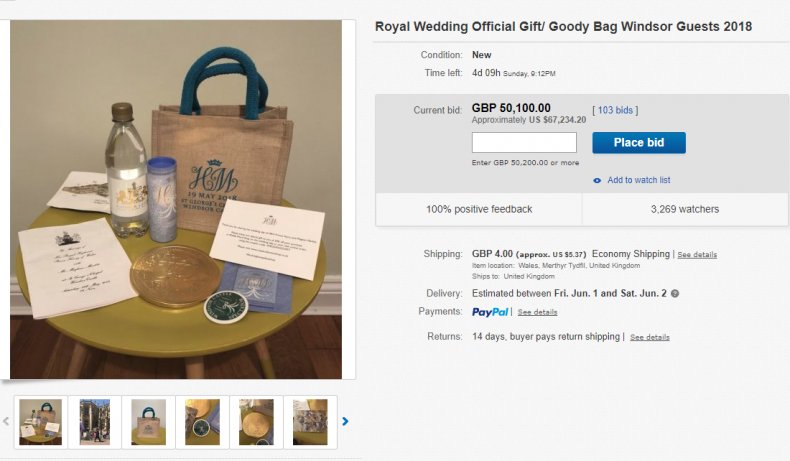 But Oliver's not the only one cashing in on her golden ticket. Dozens of other listings have also gone up on eBay auctioning off the exclusive materials to the highest bidder.
The listings have been attracting plenty of buyers. One particular ongoing auction had 103 bids and was sitting on $67,234.20 at the time this article was published.
"Buy a piece of history and memorabilia to celebrate a momentous special day for Britain's and the royal family," the seller wrote in the item description. "I am selling my limited Goody bag for guests of Royal wedding of Meghan and Harry 19th May 2018."
The seller added: "Official bag with full contents containing commemorative chocolate coin unopened sealed and in original condition, labeled spring water bottle unopened and sealed in original condition; royal wedding fridge magnet unopened in original packaging, the castle spectator badge and a tub of 'handbag shortbread' unopened as well as a Marriage order of service booklet and a 20% off voucher of middle ward shop in Windsor castle."
Some 1,200 people were invited to be Community Champion guests and given designated viewing spots outside the chapel, while 600 other exclusive guests were invited inside the church, including the Beckhams, the Clooneys, Elton John, Serena Williams and Oprah Winfrey. After the ceremony, the Community Champion guests, who were offered the gift bags, were able to see Prince Harry and Meghan kiss on the steps before parading in their carriage.