How the Royals Will Be on Display Hours Before Meghan Markle and Prince Harry's Tell-All
Meghan Markle and Prince Harry's 90-minute interview with Oprah Winfrey will be broadcast hours after Queen Elizabeth II and senior royals appear on British TV.
The Duke and Duchess of Sussex's tell-all with CBS was recorded last week, ITV News reported, days before Buckingham Palace announced a decision to remove Harry's military titles and several of the couple's charitable patronages.
The interview will be broadcast by CBS at 8 p.m. ET on Sunday, March 7, which in Britain will be 1 a.m. on March 8.
Little is known about what the couple have told Winfrey. A summary released by CBS suggests a one-on-one with Meghan will cover "everything from stepping into life as a royal, marriage, motherhood, philanthropic work to how she is handling life under intense public pressure."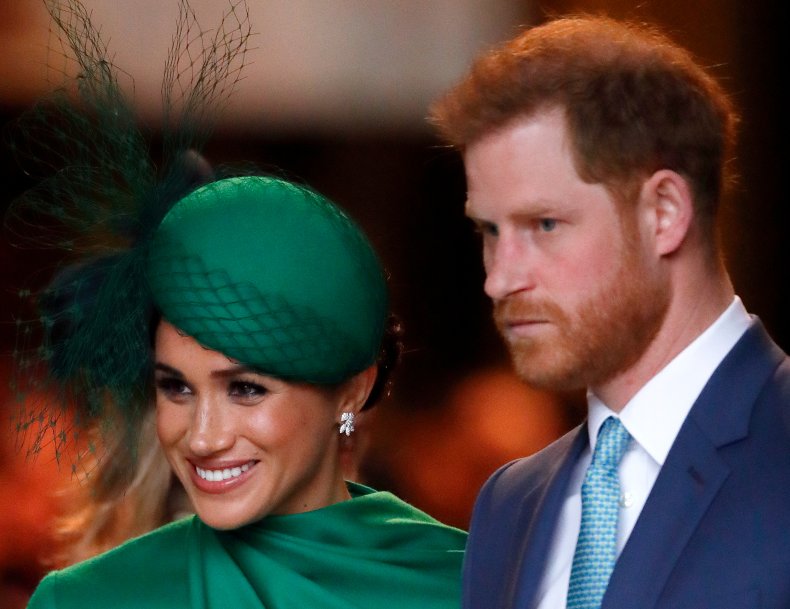 Prince Harry will then join his wife to "speak about their move to the United States and their future hopes and dreams for their expanding family."
Hours earlier—on Sunday evening U.K. time—a Commonwealth Day message from the queen will be broadcast on the BBC.
The celebration of the Commonwealth, a group of 54 countries headed by Elizabeth, takes place around this time each year. However, the overlap with the couple's interview will give the queen a chance to present an account of her values and view of duty, should she choose to take it.
A difference of opinion appears to exist between the duke and duchess and Buckingham Palace, as revealed in statements made by both last week.
As the queen took away Harry's honorary military roles and a number of the couple's royal patronages last week, the palace said: "Following conversations with the Duke, the Queen has written confirming that in stepping away from the work of the royal family it is not possible to continue with the responsibilities and duties that come with a life of public service."
However, minutes later a spokesperson for Harry and Meghan said: "As evidenced by their work over the past year, the Duke and Duchess of Sussex remain committed to their duty and service to the U.K. and around the world, and have offered their continued support to the organizations they have represented regardless of official role.
"We can all live a life of service. Service is universal."
The Commonwealth Day broadcast on BBC1 will also feature Prince William and Kate Middleton, Prince Charles and Camilla, Duchess of Cornwall, and Sophie, Countess of Wessex.
Linda Yueh, chair of the Royal Commonwealth Society, said this year's events might highlight International Women's Day—an important cause for Meghan—and the diversity of the Commonwealth.
She said: "Like many organisations, we will be marking Commonwealth Day a little differently this year. On this occasion, and to also mark International Women's Day, we invite guests to join our virtual conversation with society ambassador [and singer] Alexandra Burke."
Meghan and Harry gave guarded and brief comments about their experiences in the royal family during interviews with ITV's Tom Bradby in 2019.
Since then, the couple have launched six lawsuits against U.K. newspapers and British or American paparazzi agencies.
Harry and Meghan have criticized the media before, but viewers will be keen to learn whether the CBS interview contains any criticisms of the royals themselves.
A biography of the couple, Finding Freedom, which Meghan authorised a person to contribute at least some material to, claimed Harry thought his brother William was snobbish about their relationship.