Royals Would Like to Throw Punches at Prince Harry—Family Member Jokes
Prince Harry's family would like to punch him—18 months after he quit royal duties, the duke's cousin-in-law has joked.
Mike Tindall, whose wife Zara is Queen Elizabeth II's granddaughter, told guests at A Question of Sport Live at the London Palladium on Monday, September 27, he had once playfully hit Harry, The Daily Mail reported.
The former rugby union star was in the England team that won the World Cup in 2003 and said he was celebrating at a bar in Sydney when the Duke of Sussex walked in.
He told the audience he and teammate Iain Balshaw threw a few punches at Harry to see how fast his royal protection detail would step in, which they did within seconds.
According to The Daily Mail, Tindall then said: "At Balmoral, the family are now having the same conversation."
He added: "Except the Queen has taken his security away."
The queen is currently at Balmoral Castle, in Scotland, where she spends her summers.
Tindall and cousin Zara were guests at Harry and Meghan's Windsor Castle wedding in May 2019.
A Question of Sport is a long running U.K. sports panel show on the BBC in Britain but this occurred on the show's live tour.
Prince Harry and Meghan Markle told Oprah Winfrey in March how an unnamed member of the royal family expressed concern about how dark their unborn child's skin might be before he was born.
Meghan also described feeling suicidal while a working royal and said she was told going to a mental hospital would make the institution look bad.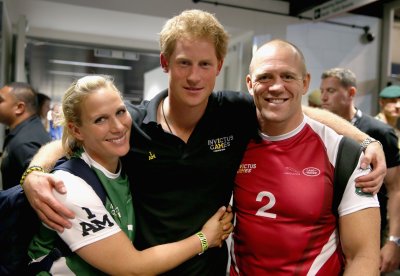 Tindall in June said he would not take the knee because he does not support the Black Lives Matter movement, backed by Meghan in June 2020.
He told The Daily Telegraph: "I support the fight against racism for sure. Would I necessarily take the knee?
"Realistically I don't generally buy into the actual organisation of Black Lives Matter. If you read the website and go through it all..."
On the royals themselves, he added: "I can only say how kind they've been to me, and how welcoming they've been to me since joining the family. And how they've made my family welcome. I've always felt part of it and I think that's down to what an amazing woman the Queen is.
"They're a fantastic family. How many families say that they will get together as a whole family six to eight times a year? It just doesn't happen for me. I would like it to happen more, and this is where I have to perhaps learn a bit more from the wife, but it's very rare. They're very close and it's great to see."