RT Claims Its Associates Asked to Register as Foreign Agents in U.S.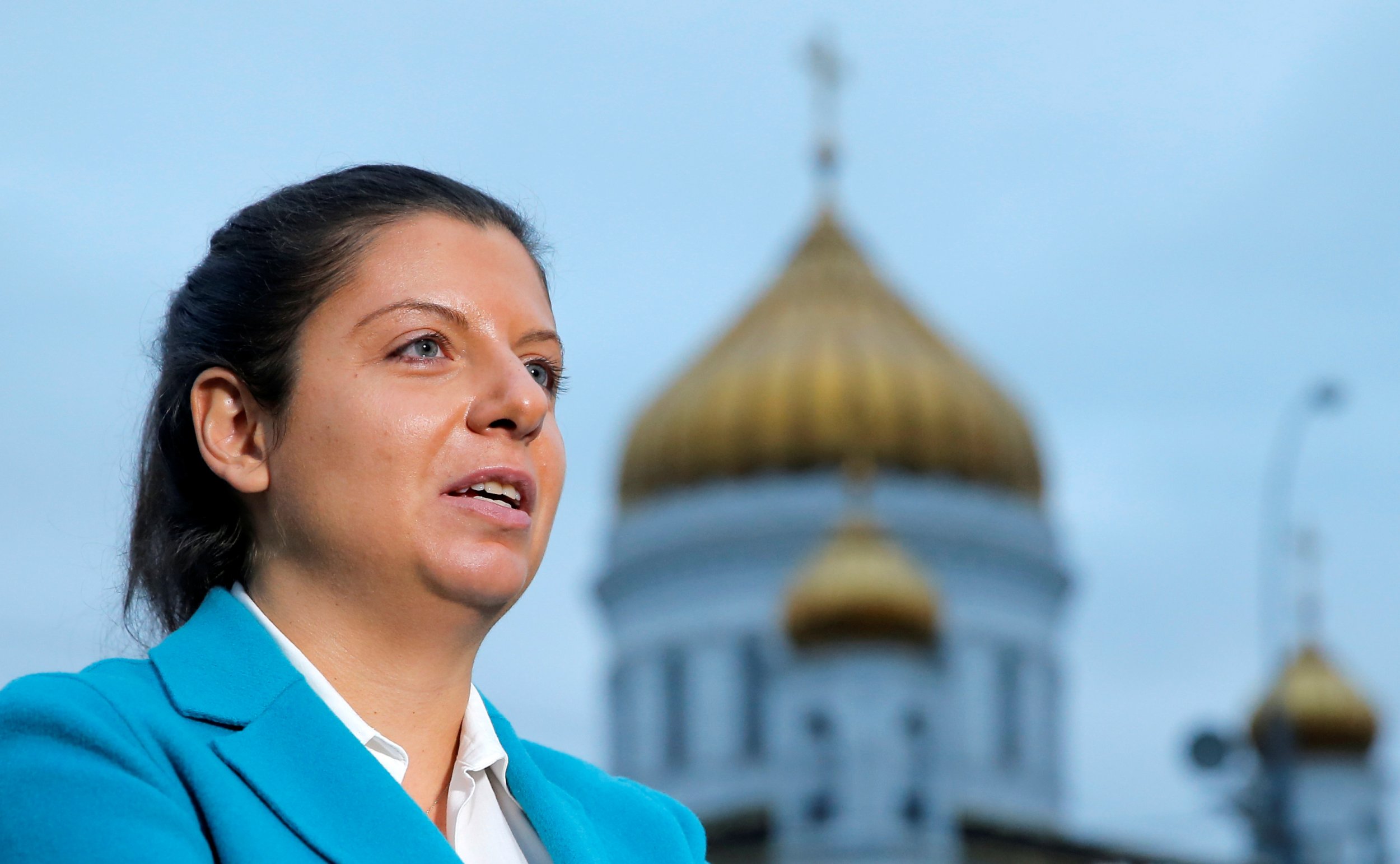 The United States Department of Justice has apparently asked people associated with the American arm of RT, formerly Russia Today, to register as foreign agents, the media outlet said on Monday. A Justice Department spokesman declined to comment.
RT, a news network with ties to the Kremlin, said Monday that a company associated with RT America received a letter from the Justice Department saying "the company is obligated to register" under the Foreign Agents Registration Act. FARA is a statute from 1938 that requires Americans doing political work on behalf of foreign parties to disclose their relationships with those entities. The Justice Department is responsible for enforcing the statute.
The claim by RT coincided with a report by Yahoo News that on September 1, the FBI and Justice Department questioned Andrew Feinberg, a former White House reporter for Sputnik, another news outlet with ties to the Russian government. "They wanted to know where did my orders come from and if I ever got any direction from Moscow," Feinberg said to Yahoo News. "They were interested in examples of how I was steered towards covering certain issues." Feinberg had written about his experiences at the outlet.
Related: Sputnik News is under FBI investigation
In January, the Office of the Director of National Intelligence said that the Kremlin used media outlets such as RT and Sputnik to influence the 2016 U.S. presidential election. Those news agencies "contributed to the influence campaign by serving as a platform for Kremlin messaging to Russian and international audiences," the intelligence report said. "State-owned Russian media made increasingly favorable comments about…Trump as the 2016 U.S. general and primary election campaigns progressed, while consistently offering negative coverage of Secretary [Hillary] Clinton."
In a statement posted on the website for RT on Monday, Margarita Simonyan, editor-in-chief of the outlet, said, "The war the U.S. establishment wages with our journalists is dedicated to all the starry-eyed idealists who still believe in freedom of speech. Those who invented it, have buried it." Asked for further comment, a spokesman for RT pointed to the Simonyan statement.
Since July of last year, the FBI has been investigating Russian meddling in the 2016 presidential election and possible coordination with President Donald Trump's campaign. In May, the Justice Department appointed special counsel Robert Mueller to oversee that investigation. Federal investigators are looking into news websites including RT, Sputnik, Breitbart News and InfoWars, McClatchy reported on March 20, the same day that then-FBI Director James Comey first publicly disclosed the Russia investigation.
A Justice Department request for people associated with RT to register under FARA would not necessarily be part of the FBI and special counsel investigation. But Naveed Jamali, a former FBI double agent who specialized in Russian military intelligence, says, "It would reinforce what many of us have long suspected, that the U.S. government officially believes that RT is an arm of the Russian government." (Jamali has written for Newsweek.)
Such a request suggests "they have evidence that this is not in fact an independent news organization, but essentially an extension of its foreign intelligence and taking direction directly from a foreign state," says Asha Rangappa, an associate dean at Yale Law School and a former FBI special agent specializing in counterintelligence investigations. Because FARA is meant to promote transparency by alerting the public to who is working on behalf of a foreign government, she adds, "essentially, they are trying to expose what they believe to be an attempt by the Russians to disseminate propaganda, using RT as that vehicle."
Two Trump associates, Paul Manafort, his former campaign manager, and Michael Flynn, the former national security adviser, have filed FARA disclosures. But analysts say that asking people to register from a news organization, even one that U.S. intelligence officials have accused of spreading propaganda, is unique.
In June, lawmakers introduced legislation that would make it harder for people associated with news outlets tied to foreign governments to avoid making FARA disclosures. "Foreign propaganda dressed up as a legitimate news outlet is still foreign propaganda," Congressman David Cicilline, a Democrat who introduced the bill with Congressman Matthew Gaetz, a Republican, said in a statement. "In this era of social media and a 24/7 news cycle, the American people have a right to know when a hostile foreign government is sending propaganda right into their living room. This bill will help ensure that Vladimir Putin's regime can't spread fake news with such ease ever again." His statement singled out RT, but the bill does not. The legislation has not moved forward.
The Justice Department would not request that people connected to news outlets register under FARA unless it had an important reason for doing so, according to Rangappa, the former FBI special agent. As she puts it: "I think it means that they feel confident that they have enough evidence and intelligence that they would be able to justify doing this and that it would withstand both public and legal scrutiny."