'World's Oldest Cat' Dies Aged 31
The world's oldest cat has died aged 31. Rubble had lived with his owner, Michele Heritage, since her 20th birthday.
Heritage, now aged 52, who lives in Devon, England, said her cat was part of a litter her sister's friend had. Heritage was lonely living on her own so had Rubble as a kitten in May 1988.
She believes her cat lived such a long life as she didn't have children of her own and treated Rubble as her offspring. Heritage had another cat called Meg, who also defied the odds and lived to be 25.
Heritage told SWNS: "He would have been 32 in May so it was such an achievement. He was an amazing companion that I had the pleasure to live with for such a long time."
Cats generally live to be 16 to 18 years old, but Rubble lived to be the oldest cat in the world. His predecessor was Nutmeg, a tabby cat who also lived in the U.K. and died aged 30 or 31 in 2017.
However, the oldest cat ever according to the Guinness Book of World Records was Creme Puff, who lived to be 38 years old and died in 2005. Creme Puff's owner, Jake Perry, from Austin, Texas, was also the owner of the previous record-holder Grandpa Rex Allen, who lived to be 34.
But Heritage said: "We never went down the route of Guinness Book of Records. I didn't want to do that given his age. The record wasn't of interest to us."
Heritage and her husband understood that Rubble was getting old and his behavior led them to believe that he did not have long left to live.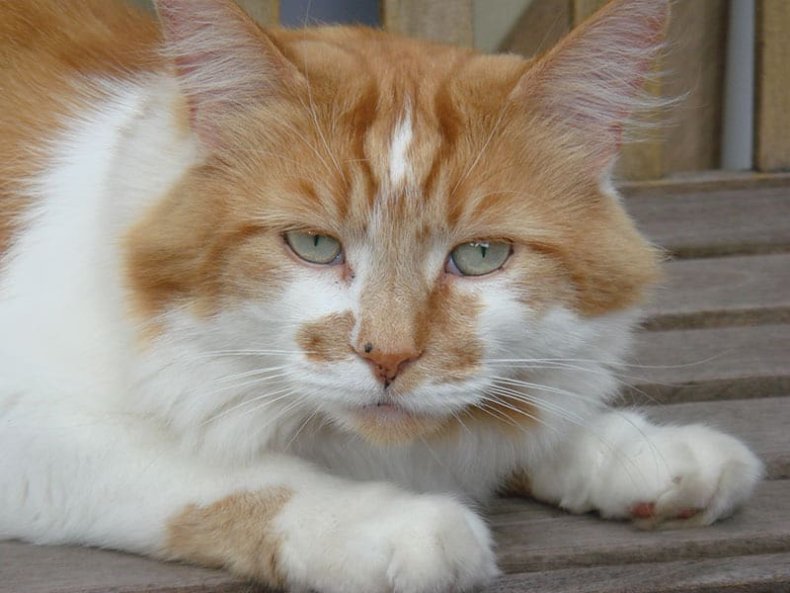 Heritage said: "He grew old very quickly towards the end, I said to my husband at Christmas that I think it would be last we spend with Rubble. He had started to stop eating and only drank water.
"He became very thin. I went to work as usual and when I got home my husband said Rubble had gone over the road as he did every day and never came back, so we believe he went off to die as cats do.
"He was a creature of habit, had his favorite places to sleep, and liked his food so when that stopped happening, we knew."
Rubble's vets said: "It wasn't just Rubble's age that made him special, he enjoyed an active life, with plenty of cat naps, and remained very much young at heart throughout his years.
"We feel privileged to have provided Rubble's veterinary care, he has left a huge hole in all our hearts and will be forever remembered by his CityVets family.
"Rubble's determination for life amazed us on a number of occasions, his long life is a testament to the care and utter devotion from his family."