Ruben Gallego Looks to Maintain Early Momentum to Defeat Kyrsten Sinema
Ruben Gallego followed his Senate campaign launch with an Arizona tour in which he covered 750 miles in 48 hours, made six stops that included visits to Navajo and Apache lands, and spoke to 1,500 people.
After finishing 2022 with $1.3 million in campaign funds, he raised over $1 million in 24 hours after announcing his run against Senator Kyrsten Sinema, who left the Democratic Party to become an independent. Gallego's campaign update last week reported that he had received more than 41,000 donations.
Gallego is sticking to his campaign playbook, responding on Twitter to a story of Republican Kari Lake meeting with National Republican Senatorial Committee members with a GIF of the wrestler The Rock beckoning his opponent forward with a caption reading "Just Bring It."
A strong campaign launch was important for Gallego, but now Democrats are looking to see if he can maintain that momentum as he begins building out a robust campaign that has to defeat not only Sinema, should she run for reelection, but also a Republican like Lake if she jumps into the race.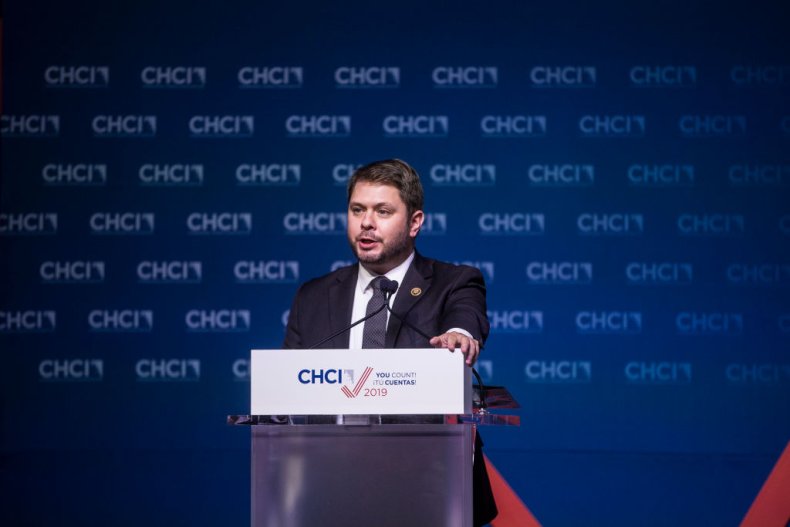 Amanda Salas, a senior staffer for Beto O'Rourke's gubernatorial campaign, who was coalitions director for south Texas, knows what it's like for a Democratic darling to start strong but ultimately come up short. While Texas and Arizona differ in many ways — for example, multiple major metro media markets in Texas make it very expensive to mount a major campaign there — she told Newsweek there are things she thinks her campaign could have done better that she hopes Gallego's campaign does well.
"The way Gallego holds the momentum so he stands a chance, it really is about all the allies across the state," she said. "Had all the unions been coordinated for Beto, the PACs, the different groups — it was a missed opportunity."
Arizona has a long history of Latino and immigrant community organizing, as occurred in 2010 in the battle against SB1070, the hardline immigration law that was largely struck down in the courts, and which Gallego opposed. Those same communities mobilized not just to defeat entrenched former Sheriff Joe Arpaio, who was found guilty of criminal contempt of court for refusing to stop racially profiling Hispanics, but also Donald Trump in 2020.
Salas said part of the Democrats' success in Georgia in recent cycles with turnout and voter registration was in "tapping into existing networks."
"The longer-lasting success in Georgia has been about letting the locals lead, having them connect, and work together with the campaigns," she said, emphasizing that this same work is being done by Arizona activists from veterans to student groups. "Those people exist; it would be a shame if they didn't tap into that."
Gallego allies say a key goal of his campaign kickoff and the momentum it has created is to show a stark contrast between his public profile and Sinema's. They argue that Arizona is more Democratic than both Texas and Georgia, where Beto O'Rourke and Stacey Abrams both lost, and is also turning blue faster than both states.
The next step for the campaign is to drill down into 2022 voter data as it becomes available to better understand the voters it needs to get out in order to win. The campaign is particularly interested in ballot-splitting voters who backed their Republican congressman but declined to vote for Blake Masters for senate or Lake for governor.
"The campaign is going to have a conversation with voters who chose not to vote for Lake or Masters about supporting Gallego," a source close to the campaign said.
While his opponents will look to cast him as a radical progressive, Gallego is looking to emphasize the parts of his biography that could appeal to middle of the road voters, while making the fight for the American dream a cornerstone of his candidacy.
"It is so great to be here in Phoenix right now, to kick off this campaign in the heart of my district, in the heart of Phoenix, in the heart of the Latino community, across the street from my American Legion post — the first post that I checked into when I first got back from Iraq," Gallego said during a Grant Park stop during his tour, a place known for Latino political organizing. "There are hundreds of men and women in that post that really helped guide me through some very dark days of PTSD."
Jaime Molera, a Republican consultant who served as an advisor to former Governor Jane Dee Hull and is a co-founder of Molera Alvarez, said a central question of the race will be whether Arizona moderates are open to voting for Gallego.
"That's the key — how does he define himself?" Molera asked. "Conversely, will he be able to raise enough money to do it before others can define him? They're going to try and define him, not as a former war veteran who has done a lot for VA issues," but as someone "defending radicals on the left, who is a part of woke society, and supports critical race theory."
Until Gallego has a Republican opponent, he appears laser-focused on drawing a contrast with Sinema that hammers home the working-class part of his narrative to appeal to those voters, as well as repeatedly stating his intention to go hard after Latino voters in Arizona.
As a guest on HBO's "Real Time with Bill Maher" on Friday, Gallego said Democrats need to respond to the fact that Latinos are working-class "and they have aspirations — they want to be rich, they want to be small business owners, they want to own a home." He said these voters can be lost first to apathy and nonvoting, before they turn to Republicans who at least have another vision.
He added that the problem with Democrats is they treat Hispanics as a monolithic voting bloc, "and we only talk to them with about two months left in the election."
He was beating a similar drum on MSNBC with Andrea Mitchell on Tuesday, arguing that he's a better option for senate, because as the son of working-class immigrants "I haven't forgotten where I came from."
He referenced Sinema's attendance at a high-end conference in Switzerland recently that included photos that went viral on social media showing the senator hobnobbing with elites.
"Kyrsten doesn't care about those communities anymore," he said. "She's more likely to be with the billionaires in Davos than with the working-class families of Phoenix, Tucson, or Flagstaff."
Kristian Ramos, an Arizona native and Latino vote expert, said Gallego has an opportunity to solve a problem facing Democrats all over the country.
"He can appeal to working-class voters, but also communities of color," he said, "so his opportunity is to tell a story that resonates with veterans, working-class people, and drill down with Latinos to take them away from a nonexistent moderate Republican and independent in Arizona."
It is not clear yet if Sinema will run for reelection. Some Gallego allies maintain she is still undecided. Molera told Newsweek he has heard from people close to her that she won't run, and from others that she will.
But he argues that had Republicans nominated a semi-reasonable Republican in the top of the ticket races in 2022 they would have been able to win, with even a chance of beating Senator Mark Kelly, who dispatched Masters.
Republicans are nervous that running another extreme MAGA candidate gives Gallego a "good chance to win."
"The feeling among Republicans is, 'we're going to do this again,'" Molera added. "We just shot one of our feet off and now we're gonna go and shoot the other one off."