Who is Ruben Kihuen? Nancy Pelosi Wants Nevada Rep. to Resign Amid Sexual Harassment Allegation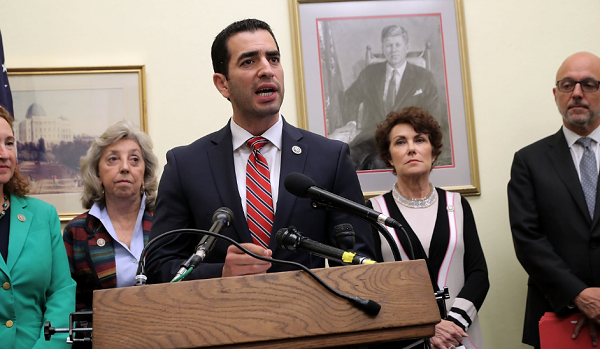 House Minority Leader Nancy Pelosi on Saturday called for the resignation of Nevada Representative Ruben Kihuen, a Democrat, who was recently accused of sexual harassment.
Originally reported by Buzzfeed on Friday, Kihuen's former finance director during his congressional campaign alleged 37-year-old Kihuen made unwanted sexual advances and repeatedly propositioned her for dates and sex despite rejecting his offers on several occasions. The woman—identified only by her first name, Samantha, in the report—also cited two instances in which Kihuen allegedly touched her thighs without her permission.
Twenty-five at the time, Samantha worked with Kihuen early on in his campaign as he waged against Republican Rep. Cresent Hardy in December 2015. It was February 2016 when she said Kihuen, who would have been 35 at the time, started harassing her regularly, leading Samantha to give up her position on his team in April 2016. Kihuen was inducted into the House in January.
In a statement, Pelosi suggested Kihuen to give up his office seat immediately.
"In light of these upsetting allegations, Congressman Kihuen should resign," Pelosi said. "In Congress, no one should face sexual harassment in order to work in an office or in a campaign.
Pelosi's statement came shortly after Rep. Ben Ray Lujan, chairman of the Democratic Congressional Campaign Committee, requested Kihuen resign from office.
"Members and candidates must be held to the highest standard. If anyone is guilty of sexual harassment or sexual assault, they should not hold elected office. Congressman Kihuen should resign," Lujan said in a statement to Buzzfeed on Friday.
Kihuen, who is the first Mexican American to win a position in Nevada's House of Representatives, issued an apology regarding the claims on Friday, but said that he didn't "recall any of the circumstances."
"The staff member in question was a valued member of my team. I sincerely apologize for anything that I may have said or done that made her feel uncomfortable. I take this matter seriously as it is not indicative of who I am. I was raised in a strong family that taught me to treat women with the utmost dignity and respect. I have spent my fifteen years in public service fighting for women's equality, and I will continue to do so."
Before joining Nevada's House, Kihuen spent two terms in the Nevada State Assembly and later worked for the Nevada State Senate where he helped pass a bill that allowed needs-based grants for low-income residents looking to go to college.
The allegations against Kihuen are just the latest round of sexual harassment claims to rock Congress. On Wednesday, Senior Democratic Congressman John Conyers from Michigan resigned from his position on the House Judiciary Committee following an investigation of his alleged sexual harassment towards female staffers.
In early November, Minnesota Senator Al Franken came under fire for sexual harassment after a photo of him groping a woman surfaced, resulting in four women coming forward with accusations ranging from unwanted groping and forcible kissing.