Report: Rubio Enrolled Under Obamacare Government Exchange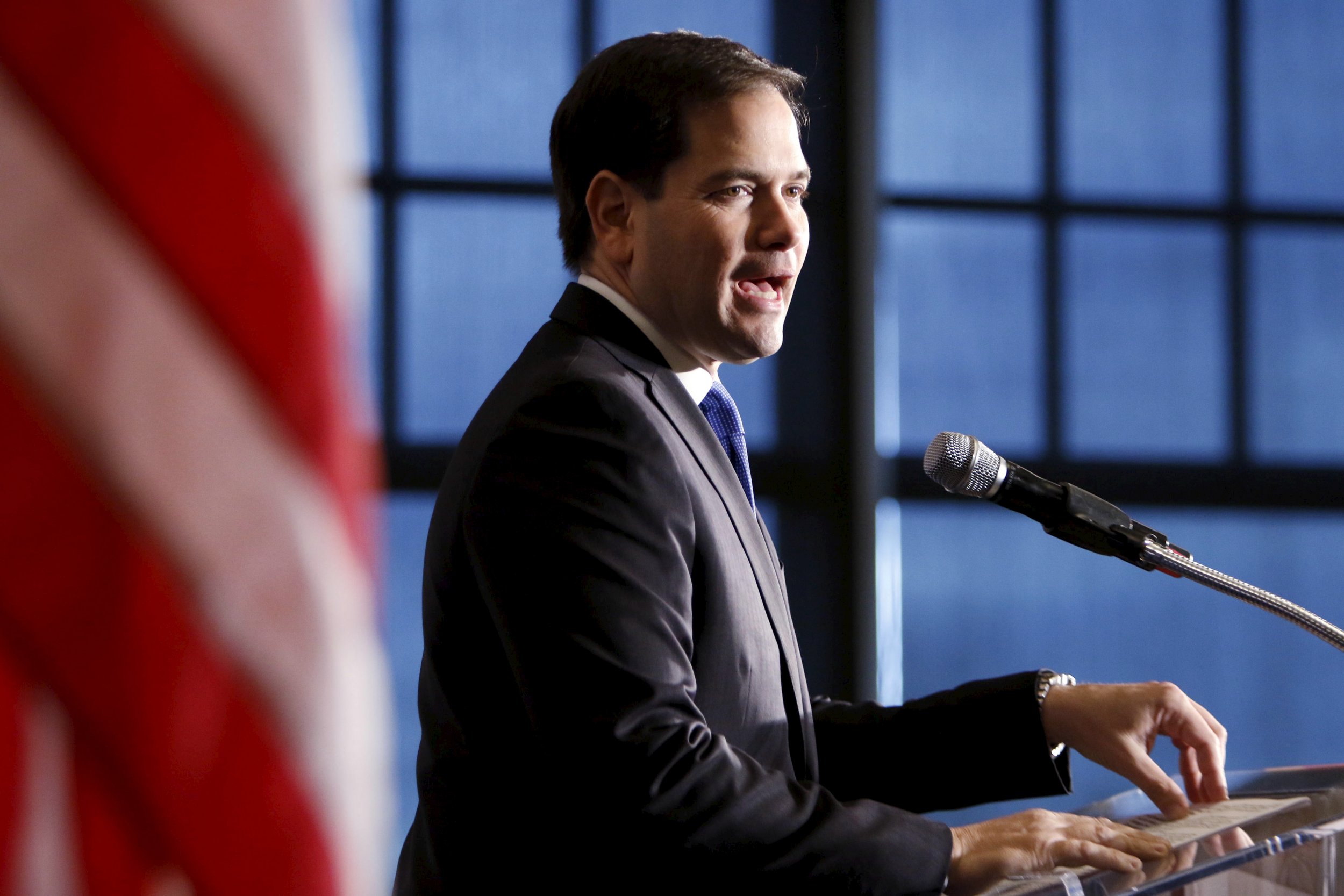 To hear him tell it, no one is a bigger critic of Obamacare than Florida Senator and presidential candidate Marco Rubio. Except, that is, when he's making decisions about his health insurance plan.
Rubio campaign staffers confirmed to NBC late Thursday that he continues to accept a $10,000 federal subsidy reserved for congressional members under an Affordable Care Act exchange program.
Rubio first received criticism for accepting the subsidy back in 2013, when he attached a provision to a spending bill seeking to prevent insurance companies from receiving reimbursement owed under the law. Rubio has used the provision as a campaign tactic, arguing that he has done the most to "hurt" Obamacare of any of the presidential candidates. His critics contend that blocking reimbursement for insurance plans only hurts patients who qualify for federal assistance, but Rubio says he saved taxpayers billions of dollars.
To receive health insurance from their employer (the U.S. government), federal lawmakers must enroll under Obamacare. All lawmakers were required to sign up through an exchange, under a law that Republicans introduced in 2009 to try to embarrass Democrats for supporting the program. Since then, many critics of the program, including presidential candidate Lindsey Graham, have refused to accept the $10,000 subsidy, in order to demonstrate their opposition.
Rubio argued back in 2013 that he was merely accepting an employer contribution like anyone else who receives health insurance at work. This is correct, but it doesn't exactly look good on the debate stage to rail against your employer's policies, then reap all the benefits of those policies when opting out is a perfectly acceptable option.
The labyrinthine details of Obamacare's enrollment requirements for lawmakers have been much discussed and debated. What matters for Rubio is the 2016 presidential election, and he may be boxed in politically if his Republican rivals (or Hillary Clinton) try to paint him as a hypocrite. Senator Ted Cruz, for example, is now covered under a private insurance plan, having spurned an Obamacare exchange entirely. It's conceivable that Cruz, a Tea Party favorite, could slam Rubio for accepting the subsidy.
It could become worse if the narrative painting Rubio as a hypocrite snowballs on other issues. Cruz and Donald Trump have repeatedly criticized him for being soft on illegal immigration, based on his support for a failed bipartisan immigration reform bill. Missouri Senator Claire McCaskill, a Democrat, recently made headlines for accusing Rubio of "breaking down like a cheap shotgun" and minimizing his involvement with the immigration bill after it proved unpopular with conservatives. His position on the bill was a certifiable flip-flop.
It's not that Rubio is obligated to lead by example. He thinks that Obamacare has hurt the country, and his supporters agree. He wants to overturn the law, and if he becomes president he will (provided that Congress supports him). Nevertheless, somebody is bound to criticize him for not going the Cruz route. As one of his staffers said in 2013, he "spent time looking at all the options and decided to enroll through the D.C. exchange for coverage for him and his family."
That's exactly what the law was intended to do.