Rubio Joins Progressives in Pressuring GOP Senators for $2,000 Stimulus Checks
Republican Senator Marco Rubio said in a Monday statement that he was in favor of increasing stimulus checks from $600 to $2,000, echoing an opinion shared by many Democrats.
President Donald Trump signed economic relief legislation on Sunday that allowed for the provision of $600 direct payments to every eligible American. However, he criticized the amount as being too small and urged lawmakers to increase the amount to $2,000. Most Democrats agreed with Trump that the amount should be raised. A standalone bill introduced by Democrats to provide the increased amount of direct assistance was blocked by House Republicans on Thursday. Rubio said on Monday that he would support the legislation, which passed in the U.S. House of Representatives on Monday with a vote of 275 to 134.
"Congress should quickly pass legislation to increase direct payments to Americans to $2,000," Rubio said.
"I agree with the President that millions of working class families are in dire need of additional relief, which is why I support $2,000 in direct payments to Americans struggling due to the pandemic," Rubio continued. "For months, Republicans tried to pass additional relief for workers, families, and small businesses—only to be rejected by Democrats at every turn."
Progressives, including Vermont Senator Bernie Sanders, have supported the larger checks and pointed to Senate Majority Leader Mitch McConnell as the individual preventing the payment package from being signed into law.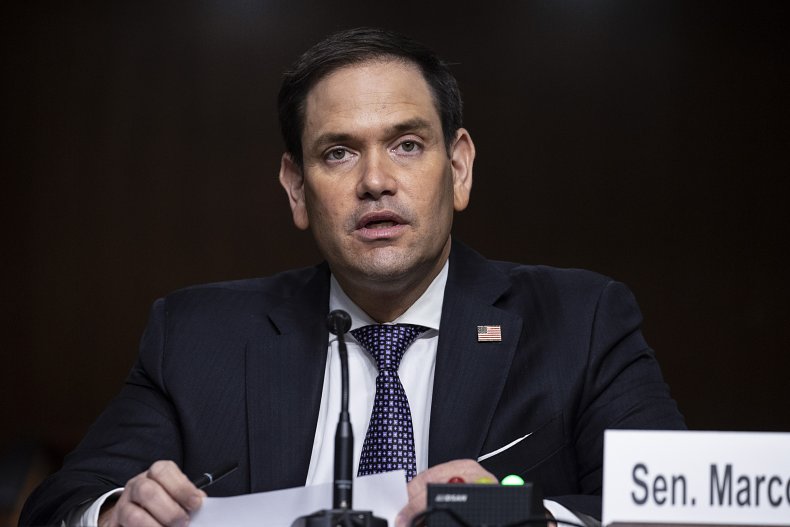 "This week on the Senate floor Mitch McConnell wants to vote to override Trump's veto of the $740 billion defense funding bill and then head home for the New Year," Sanders tweeted on Monday.
"I'm going to object until we get a vote on legislation to provide a $2,000 direct payment to the working class," Sanders continued.
Newsweek reached out to McConnell's office for comment.
New York Representative Alexandria Ocasio-Cortez also took aim at Republicans for voting against the larger checks. "Notice how Republican Congressmen who like to claim they are the party of 'personal responsibility' refuse to take any responsibility themselves for blocking retroactive unemployment benefits, voting against $2k survival checks, stoking doubt about the pandemic to begin with, etc," Ocasio-Cortez tweeted Monday.
In a Sunday statement, McConnell praised Trump's signing of the package, which both Republicans and Democrats had worked on for weeks. "The compromise bill is not perfect," McConnell said, "but it will do an enormous amount of good for struggling Kentuckians and Americans across the country who need help now."
Democrats attempted to push a standalone bill that would have provided the $2,000 checks to Americans on Thursday, but that attempt failed after House Minority Leader Kevin McCarthy chose not to approve the legislation. When the legislation will be voted on by the U.S. Senate is unclear, although Senate Minority Leader Chuck Schumer indicated Monday he would "move to pass the bill" through the Senate on Tuesday.
"Senate Republicans should not stand in the way," Schumer said.