Rubio Leads Opposition to Obama's Cuba Shift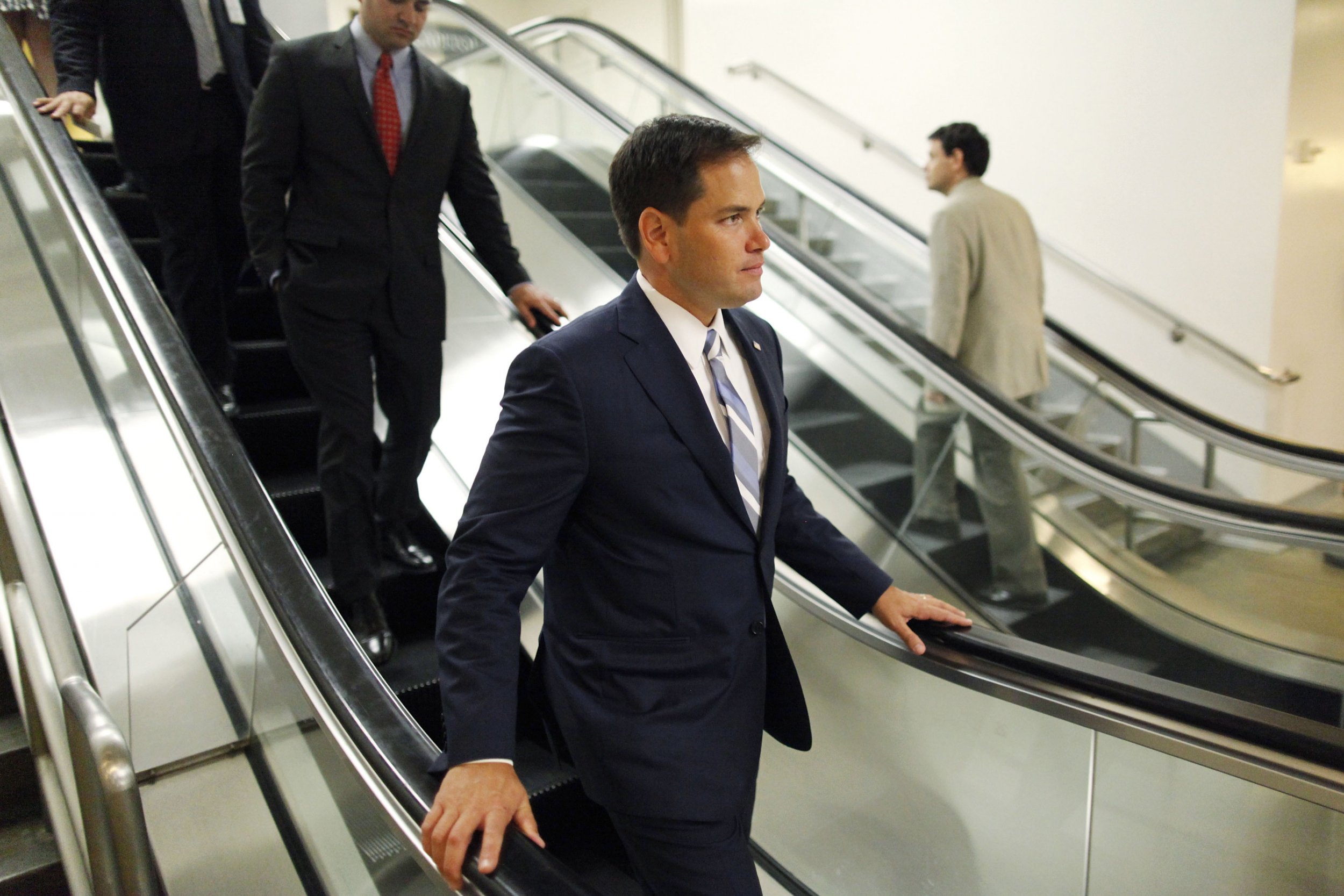 Several Republican lawmakers blasted President Barack Obama's decision to reestablish diplomatic ties with Cuba and trade prisoners, even pledging to try to block the president's plans to normalize relations between the two countries for the first time in over half a century.
The White House announced Wednesday morning that Cuba had released American prisoner Alan Gross, as well as an important intelligence agent and 52 other prisoners, in exchange for three convicted Cuban spies serving sentences in Florida. The U.S. will open an embassy in Havana as well as ease travel restrictions and make it easier for Americans to do business there.
Secretary of State John Kerry will review Cuba's designation as a state sponsor of terror. Though the president cannot unilaterally repeal the economic embargo on Cuba, which was enacted by Congress, Obama said he looked forward to working with Congress to lift the embargo.
"It's time for a new approach," Obama said in an address from the White House at noon Wednesday. Raul Castro, the president of Cuba, addressed his nation at the same time. "I am convinced that, through a policy of engagement, we can more effectively stand up for our values and help the Cuban people help themselves."
Addressing critics of his new approach, Obama said, "I do not believe we can keep doing the same thing for over five decades and expect a different result."
The stunning news drew both praise and anger from lawmakers who come down on different sides of the issue. The biggest critic to emerge was Senator Marco Rubio, a Florida Republican of Cuban descent, who argued Wednesday that the president's actions would only cement the Castro family's hold on Cuba rather than speed up a shift toward democracy.
"This president has proven today that his foreign policy is more than just naive, it is willfully ignorant of the way the world truly works," Rubio told reporters Wednesday afternoon, speaking to the press directly after the president's remarks from the White House. "What these changes are going to do is, they will tighten this regime's grip on power for decades to come."
Rubio suggested that he would use his position on the Senate Foreign Relations Committee to block the president's new policy toward Cuba. "I anticipate I will be the chairman of the Western Hemisphere Subcommittee of [the] Foreign Relations [Committee], and I anticipate we are going to have a very interesting couple of years discussing how you're going to get an ambassador nominated and how you're going to get an embassy funded," Rubio said.
"This Congress is not going to lift the embargo," he added, referring to the 114th Congress, which will begin in January, with both houses controlled by Republicans.
Senator Bob Menendez, D-New Jersey, the outgoing chair of the Senate Foreign Relations Committee and a Cuban-American, also condemned the president's actions, warning that trading prisoners for Gross puts innocent Americans at risk. "It invites dictatorial and rogue regimes to use Americans serving overseas as bargaining chips," he said in a statement. "I fear that today's actions will put at risk the thousands of Americans that work overseas to support civil society, advocate for access to information, provide humanitarian services and promote democratic reforms."
On the other side of the issue, the president and those who support his actions on Cuba argue that after five decades, the U.S.'s policy toward the island has failed and it's time to try something new. They argue that the increasing presence of American travelers, money and information in Cuba will ultimately empower the Cuban people.
Senator Jeff Flake, R-Arizona, is one of the Republicans who supports the president's moves and was one of a handful of lawmakers who accompanied Gross from Cuba to Washington on Wednesday morning.
"I think that for too long we've let Cuba dictate our policy. We should do what is in our interest, and it's in our interest to allow Americans to travel," Flake said on MSNBC, explaining why he supports the Obama's actions. "I think that has the best chance of spurring good developments in Cuba."
The politics of U.S.-Cuban relations in the United States center on Florida, where Cubans make up a fifth of the state's population. Since Florida is a critical swing state in presidential elections, the president's actions Wednesday could have a real effect on presidential elections to come.
Once a staunchly Republican voting bloc, Cubans in Florida have shifted toward the Democratic Party over the past decade. In 2000, about two-thirds of Cubans identified as Republicans. That number is now less than 50 percent. In 2012, Obama won the Cuban vote by two points, according to The Washington Post. This shift may have eased the way, politically, for Democrats and the president to change policies toward Cuba that they felt were not working. The community is largely divided along generational lines, with younger Cubans leaning more Democratic and probably more supportive of normalizing relations.
Republican Jeb Bush, the former governor of Florida now actively exploring a presidential run in 2016, said a few words Wednesday morning against the normalizing relations. "I don't think we should be negotiating with a repressive regime to make changes in our relationship" until Cuba changes, Bush said, according to USA Today.
Rubio dismissed the suggestion that he is out of step with a younger generation of Cubans in Florida.
"I don't care if the polls say that 99 percent of people believe we should normalize relations in Cuba," he said. "I still think that before we can normalize relations in Cuba, democracy has to come first, or at least significant steps toward democracy."