After Surge, Rubio Stumbles at Final Debate Before New Hampshire Voting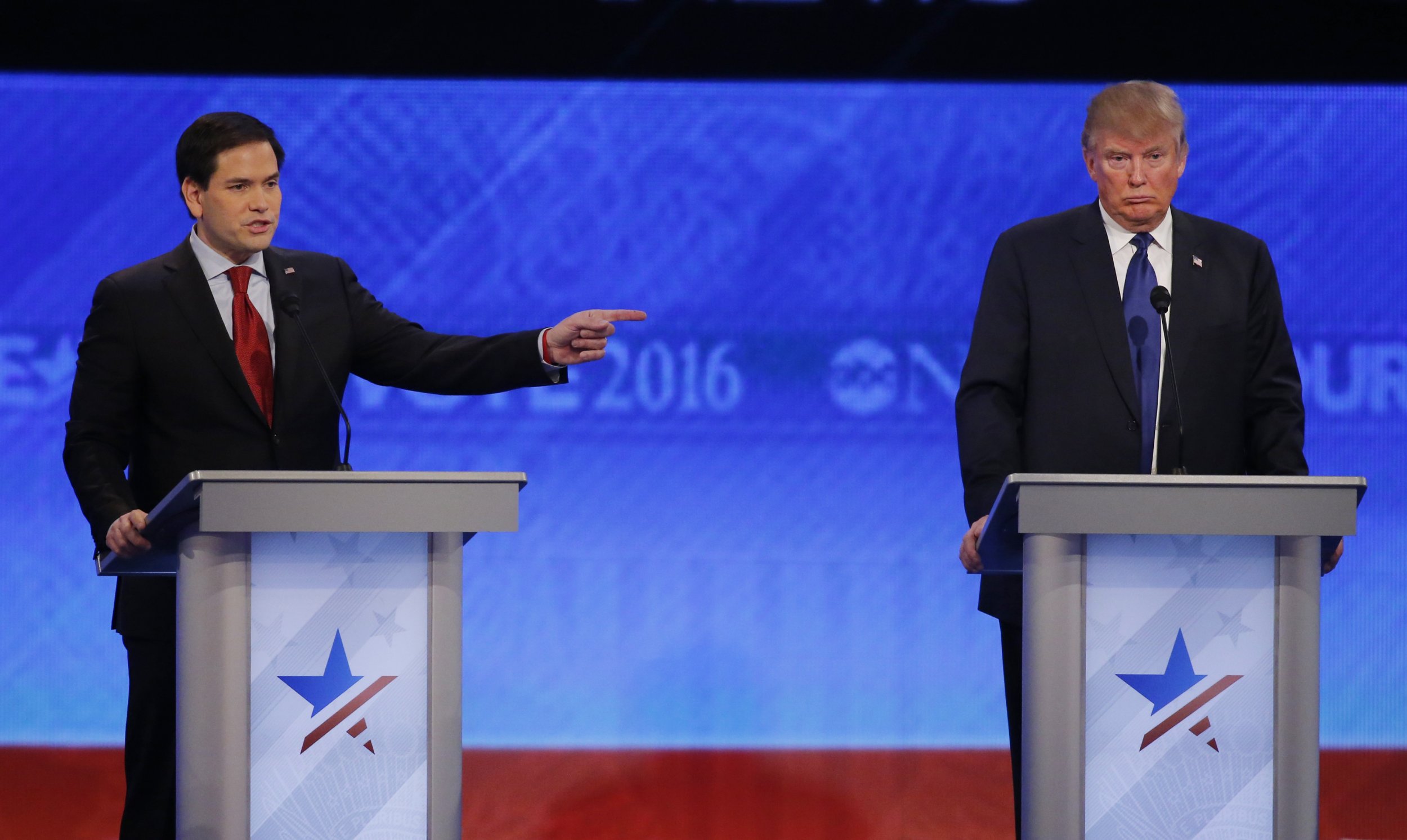 Marco Rubio's ascendent presidential campaign hit a rough patch Saturday night in Manchester, New Hampshire. The Florida senator took incoming fire from all angles at the party's last debate before New Hampshire's first in the nation primary Tuesday, and it put him on his heels.
In one of the most devastating moments, New Jersey Governor Chris Christie attacked Rubio as a glib politician only capable of speaking in memorized talking points. Rubio's response: repeating, virtually verbatim, the same talking points two more times. As the debate stretched into its third hour, Rubio was visibly sweating.
And mystifyingly, Rubio returned to the same point several additional times, repeatedly alleging that President Obama "is trying to change this country" to be more like the rest of the world. It's part of the 44-year-old senator's counter to accusations that he would be a Republican version of the president, who was a similarly youthful politician with just a few years in the U.S. Senate under his belt when he was elected to the White House. But his opponents weren't buying it. "Do you think Barack Obama knows what he's doing? I don't," Christie said.
After being overshadowed for much of the race, the governors and ex-governors—Christie, Ohio's John Kasich and Florida's Jeb Bush—had something of a moment on Saturday night, drawing far more speaking time and driving the debate in ways they had not in any previous forum. And with his missteps, Rubio may have given them an opening.
Christie was Rubio's chief antagonizer, but he was joined by Bush, Rubio's one-time mentor, and even Donald Trump, the real estate mogul who turned in a subdued performance in his return to the debate stage. Trump appeared to have learned his lesson after skipping the last GOP debate, in Iowa, and fading down the stretch in the state's caucuses.
Rubio came in an unexpectedly strong third place in Iowa, nearly surpassing Trump in a tight race behind the winner, fellow first-term Senator Ted Cruz. That raised his stature as the "establishment alternative" to the populist Trump and polarizing Cruz, and put a target solidly on his back. Christie, Bush and Kasich are all vying for that same establishment support and need a big showing in New Hampshire to keep their campaigns alive. And they're making similar pitches—that they have experience and political seasoning to govern effectively and unite the country. As Christie put it, "executive experience matters."
Rubio wasn't the only top-tier candidate who struggled on the stage at Saint Anselm College. Cruz was relatively quiet on the night and uncharacteristically unsteady in more than one response. He stumbled over a question about the wisdom of using waterboarding to interrogate terrorists. Like the rest of the Republican candidates, Cruz denied that waterboarding qualifies as torture but hesitated when asked about using it in his prospective administration.
Trump also faced thinly veiled skepticism from ABC's moderators about the lack of substance in his responses. Take, for example, his response to a question about whether he favored socialized medicine, a la Democratic presidential candidate Bernie Sanders. "We are going to repeal Obamacare, we are going to replace Obamacare with something so much better," Trump insisted, but gave little indication how he would do so.
And Trump drew heavy boos from the audience during an exchange with Bush over eminent domain. It started with Trump mocking Bush when the governor attacked the billionaire's past attempts to use the government's power of eminent domain to obtain land for one of his casinos. "He wants to be a tough guy," Trump sneered, trying to silence Bush, which did not go over well with the crowd. Trump dismissed their boos. "That's all of his donors and special interests out there."
With the news of North Korea's missile launch breaking Saturday night, the moderators opted for a heavy foreign policy emphasis, posing the candidates questions on issues ranging from how they would respond to Pyongyang to a strategy to stabilize Libya to the potential need for ground troops in Syria. That gave Rubio, who's focused on national security issues in the Senate, a chance to regain his footing a bit.
ABC's Martha Raddatz challenged Rubio's claim that ISIS is the most dangerous jihadist force in history, which she pointed out means they're more threatening than Al-Qaeda or the insurgency in Iraq last decade. Yet the United States sent troops to fight both those groups. "Why not commit a large U.S. ground force in Syria?" she asked. Rubio insisted that Syria "can only truly be liberated and held by Sunni fighters."
And in one of the most unexpected lines of the night, the Florida senator agreed wholeheartedly with Trump's assessment of North Korea: "Donald is absolutely right, China does have a lot of influence over North Korea," he said at one point.
Health issues—and not just Obamacare—also came up repeatedly during Saturday's debate. The candidates took questions on America's response to the Zika virus outbreak and how the next president should help the country counter an opioid addiction epidemic that has been particularly devastating in New Hampshire. As they have on the campaign trail, the candidates detailed their own personal experiences with loved ones who have struggled with addiction. Cruz repeated the story of his half-sister's tragic overdose death but did not offer federal solutions, aside from securing the border to block heroin smuggled from Mexico. "As president, I will secure the border," Cruz promised.
Once again, former neurosurgeon Ben Carson was a non-factor in the debate. He was almost invisible in the first hour, forced to interrupt other candidates just to get a word in. Earlier this week, the doctor had to deny rumors that he was dropping out of the race after a disappointing finish in Iowa, a state he led in some polling last fall. "Guess what, I'm still here, and I'm not going any place," Carson said in his closing remarks. But his limited air time isn't likely to give his campaign the jolt it needs.