Ruby Rose as Batwoman: Star 'Basically Skipped Everybody' on 'The Meg' Red Carpet to Avoid Spilling Casting Secret
Ruby Rose found out she was cast as Batwoman on The CW—but couldn't talk about it—right before the premiere of The Meg, she said on The Tonight Show Starring Jimmy Fallon Wednesday.
"I was so nervous doing the red carpet [Monday], I basically skipped everybody. I kept spontaneously crying and I feel like I'm probably going to do it now," the actor told the talk show host.
She was worried about getting the inevitable question about her next role. "I thought, Either I'm going to put my foot in it and accidentally say something, or I'm going to just start crying and they're going to [say], 'Oh, she doesn't look so good,'" she explained. The CW announced she was cast as Batwoman Tuesday.
"The reason I kept getting so emotional is because growing up, watching TV, I never saw somebody I could identify with, let alone a superhero," Rose said. The first motto she lives by, Oscar Wilde's "be yourself, everyone else is taken," led to the one she added when she started in Hollywood, to "be the person you needed when you were younger," she added.
The actor visits kids in hospitals and can continue to do that as Batwoman. "Not only can kids watch this growing up and relate to it and feel empowered and think they can be a superhero, but also I can go and do these things like visiting hospitals and kids and people in need," she said.
Her "first attempt" at the character came when she was a kid. She made her own toys as a child because they didn't have a lot of money. "I made batwings out of recycled cardboard boxes, and I would sleep in them and I would run around in them and I would jump off high things," she said.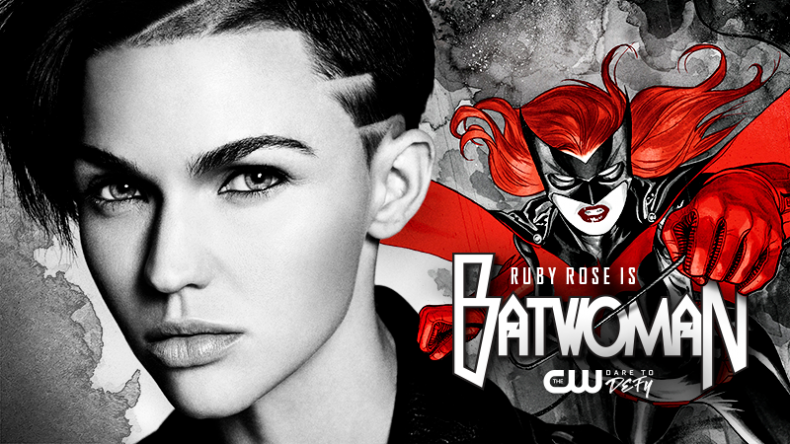 Rose will debut as Batwoman during the annual DC crossover event featuring Arrow, The Flash and Supergirl—DC's Legends of Tomorrow won't be participating this year—in December on The CW. A series following Rose's Kate Kane/Batwoman in Gotham is in development for the 2019 to 2020 season. Kate is "armed with a passion for social justice and a flair for speaking her mind" and "an out lesbian and highly trained street fighter primed to snuff out the failing city's criminal resurgence" but isn't "a hero yet," according to the network.
Before the crossover, you can see Rose in The Meg, in theaters Friday. "It's not a film that's meant to make you hate sharks," she said on The Tonight Show. "It's really about what happens when humans mess with nature, which we know never really ends well." Rose's character, Jaxx, is part of a team that unleashes a prehistoric 75-foot creature. "It is hungry, and it is amazing," she teased.