Rudy Giuliani Backs Jon Stewart, Calls on Mitch McConnell-Led Senate to Protect 9/11 First Responders
President Donald Trump's lawyer Rudy Giuliani on Friday tweeted in support of passing the 9/11 Victims Compensation Fund, siding with comedian Jon Stewart in his efforts to push Senate Majority Leader Mitch McConnell to act on making the fund permanent.
"I remember when all Americans were ONE after the 9/11 attack. It's our duty to support the bill to protect those ill because of their work to protect us," Giuliani, who was mayor of New York City during the 2001 terrorist attacks. "The Senate must vote as ONE for them."
Though Giuliani, who was praised for being a visible figure in the 9/11 response, did not name Stewart, his tweet reflected the comedian's stance on the September 11th Victim Compensation Fund. Stewart and first responders last week testified before Congress to advocate for the reauthorization of the fund, which was started after 9/11 to help with medical expenses and financial loss. The fund is severely depleted and payments will have to be cut if it is not reauthorized.
Stewart on The Late Show with Stephen Colbert on Monday addressed remarks McConnell had made earlier that day on Fox News in reference to him, that "many things in Congress happen at the last minute... We will address it again. I don't know why he's all bent out of shape."
A former host of The Daily Show, Stewart responded, "No, Mitch McConnell, I am not bent out of shape! I am in fine shape," and added, "I am bent out of shape" for first responders.
Stewart also said, "I didn't mean to interrupt them with their jobs!" hitting back at McConnell's defense of those members of Congress who did not attend the hearing because they had a lot going on.
The comedian told McConnell he was not good at arguing the issue.
"Basically we're saying you love the 9/11 community when they serve your political purposes, but when they're in urgent need, you slow-walk, you dither," Stewart said. "You used it as a political pawn to get other things you want, and you don't get the job done completely, and your answer to that charge is, 'Yeah, duh, we're Congress. That's how we do.'"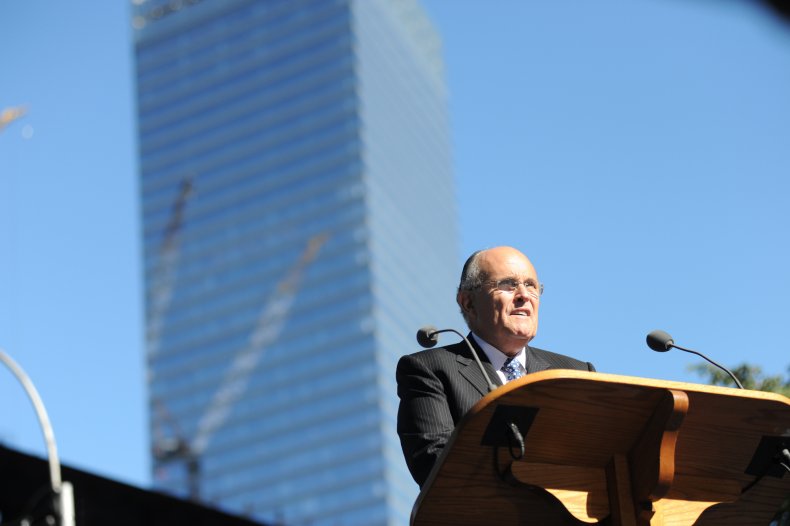 Many Twitter users on Friday applauded Giuliani for the tweet.
"I agree with you here," tweeted David Weissman, an Army veteran and former Trump supporter who now backs 2020 Democratic candidate Senator Elizabeth Warren.
Weissman told Newsweek on Friday afternoon that agreeing with Giuliani "is rare" for him because he doesn't agree with defending Trump.
"I think first responders should be taken care of," Weissman explained. "They did all what they could to keep Americans safe after 9/11."
J.D. Durkin, Washington, D.C., bureau chief of the live streaming financial news network Cheddar, opined in a reply to Giuliani that "the Senate must consider VCF cleanly, not with the jabroni add-ons, and extend the protections permanently instead of making the John Feal's of the world fight for renewal every 5 years."
Durkin said that "kicking the can should not be an option."