Rudy Giuliani Says Fiona Hill Is Making 'False Allegations' Against Him: 'It Will All Be Revealed Very Soon'
President Donald Trump's lawyer Rudy Giuliani has accused Fiona Hill, the National Security Council's former senior director for Europe and Russia, of "making false allegations" against him in her testimony in Thursday's impeachment hearings.
"Fiona Hill & her friends ignored blatant Dem corruption, even some proven to a Ukrainian Court. She is making false allegations against me," Giuliani claimed.
The former New York Mayor insisted that he had never met with Ukrainian businessman Dmytro Firtash, a Ukrainian businessman who was indicted five years ago over a titanium business deal and who has been connected to Giuliani.
"I have never met Firtash & had no policy agenda other than to defend my client. It will all be revealed very soon," Giuliani said, hinting at a forthcoming revelation from Trump's legal team.
Newsweek has contacted a spokesperson for Giuliani for further comment.
During her testimony on Thursday, Hill testified that she had become increasingly concerned about Giuliani's growing work and influence on Ukraine policy.
Hill accused Trump's personal lawyer of making "explosive" statements that she had known during her time with the Trump administration "would probably come back to haunt us."
"In fact," she said, "I think that's where we are today."
Hill, who served as the former top deputy to then-National Security Advisor John Bolton, said her superior had referred to Giuliani as a "hand grenade that's going to blow everyone up."
The comments, she said, had been made in reference to Giuliani's participation in what she described as a "smear campaign" against former U.S. Ambassador to Ukraine Marie Yovanovitch.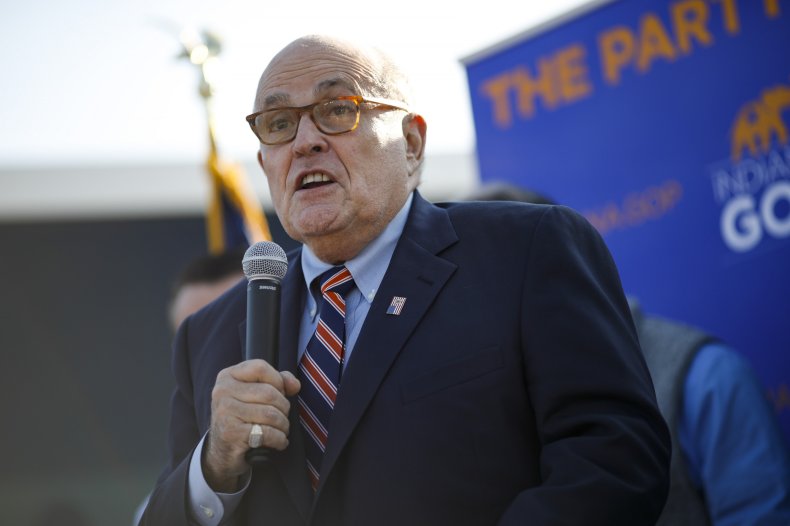 Asked to expand on what Bolton's comments meant, Hill said: "I think he meant that obviously what Mr. Giuliani was saying was pretty explosive in any case, he was frequently on television making quite incendiary remarks about everyone involved in this, and that he was clearly pushing forward issues and ideas that would probably come back to haunt us, and in fact that is where we are today."
During her testimony, the former top official on Russia accused members of the Trump administration of pursuing a "domestic political errand" to push Ukraine to investigate Trump's political rivals.
She also hit out at lawmakers for continuing to push the unfounded argument that it was Ukraine that may have interfered with the 2016 election and not Russia.