Former New York City Mayor Rudy Giuliani described Joe Biden's vice presidential pick Kamala Harris as a "horrible prosecutor" and "bully" Friday when he spoke to a police union that was endorsing President Donald Trump's re-election campaign.
Giuliani addressed members of the New York City Police Benevolent Association (PBA) Friday in Bedminster, New Jersey, as he ridiculed Harris, the former attorney general of California, for arresting thousands of people for smoking weed. Harris was elected district attorney of San Francisco in 2003 before being elected attorney general of California in 2010 and 2014. Giuliani said "that woman is a bully," referencing her prosecution of minor crimes and for going after "little people" while refusing to prosecute the state's rich and powerful.
"She went after 1,500 marijuana smokers — marijuana smokers, not people selling it — smokers. And then when she was asked if she smoked marijuana, she went 'ha ha ha yea.' Tell me this isn't a horrible person," Giuliani said Friday, repeatedly imitating someone smoking pot at the podium as Trump stood behind him.
"All the politicians in San Francisco, all of [former Mayor] Willie Brown's friends, they went free, but she went after marijuana smokers," Giuliani added. "Tell me this isn't a horrible person."
Giuliani, who was the U.S. Attorney for the Southern District of New York from 1983 to 1989, repeatedly referred to Harris as a "horrible prosecutor." But on the other hand, he offered high praise of Trump and touted him for wanting to stand up for police officers across the country. "We need him more than he needs us," Giuliani said of the president.
Harris was widely criticized during her Democratic presidential primary run last year for overseeing a wide range of convictions tied to misdemeanor crimes when she was a prosecutor. In an interview with The Breakfast Club in February of last year, Harris joked she had "inhaled" marijuana smoke in her past. She went on to say of smoking weed: "Listen, I think it gives a lot of people joy. And we need more joy."
Newsweek reached out to Harris' Senate office in California as well as representatives for Giuliani Saturday morning.
Giuliani's daughter, Caroline, endorsed the Biden and Harris ticket last week, even tweeting out a picture of her and Harris standing together. "An excellent day for a repost from this bleeding [heart] of mine."
Last week, Giuliani shared a National Review opinion piece that declared: "Joe Biden has named his 2020 running mate: authoritarianism." His Wednesday tweet quoted author Kevin Williamson: "American prosecutors wield awesome and terrible powers that lend themselves easily to abuse, and Senator Kamala Harris, formerly the attorney general of California, is an enthusiastic abuser of them."
Giuliani himself is known for cracking down on minor crimes during his tenure as the Republican mayor of New York City in the 1990s. His policy of "stop-and-frisk" has become the focus of a nationwide debate on racism and police tactics.
Meanwhile, Pat Lynch, president of the NYC PBA remarked on the group's rare offer of support for a national candidate during the Bedminster, New Jersey Friday press conference: "I cannot remember when we've ever endorsed for the office of President of the United States, until now."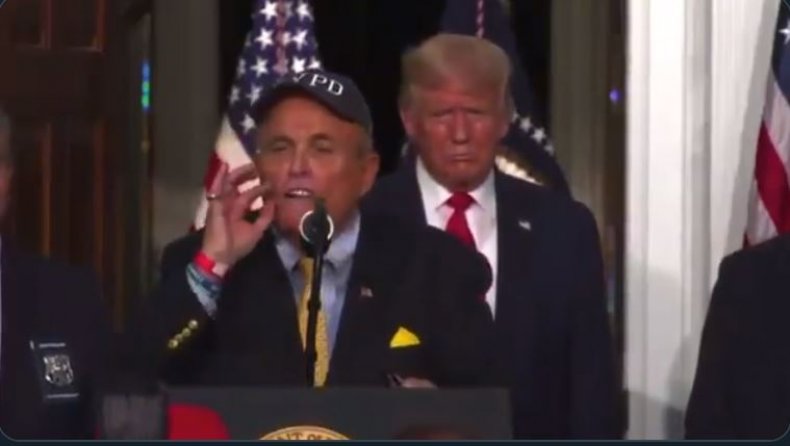 Correction 7:35 PM ET: An earlier version of this story referred to Rudolph Giuliani's daughter as Carolina; the correct first name is Caroline.