Rudy Giuliani's law license has now been suspended in Washington D.C. "pending further disciplinary proceedings" in New York state according to an order from the District of Columbia Court of Appeals filed Wednesday.
The DC suspension comes just under two weeks from when Giuliani received a suspension of his law license in New York state, for what the Attorney Grievance Committee for the First Judicial Department called "uncontroverted evidence" that former President Donald Trump's lawyer "communicated demonstrably false and misleading statements to courts, lawmakers and the public at large" as he attempted to have the results of the 2020 presidential election overturned.
"This country is being torn apart by continued attacks on the legitimacy of the 2020 election and of our current president, Joseph R. Biden," the committee said near the end of June. "The hallmark of our democracy is predicated on free and fair elections. False statements intended to foment a loss of confidence in our elections and resulting loss of confidence in government generally damage the proper functioning of a free society."
Wednesday's order from the D.C. court also says that "while this matter is stayed, Disciplinary Counsel shall file, at a minimum, annual reports on the status of the disciplinary proceedings in New York."
Giuliani has not received a hearing regarding his New York suspension, which his attorneys have argued is "unprecedented." Giuliani himself has claimed he did not knowingly make false statements.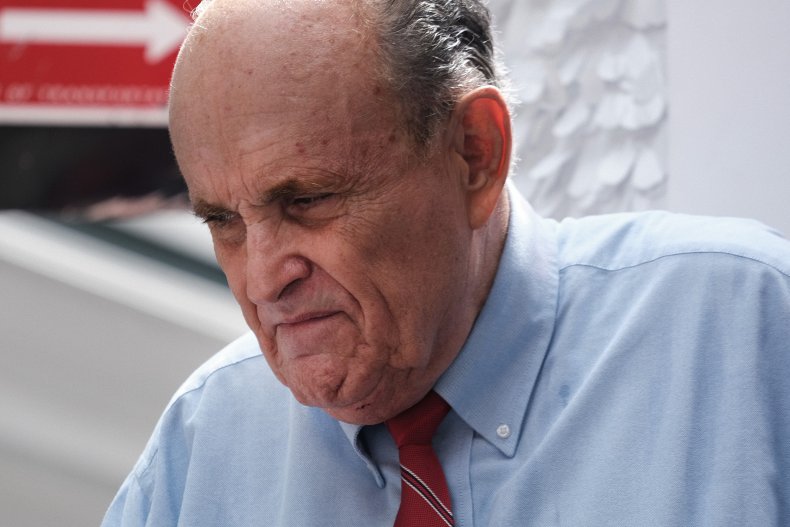 The court has so far rejected those arguments, pointing out, for example, that Giuliani did not "provide a scintilla of evidence for any of the varying and wildly inconsistent numbers of dead people he factually represented voted in Philadelphia during the 2020 presidential election."
Giuliani's increasingly strange and unsupported efforts to turn election results toward favoring Trump brought him media attention.
"It seems to me somebody from the Democratic National Committee sent out a little note that said, 'Don't let the Republicans look at those mail-in ballots, at least not in the big Democratic hack cities that we control. We've done a lot to destroy those cities and now we're going to destroy their right to vote,'" Giuliani said at a now-infamous press conference on November 7 in front of the Four Seasons Total Landscaping in Philadelphia.
His latest law license suspension comes on top of Giuliani's existing legal battles. He is under scrutiny from the Federal Bureau of Investigation, and was the subject of a search warrant in April, surrounding his involvement with Ukraine and the Hunter Biden scandal. He is also one of the targets of a $1.3 billion defamation lawsuit by Dominion Voting Systems.
Newsweek reached out to Giuliani's lawyers for comment.