Rudy Giuliani Calls on New York Times, Washington Post to Reveal Sources After Corrections
Rudy Giuliani called on The New York Times and The Washington Post to "reveal their sources" after both prominent U.S. newspapers issued corrections on Saturday to articles about the FBI raid on the attorney's Manhattan apartment.
Giuliani, a personal friend and legal adviser to former President Donald Trump, had his Manhattan apartment raided by federal agents on Wednesday after they were granted a search warrant in connection with a criminal investigation into his dealings in Ukraine. Both the Times and the Post initially reported that Giuliani had been warned by the FBI that he could be the target of a Russian influence campaign related to his efforts on behalf of Trump in Ukraine.
On Saturday, both newspapers issued corrections to their stories, which were based on anonymous sources.
"On a Saturday, the Washington Post added this correction to their defamatory story about me. The Washington Post and the NYT must reveal their sources who lied and targeted an American Citizen," Giuliani, who served as mayor of New York City from 1994 to 2001, tweeted late on Saturday, sharing a screenshot of the Post's correction. He also wrote that MSNBC and CNN "forgot to mention the corrections today."
In a separate tweet, Giuliani asked, "Where did the original false information come from?" Tagging MSNBC, CNN and the Times, the attorney added, "I couldn't quite hear your apology?" Notably, CNN has since published an article about the corrections by the publications.
The Post's correction also noted that it had originally reported that right-wing television channel One America News News Network (OANN) had received a similar warning from the FBI. That information was updated as well.
"Correction: An earlier version of this story, published Thursday, incorrectly reported that One America News was warned by the FBI that it was the target of a Russian influence operation. That version also said the FBI had provided a similar warning to Rudolph W. Giuliani, which he has since disputed. This version has been corrected to remove assertions that OAN and Giuliani received the warnings," the Post wrote in a note at the top of its article about Giuliani and possible Russian influence.
The Times issued a similar correction, posting it at the bottom of its article about the investigation into Giuliani.
"Correction: May 1, 2021 An earlier version of this article misstated whether Rudolph W. Giuliani received a formal warning from the F.B.I. about Russian disinformation. Mr. Giuliani did not receive such a so-called defensive briefing," the newspaper wrote.
In a Sunday email to Newsweek, a spokesperson for the Post reiterated that the corrected detail in the story "was the assertion that the FBI had briefed Giuliani and OAN" about the Russian influence efforts. "The story is focused on official concern that Rudolph Giuliani and One America News risked becoming part of Russian influence operations targeting the 2020 election," the spokesperson said
Newsweek also reached out to the Times for comment, but did not immediately receive a response.
Although Giuliani was not warned by the FBI about a possible Russian influence campaign targeting him and others, he remains under federal investigation as authorities probe whether he illegally lobbied the U.S. government on behalf of Ukrainian officials. Under U.S. law, it would be illegal for Giuliani to have lobbied the government on behalf of foreign officials without having registered with the Justice Department, which he never did.
Giuliani vehemently denies any wrongdoing and insists all of his activities were legal. The attorney and close Trump ally has argued that the search warrant executed at his apartment was actually illegal. Investigators reportedly seized phones and computers from Giuliani's Manhattan office and home this past week.
"It completely obliterates the 4th Amendment and 6th Amendment," Giuliani said of the FBI raid on his apartment in an interview with Steve Bannon on his War Room podcast last week. "This search and seizure was completely unreasonable." The lawyer said that he felt "like a character in 1984," a dystopian novel about a totalitarian government written by author George Orwell and published in 1949.
Giuliani's activities in Ukraine first drew national attention in 2019, as the lawyer worked to dig up information regarding then-Democratic presidential candidate Joe Biden's son Hunter Biden's business dealings in Ukraine. Trump and many of his allies attempted to paint now-President Joe Biden and his son as "corrupt," suggesting that Biden had used his power as vice president under former President Barack Obama to enrich his family in connection with his son.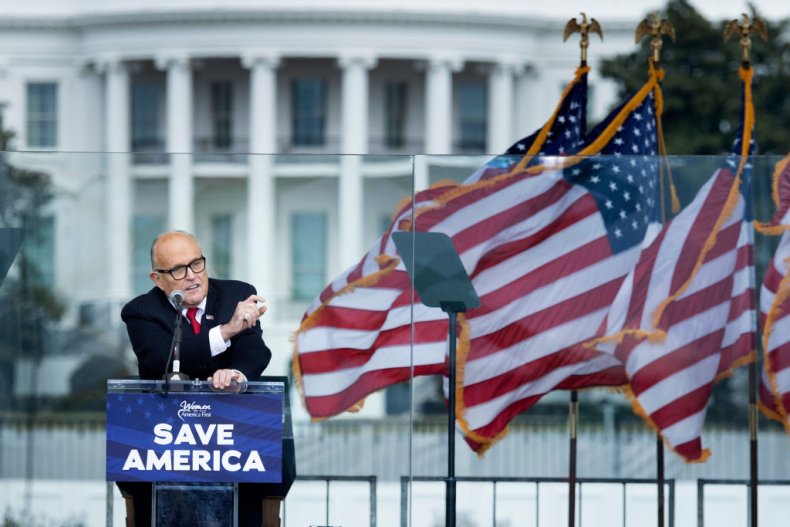 Top U.S. and Ukrainian officials dismissed the allegations against Biden. Trump was also impeached by the Democrat-controlled House of Representatives in late 2019 due to his efforts to pressure Ukraine's president to announce investigations into Hunter Biden by temporarily withholding congressionally-approved military aid to the Eastern European nation. Although the Senate, which was controlled by Republicans at the time, did not convict Trump, Senator Mitt Romney, a Utah Republican, voted "guilty" alongside all of his Democratic colleagues in the upper chamber of Congress.
"The grave question the Constitution tasks senators to answer is whether the President committed an act so extreme and egregious that it rises to the level of a 'high crime and misdemeanor.' Yes, he did. The President asked a foreign government to investigate his political rival. The President withheld vital military funds from that government to press it to do so. The President delayed funds for an American ally at war with Russian invaders. The President's purpose was personal and political," Romney said ahead of his guilty vote in February 2020.
"Accordingly, the President is guilty of an appalling abuse of the public trust," the GOP senator added.
This article has been updated with comment from The Washington Post.