Giuliani Says Trump Can Pardon Himself, but Christie Says He'll Be Impeached If He Does
Attorney to President Donald Trump, Rudy Giuliani, continued taking shots at special counsel Robert Mueller Sunday, saying it's unlikely Trump ever sits for an interview with Mueller.
Giuliani, who joined Trump's legal team just last month amid growing problems with attorney Michael Cohen, told ABC News' "This Week" Sunday morning that the president "probably" has the legal power to pardon himself if and when Mueller's investigation moves ahead with any indictments or legal issues. Giuliani noted that while Trump may have the power to pardon himself in the face of any indictments, he's hoping that is not the case.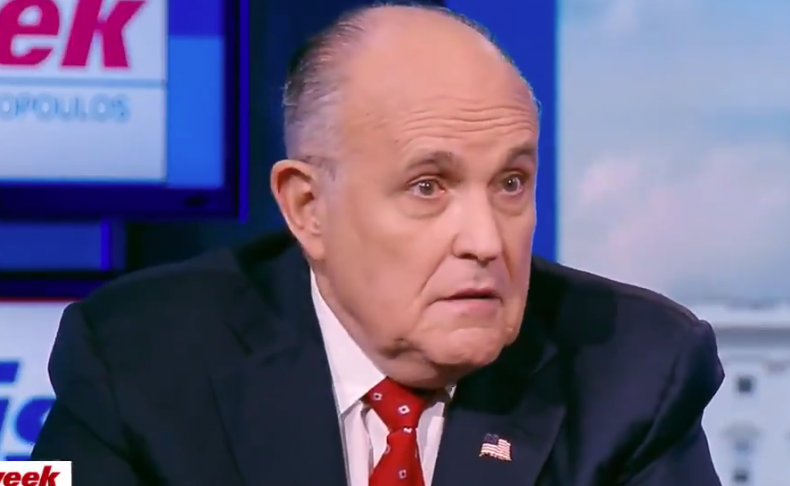 "He has no intention of pardoning himself," Giuliani said on ABC Sunday. "That's another really interesting constitutional question: Can the president pardon himself? It would be an open question. I think it would probably get answered by, 'gosh that's what the Constitution says.' And if you want to change it, change it. But, yeah."
While Giuliani agreed that Trump pardoning himself could move into murky legal precedents, former New Jersey Gov. Chris Christie, also on ABC Sunday, noted, "If the president were to pardon himself, he'll get impeached." ABC News' chief legal analyst, Dan Abrams, added, "We all agree It's so unlikely that Mueller will seek to indict a sitting president, that that issue simply won't come up."
Giuliani said he believes Mueller will wrap up the probe before September 1 given his sensitivity to "not doing another Comey and interfering horribly in the election." The former Republican mayor of New York City was referencing former FBI Director James Comey's announcement he was reopening an investigation into Hillary Clinton's email server just days before the November 2016 elections. Giuliani added that a subpoena of Trump is "unnecessary" because Mueller's team has everything they need already. He added that they need to "man up" and make their decision soon.
In addition to suggesting Trump may pardon himself, he said the president is unlikely to even give Mueller the time of day. Trump's team wrote to Mueller in January making the case that the president cannot commit obstruction of justice under Mueller's probe because of his role as president having constitutional authority over all federal investigations. The letter, obtained by The New York Times, argued that Trump does not legally have to sit for an interview with Mueller's investigative team. Trump himself previously said he "would like to" submit himself for questioning, but has used Twitter to repeatedly berate the Mueller probe.
"Is the Special Counsel/Justice Department leaking my lawyers letters to the Fake News Media?," Trump tweeted Saturday. "When will this very expensive Witch Hunt Hoax ever end? So bad for our Country." He has previously called into question the legality of the investigation as a whole, tweeting in April that the "Special Council [sic] was established based on an illegal act."
"Jay (Sekulow) and I want to keep an open mind. We're leaning toward not (doing an interview)," said Giuliani. "But look, if they can convince us that it will be brief, it will be to the point, there were five or six points they have to clarify, and with that we can get this long nightmare for the American public over."
Giuliani said "you don't let the president testify" after acknowledging several past remarks in which Trump contradicted himself in public statements.