Rudy Giuliani Claims 'Collusion Is Not a Crime,' Brands Former Trump Lawyer Michael Cohen a 'Scumbag'
Donald Trump's personal attorney Rudy Giuliani went on a media blitz Monday morning, during which he claimed "collusion" was not a crime and branded the president's former lawyer Michael Cohen a "scumbag."
Giuliani has been an outspoken defender of the president since joining his team to combat the ongoing special counsel investigation into Russian interference in the 2016 election campaign, and allegations of collusion with the Trump campaign.
The former New York City mayor started the day on the president's favorite morning show, Fox & Friends, where he suggested Trump could not be guilty because the crime didn't even exist.
"I've been sitting here looking at the federal code, trying to find 'collusion' as a crime," Giuliani began the interview, with encouragement from host Steve Doocy. "Collusion is not a crime."
While "collusion" is not specifically contained in the federal statute, "conspiracy against the United States" is. It is not clear whether a sitting president would be indicted by the Justice Department. Trump is also being investigated for obstruction of justice.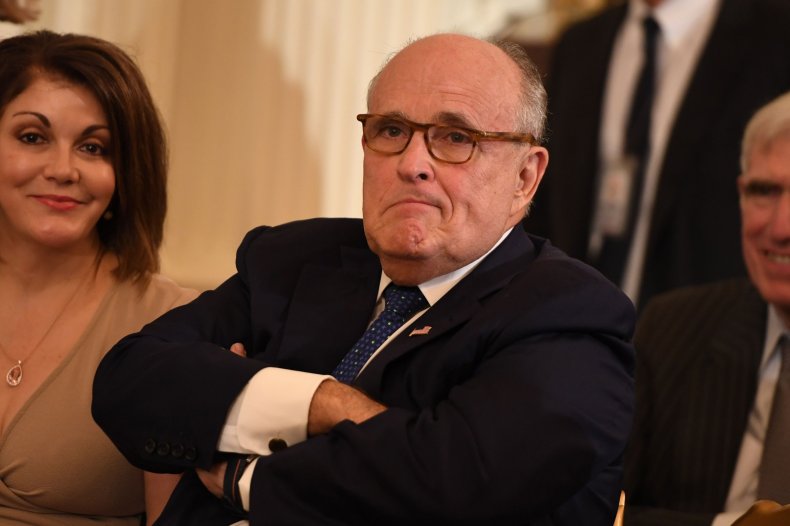 Giuliani then went on to discuss two audio recordings made by Cohen. The first, handed to CNN last week, contained a conversation between Trump and Cohen shortly before the election, in which they discussed making a payment to former Playboy model Karen McDougal, who has claimed she had an affair with Trump a decade earlier. It is not clear from the audio whether Trump suggested paying in cash or said not to pay in cash.
The second secret recording reportedly contained Cohen speaking with CNN host Chris Cuomo, in which Cohen said he made a $130,000 payment to adult film star Stormy Daniels—who has also claimed an affair with Trump—on his own.
"Everything that's been released so far shows the president to be absolutely innocent," Giuliani claimed. "He didn't do anything wrong. The last two tapes are evidence in his favor. He wants to do a transaction by check, he wants to do a corporate transaction—perfectly legal."
Later, appearing on CNN's New Day, Giuliani went on the attack against Cohen, claiming without evidence that the president's longtime "fixer" doctored the tape to make it appear worse for the president.
"By the way, he didn't put out the first part of that tape," Giuliani said. "I had to go find the first part of that tape. He also cut off the last part of the tape with Trump, which our expert says is doctored. You got a really bad guy you're dealing with here."
Just a couple of months ago, Giuliani described Cohen as "an honest, honorable lawyer," but his message has changed dramatically.
"The guy is unethical, he's a scumbag, he's a horrible person," Giuliani said of Cohen Monday.
However, Giuliani did not rule out the possibility of President Trump pardoning Cohen at some future date. He also did not dismiss the possibility of Trump sitting down for an interview with special counsel Robert Mueller.