Video of Rudy Giuliani Conceding to David Dinkins in 1989 New York Mayoral Election Goes Viral
A video of Rudy Giuliani conceding to David Dinkins in New York City's 1989 mayoral election has gone viral on social media.
Giuliani, President Donald Trump's personal attorney, is spearheading the Trump campaign's failing legal efforts to overturn the results of the November 3 presidential election.
The president has not conceded to President-elect Joe Biden even as his government on Monday authorized the start of a formal transition process, and vowed to continue the effort to change the election result.
At news conferences and in television appearances in recent weeks, Giuliani has been one of the president's staunchest supporters, echoing his baseless claims of widespread voter fraud and floating wild conspiracy theories.
A particularly controversial press conference last week, during which a dark liquid was seen streaming down Giuliani's face, saw the Trump campaign's legal team present a list of false and debunked claims about the election.
That briefing appeared to prompt NBC News correspondent Steve Kornack to share a clip of Giuliani's 1989 concession speech, where he called for unity despite his supporters urging a recount.
"It's very important for the future of our city that we all come together and I want you to show that spirit. Now do it! Alright?" Giuliani said in the speech.
Giuliani had lost to Dinkins, who was the city's first Black mayor, by less than 50,000 votes, Kornacki noted.
"November 7, 1989: After finishing less than 50,000 votes behind David Dinkins in a tight New York City mayoral election, Rudy Giuliani quiets supporters demanding a recount and instead concedes defeat and urges unity behind the new mayor 'in the highest spirit of our democracy,'" Kornacki tweeted alongside the clip, which has garnered more than 400,000 views since.
A report in The New York Times on November 8, 1989 said Giuliani was "gracious in defeat" and had called on New Yorkers to pray for the man who beat him.
But some Twitter users responded to Kornacki's tweet, noting that Giuliani has not changed as much as it appears in the years since.
"Steve: despite the appearance of civility back then, Rudy has always been a vengeful, fully authoritarian thug willing to throw anyone who disagreed with him under the bus," Steve Gorelick, a lecturer at Hunter College, wrote.
"He tried to destroy, often assisted by intentional police violence, any protected free expression he could."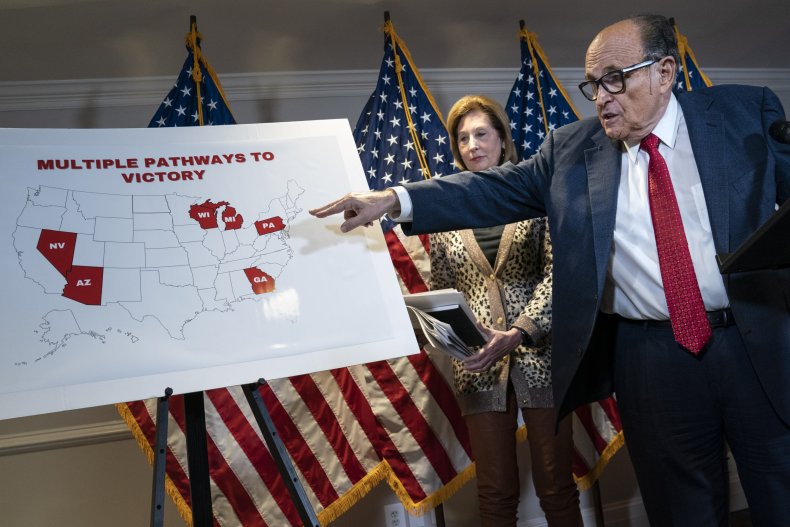 Giuliani later defeated Dinkins in the 1993 mayoral election, serving as the city's mayor from 1994 until 2001.
Early Tuesday, he took to Twitter to pay tribute to Dinkins after his death on Monday night at the age of 93.
"I extend my deepest condolences to the family of Mayor David Dinkins, and to the many New Yorkers who loved and supported him. He gave a great deal of his life in service to our great City. That service is respected and honored by all."
In response, reporter Yashar Ali highlighted Giuliani's role in a racist riot against Dinkins in 1992.
"In 1992, @RudyGiuliani led a horrifically racist riot against then Mayor David Dinkins. He has never apologized for his role in it nor has he condemned anyone who was involved in it," Ali tweeted.